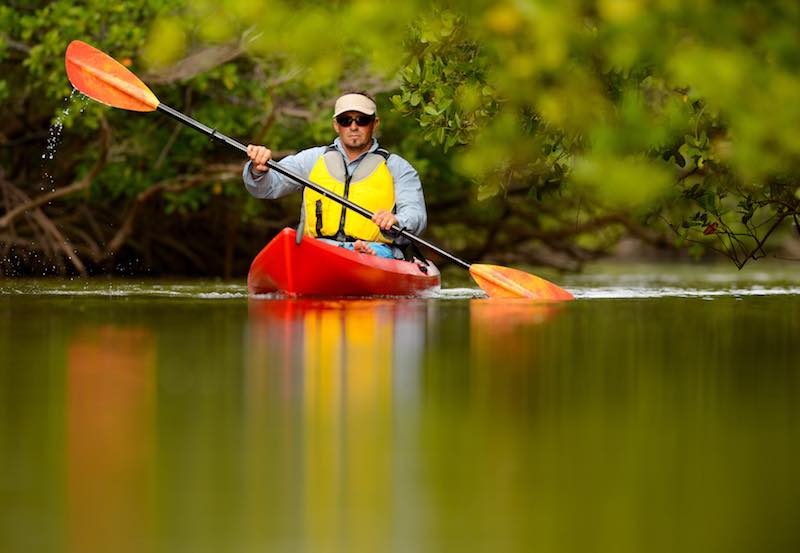 Best Kayaking Spots in Central Florida
(Last Updated On: September 19, 2023)
Kayaking may appear difficult at first, but once you get the hang of it, you would be surprised by the thrill and excitement it brings. Individuals and families here in Central Florida much enjoy this water sport. 
Even young children will enjoy the sport, with proper supervision, of course. If you're wondering about the best Kayaking spots in Central Florida, you'd be surprised to find out that there's a lot of hidden gems and easy to visit places around to enjoy. 
The Sunshine State, as a whole, offers some of the best places for water sports activities in the world. This tropical destination attracts paddlers even from far away cities.
One of the best things about kayaking in Orlando is that you can do it almost all year round.
There are many spots to enjoy, and according to kayaking enthusiasts, no two beaches, rivers, or lakes are the same. How cool is that? 
10 Kayaking Spots in Central Florida
Can you imagine the excitement that kayaking in Central Florida brings? Here's a round-up of some of the best Kayaking spots in Central Florida. 
1. Silver Springs State Park.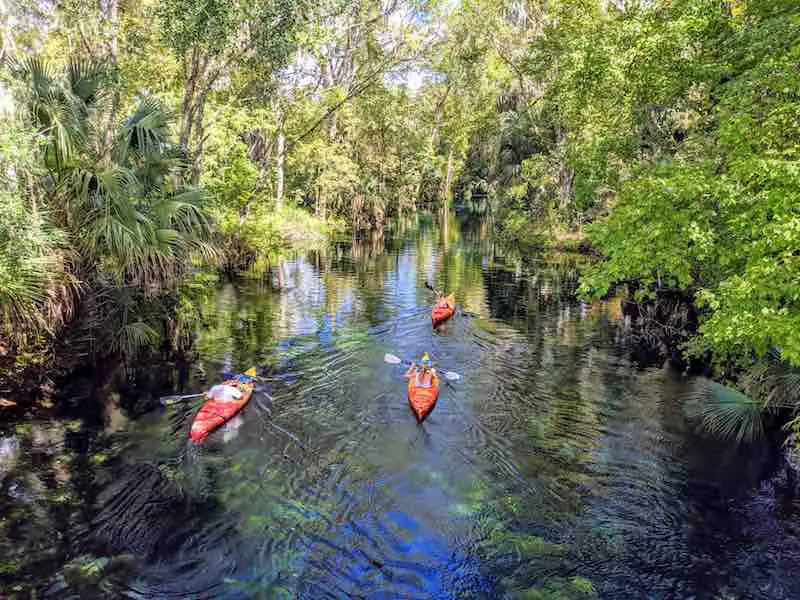 This famous spring and national park in Ocala offers one of the most beautiful spots in the city. The beauty of the spring itself is remarkable, and you'd be surprised to discover that the place is quiet and beautifully preserved.
If you are into solo kayaking, this peaceful place might be the best spot for you.  Silver Spring has 15 miles of forest trails that you can enjoy while walking or cycling.
It is an excellent place for camping in your tent or RV or renting one of their beautiful state-park cabins. After paddling, you can opt to join their well-known glass-bottom boat tour that allows you to see deep on the beautiful spring.
2. Arbuckle Creek in Avon Park.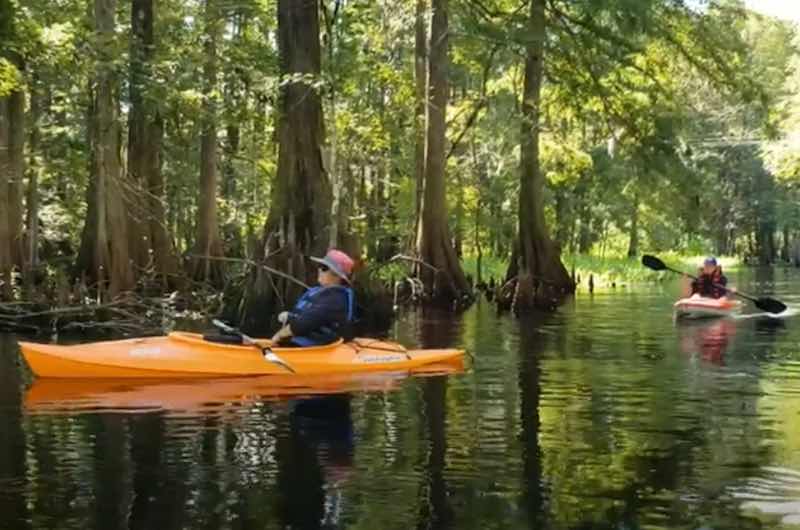 If you love being surrounded by wildlife, this kayaking spot is perfect for you. Arbuckle Creek seemed remote, thanks to its quiet ambiance and remarkable beauty, but it is very accessible from Orlando and South Florida.
This gem is not always crowded with people, so it is a great spot for solo and tandem kayaking in Central Florida. If you are with your family, you might as well go camping and hiking in Avon Park too. 
3. Weeki Wachee.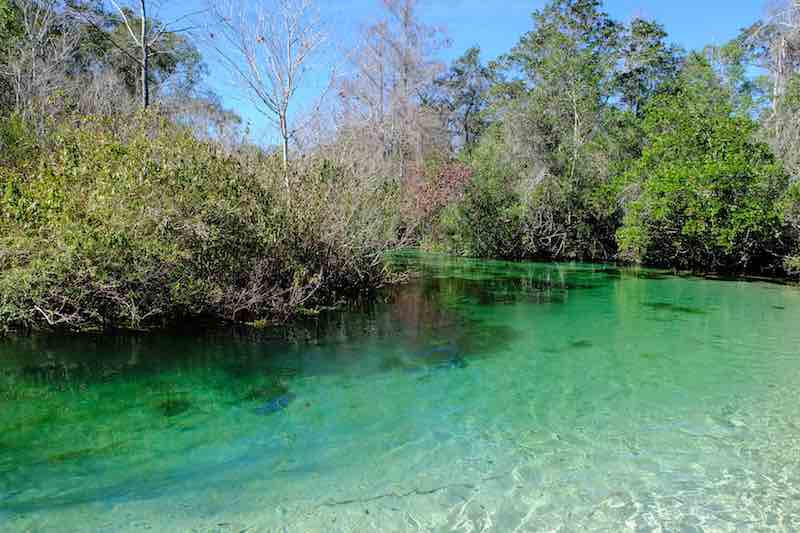 The spring in Weeki Wachee has a strong current, so if you are kayaking with your family, especially your kids, this might be the right spot for you.
This kayaking spot gives you an excellent 3-hour paddle to its 7.4 miles spring.  However, the place can get pretty much busy during summer days, so it's best to arrive early and enjoy the spot with less crowd. 
4. Rock Springs.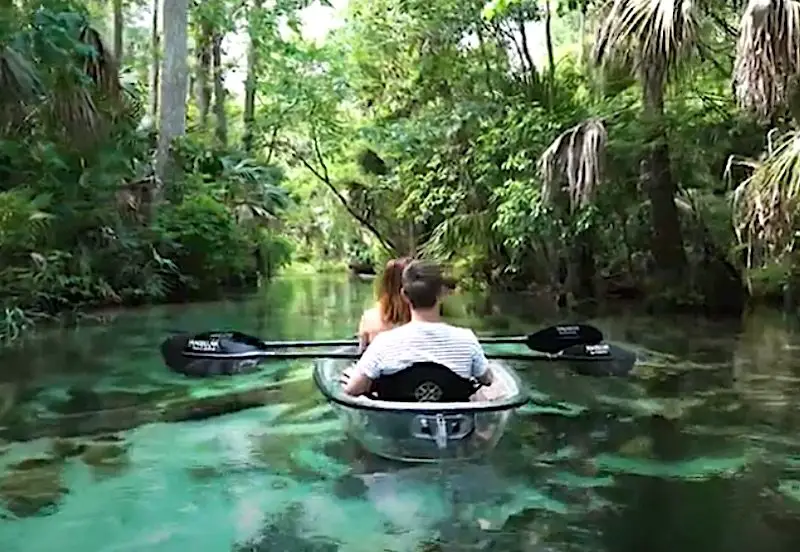 This kayaking spot provides you with some of the most beautiful sceneries in Central Florida. If you want to relax and let time pass, a good 2 to 3 hours roundtrip is easy on Rock Springs.
Since it is quite a well-known spot, you can join tours or rent a canoe and kayak here, but the place can get pretty crowded, so that planning might be necessary. 
5. Indian River Lagoon.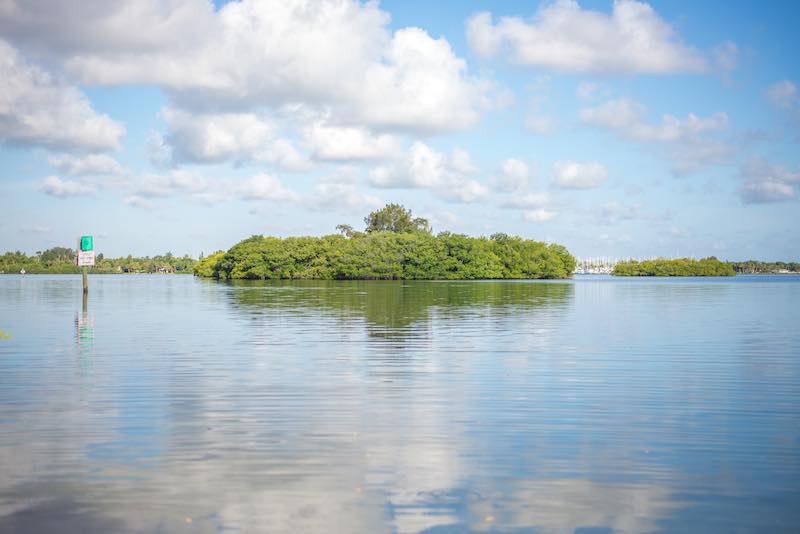 If you are looking for something unique, you might want to try doing a  bioluminescence paddling at the India River Lagoon. Bioluminescence has its source of light from a biological source.
It could be algae, for this matter. The summer season is the best time to try this type of activity, and some companies offer this kind of kayaking tour.  
6. Ocala National Forest.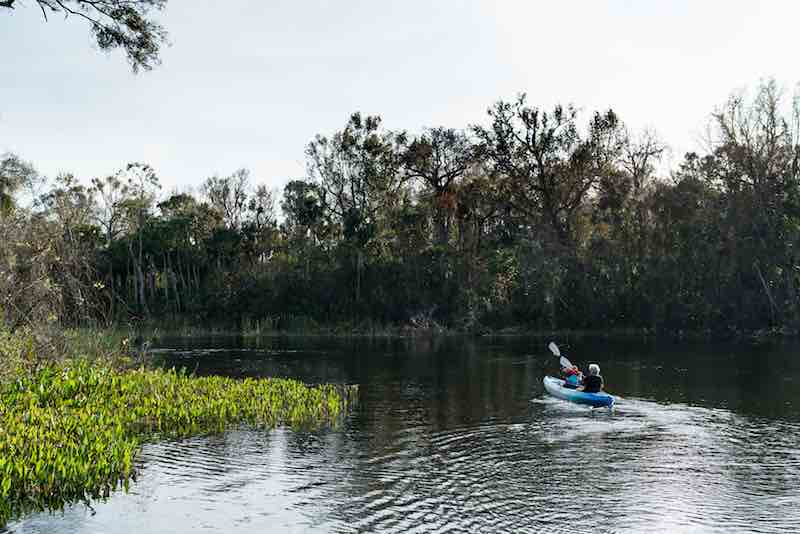 Pro kayakers looking for a longer trail prefer Okala National Forest because it has two rivers, streams, and hundreds of lakes and ponds.
But while the place is enormous, it is easy to go kayaking here because there are many tour operations and equipment rentals available around the area.
Many people go here to kayak as well. Once inside, you'd be amazed to see the wonders of nature here. Truly a great gem to explore. 
7. Winter Park Chains of Lakes.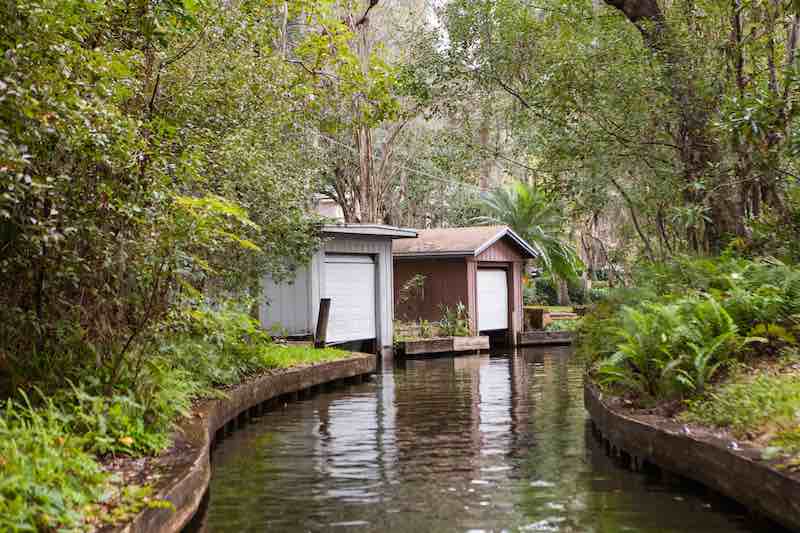 Winter Park is composed of six lakes, all connected through channels of water. This is a great spot when you are looking for a long paddle and an opportunity to explore nature at its finest. It is generally safe to kayak here, so children are welcome as well. 
8. Econlockhatchee River.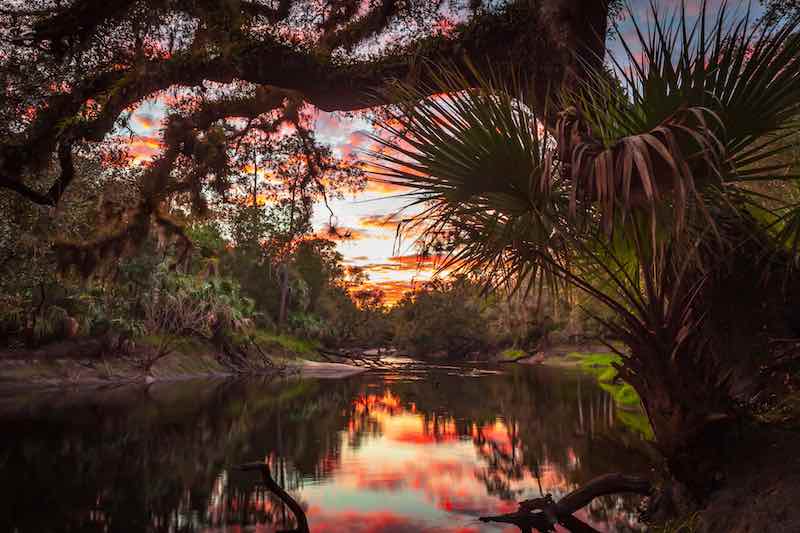 Econ River is a great kayaking spot for those who are looking to explore the wildlife. Here, you can have the chance to see and interact with birds and other wildlife animals like deers. The river is vast at 19 miles course, but even first-time kayakers can enjoy this place. 
9. Rainbow River.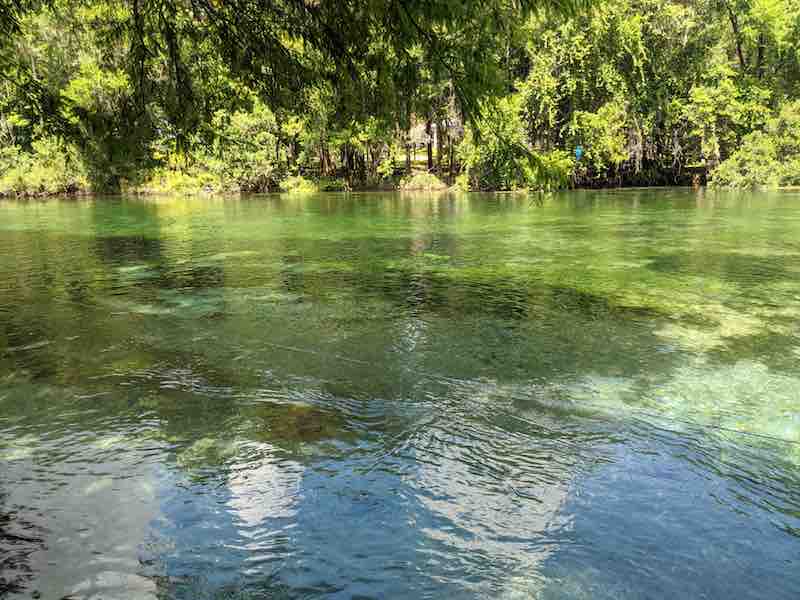 Enjoy crystal clear water here at be one with nature at Rainbow River, a 4.5-mile course. This place is great for family's adventure since you can relax and enjoy the surroundings.
Most of the time, you'd get to interact with animals too, like turtles and even alligators.
10. Lido Key Mangroves.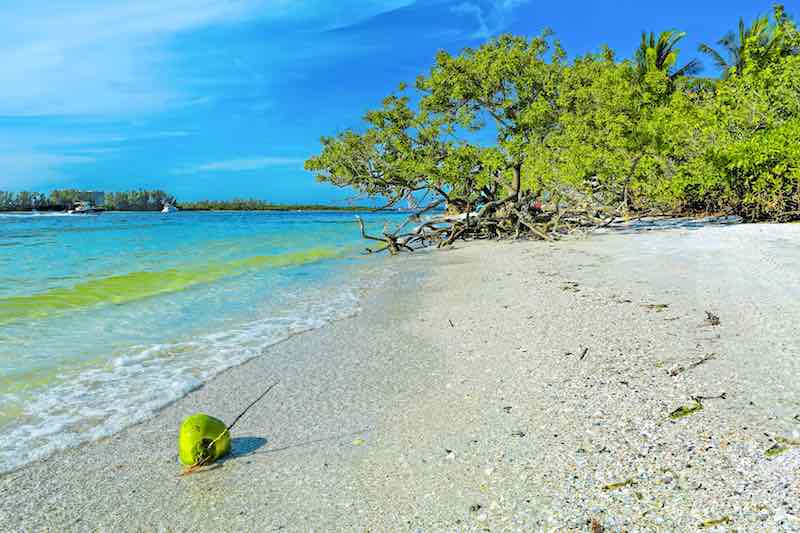 This place is home to many mangrove tunnels facing Sarasota Bay, so you can imagine how majestic the site is. A lot of kayak enthusiasts love this place because of its current.
It is also effortless to navigate with the tunnels all well-marked. That is why beginners of the sport love to practice here. 
Final Thoughts
Central Florida has a lot of things to offer. You can let time pass and get caught up in its many restaurants, shopping malls, and even theme parks. If you love water, you can enjoy its many beaches. I
f you want to experience nature, the place has some of the best national parks complete with rivers and lakes. Here, you can hop on your kayak, get your paddle, and explore nature. 
Whether you prefer paddling on a river or a much more difficult ocean kayaking, you can easily find the tour and equipment you need. 
If you are new to kayaking, don't hesitate to research Florida's safety rules and laws you need to know about the sports.
You can also research the right gear and equipment. You have with you the best kayaking spots in Central Florida, and the next step to do is explore.
Please follow and like us: