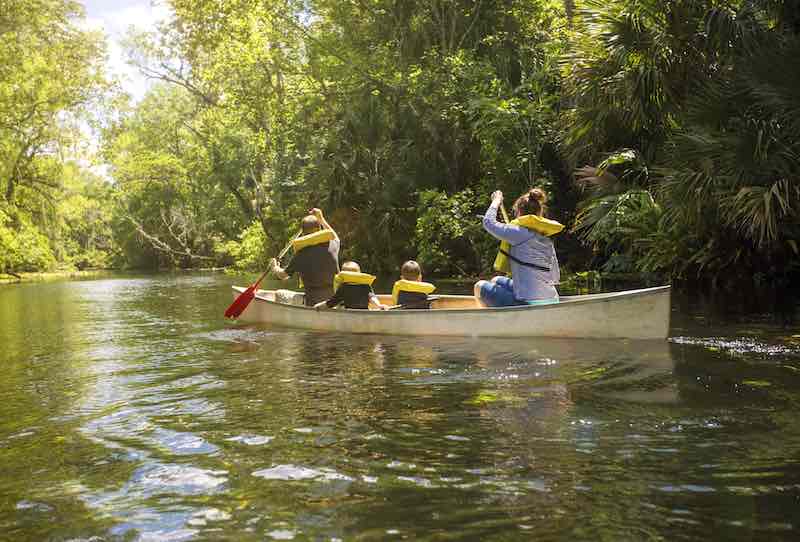 Canoe Rental in Central Florida. A Great Way to Enjoy the Waters in Every Season
(Last Updated On: September 19, 2023)
Canoeing in Central Florida
We are truly fortunate in the United States to have an abundance of rivers and lakes to enjoy boating, canoeing, and other water sports.
Here in Florida, with our 7,500 lakes and 12,000 miles of fishable rivers, we have something not all other states can claim.  Our lakes, rivers, and streams have no closed seasons!
One-fifth of our state is covered by water, and we make the most of it.  One of the ways we enjoy our lakes, rivers, and streams is to go canoeing on them as often as we can.  Canoe rentals are located all over central Florida.
Julie Duggins is an archaeologist for Florida's Division of Historical Resources.  Julie feels that today's nautical achievements are a reflection of Florida's rich boating history that goes back 6,000 years. "Florida has always been a capital for watercraft and boating," she says.
History has shown us that dugout canoes were used by Spanish explorers and Native Americans to travel the state, using canoes both as transport, a means to obtaining food by fishing, and a way of moving goods from one place to another.
It was also the way that people back then communicated.  There was not any cell tower reception back in 1565.  This exchange of goods and information by the river was faster and safer than traveling through the undeveloped countryside.
The world's highest concentration of archaeological dugout canoes is located in Florida.  The ideal place for canoe rental! There are currently over 235 recorded sites in Florida that have canoes or log boats. This concentration shows as Duggins says, "how early Floridians navigated our rivers like highways."
It holds true today, as it has for thousands of years, that Floridians love their waterways and watersports.  As a popular central Florida pastime, many services offer canoes to rent for a relaxing trip down our waterways are proof that our love of boating endures.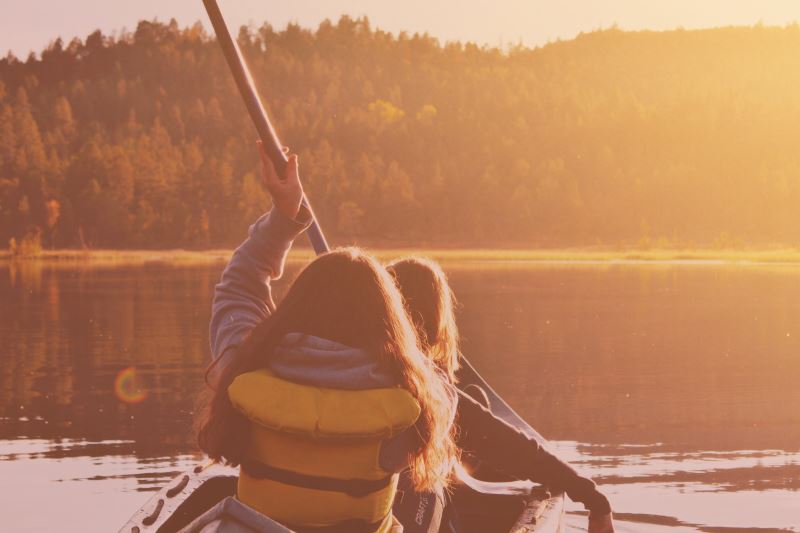 Places to rent a canoe in Central Florida:
21410 US-441
High Springs, FL 32643
386.454.2050
On the banks of the Santa Fe River in High Springs, Florida, you will find the Santa Fe Canoe Outpost.  Located just 25 miles from Gainesville and the University of Florida, the Outpost offers day, overnight, and full moon trips.
If you decide that a river trip would be perfect for your group, Sante Fe Canoe Outpost can accommodate your group of anywhere from 2 up to 200 people. They provide some of the best options for canoe rental. An excellent idea for a day outside of the office, a birthday party, graduation, or family reunion, a relaxing trip on the river will be a welcome change for all.
The Outpost can provide fully outfitted canoes, kayaks, paddleboards, and camping trips.  If you so desire, you can bring your watercraft.  The Outpost will both pick you up and bring you back.
You will be able to eat at the Outpost or have your food delivered to a picnic site along the river.  If you decide that you would prefer an evening venue, the Santa Fe can provide a party by the river along with bonfires, a set up for a live band, a tiki torch-lit boardwalk to the river, picnic tables and modern bathroom facilities.
Trips on the Santa Fe are focused on relaxation and the surrounding natural beauty.  All trips are downriver with the current.  Prior experience is not necessary.  The Santa Fe welcomes all ages, and have had guests as young as six months, all the way up to 90 years old.
10610 Bridge Street
White Springs, FL 32096
386.397.1309
Back in 1955, Wendell Hannum started American Canoe Adventures.  Today, his son John is running the business along with his wife, Tricia.  They are assisted by their son, Frank, and daughter-in-law Savannah.
American Canoe Adventures offers river trips that go from the Okefenokee Swamp in Georgia all the way to the Gulf of Mexico in Florida.  Guests can rent a canoe, or bring their own.  ACA offers shuttle services along the entire Suwannee River.
ACA offers day, overnight, and group trips.  The trips can be a great bonding experience for Boy and Girl Scout troops, family reunions, or a fun outing for college students.
There is some gear for purchase at the site, such as sunblock, bug spray, dry bags, and water shoes.
Canoe and kayak trips on the Suwannee River are available all year long. They are open six days a week from 9 am to 6 pm except for Tuesdays.  The website has links that will connect you with weather conditions, river levels, and local accommodations.
Mission Statement: American Canoe Adventures is committed to offering affordable outdoor recreation and keeping the Suwannee River beautiful for years to come.
John B. Sargeant Park
12702 U.S. 301
Thonotosassa, Florida 33592
813.986.2067
Canoe Escape offers anything from 2 hours to all-day trips downstream, quiet water, padding adventures.  You will be traveling through a 16,000-acre wildlife preserve on the Hillsborough River.
In the fall, there are thousands of white ibis in the river. The winter brings sightings of deer, wild hogs, and turkeys.  Spring fills the river with songbirds, and summer is the season for turtles, large-mouth bass, and the occasional alligator.
Located just 16 miles from downtown Tampa and 15 miles from Busch Gardens, Canoe Escape was founded in 1991 by the Faulk family.
The self-guided tours are all downstream in quiet water.  A guided tour, Nature Interpretive, will point out Florida's native flora and fauna.  A history of the Hillsborough River and its importance will be discussed on the 4 ½ miles, 3 hour trip through Wilderness Park.
Nature Reveals God, is another Canoe Escape tour with Christian guides that will take you on an inspiring paddle on the Hillsborough River. Canoe Escape says that "This new program is designed to expose everybody to the world that God has created and what His creation can show and tell us about how we live our lives."
2816 NW County Road 661
Arcadia, Florida 34266
863.494.1215
Situated on the Peace River, the Canoe Outpost is located on Florida's most popular state paddle trail. Peace River offers wildlife viewing, fishing, swimming, hiking trails, and camping along with canoeing and kayaking.
Paddling along the banks of towering cypress trees and a myriad of birds gives the paddler a glimpse of Florida past when settlers and Spanish explorers traveled the same waters.
Whether you are a novice or experienced paddler, the Canoe Outpost can accommodate you.  There are wilderness half or full days and overnight camping from 2 to 8 days. 
Canoe Outpost is a short drive from Orlando, Tampa, Naples, and Fort Myers.
Founded in 1969, the mission statement of Canoe Outpost is "To provide the most professional, affordable, memorable, and fun paddling and outdoor experience to visitors of the Peace River and Canoe Outpost-Peace River while instilling a sense of stewardship of the environment so that we may all enjoy the natural beauty for generations to come."
6974 Deaton Bridge Rd
Milton, FL 32583
850.623.0235
The Blackwater River is unique.  The river originates in Alabama, and as it enters Florida, it is protected within the Blackwater River State Forest.
The water is tannin-stained and is clean and relatively clear, along with a swiftly running current. The 31 miles designated paddling trail begins at Kennedy Bridge (about 5 miles from the Alabama border). It ends at the Deaton bridge in the state forest. Ideal for canoe rental!
Open all year, and round trip service is offered.  They will transport you to the launch point and meet you at the trips' end.
Blackwater welcomes groups and offers discounts for scout troops, military, first responders, and church groups.  When you rent Blackwater canoes, you have them for the entire day, no matter which trip you choose.
You can stop to sunbathe, swim, fish or picnic. There are 30 different sand beaches along the way on which to stop and enjoy nature.
Camping on the Blackwater river is also a unique experience.  A secluded beach will be reserved for you, your party, and Mother Nature.
Canoes in today's Central Florida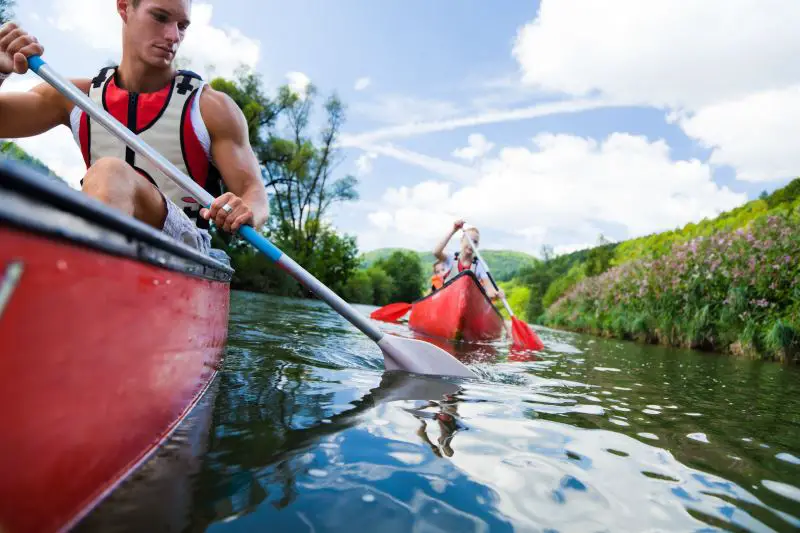 As we had mentioned earlier, central Florida has the world's largest concentration of archaeological dugouts.  These canoes were carved out of a single log and had the same basic design for 7,000 years.
Dugouts were used to paddle through Florida's relatively shallow water and marshes averaging in length from 9 feet up to 27 feet.  They were carved from pine or cypress. Before the advent of metal implements, the tools initially used were stone or shell.
In today's world here in central Florida, the canoe is considered a recreational vehicle, unlike the essential vessel of yesteryear.   Canoes are popular with families and groups.
Part of the popularity of a canoe stems from the fact that they can hold more than one person, and they are indispensable if you are going camping as a canoe can transport all of your gear.
The cockpit in a canoe is open, with sides that come up high out of the water.  A canoe is open, much like a rowing boat, and the person paddling will be raised above the canoe floor.
Most canoes will have two seats, and some have three. It will be a bench-type seat that is paddled with a single paddle.
It is interesting to note that a paddle is different from an oar.  A paddle will propel you and your boat in the same direction in which you are facing.  An oar will propel you in the opposite direction of which you are facing. So make sure you take your canoe out exploring, your canoe or a rented one -if you choose canoe rental.
Here are a few of the many pros that make a canoe a popular watersport in central Florida:
Pros for canoeing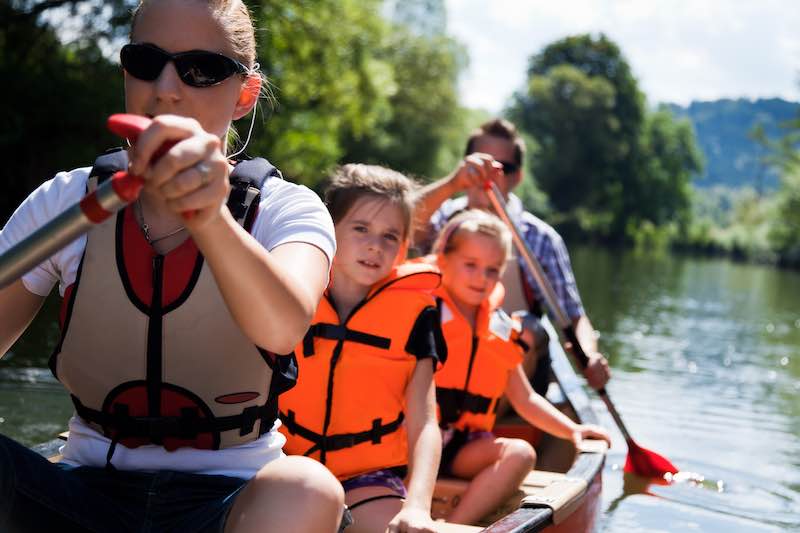 Can carry a lot of gear
Great for longer expeditions
You can stand up
They are more stable, harder to capsize
Learning to use a canoe is relatively easy
You don't get as wet operating a canoe
Can be more comfortable as you can vary your position
You have a better view, as you are seated higher
There is room for more than one person
They are easier to get in and out of
Canoe Lingo
Stern: This is the back of the canoe
Amidship:  The middle of the canoe
Forwards:  Toward the bow
Broadside: This is movement in a sideward direction
Port:  This is the left side of the canoe
Starboard:  This is the right side of the canoe
Aft: This is toward the stern
Bow: Front of the canoe
Leeward: This is the direction that is away from the wind
Pivot:  This is the movement of the canoe with each end moving in the opposite direction
Rhythm: This is the bow and the stern padding in unison
Solo:  One paddler
Tandem: Two paddlers
Wake:  The action of the water as a result of the movement of the canoe
Winward: The direction from which the wind is blowing
Please follow and like us: