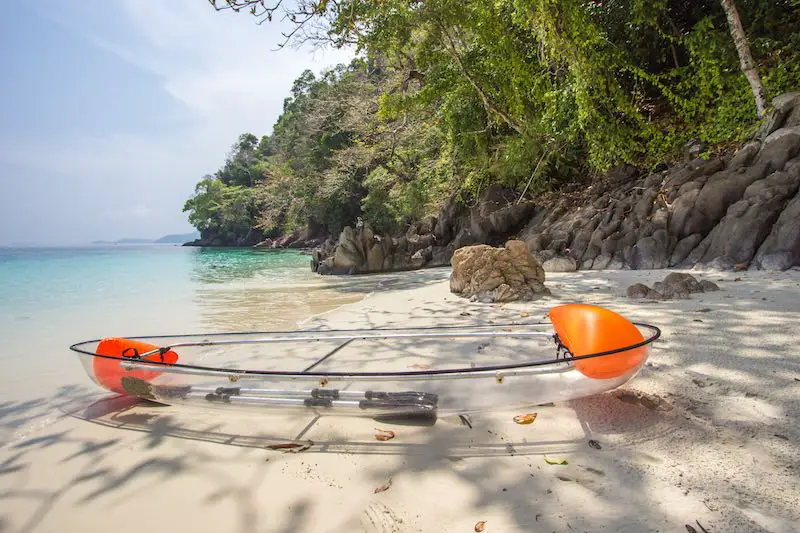 Clear Kayak Adventures in Central Florida
(Last Updated On: September 20, 2023)
Everything You Need To Know About See-Through Kayaks And Where To Rent Them
Central Florida is a world-class destination for both novice and experienced kayak and paddling enthusiasts. With the abundance of wildlife, lush tropical landscapes, and beautiful weather, it's no wonder visitors come from all over the globe to experience Central Florida's breathtaking springs, rivers, marshes, and lakes. 
In recent years, a popular new trend has taken the small watercraft world by storm, clear kayaks. The clear kayak is a remarkable innovation that allows paddlers an intimate view of the water and wildlife around, next to and even below them in a way that wasn't possible before.
A clear kayak is different than a glass-bottomed boat, in that it allows you to experience sitting at water level with a completely unobstructed 360° view.
Imagine gliding through an aquamarine wonderland while fish, turtles, and even manatees swim alongside and below. It's truly a magical experience! Besides, the boat's transparency allows you to see potential dangers like submerged tree limbs more easily.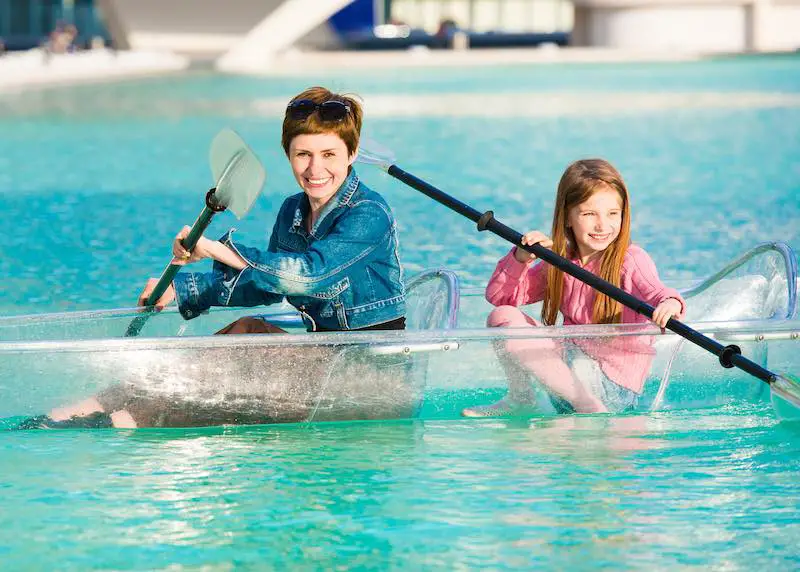 What Is A Clear Kayak?
A company developed the first clear kayak (also known as a Molokini kayak) in Hawaii in 2005. Since then, the construction quality has improved and expanded. Now there is a multitude of companies that offer a variety of clear kayak styles, features, and price points.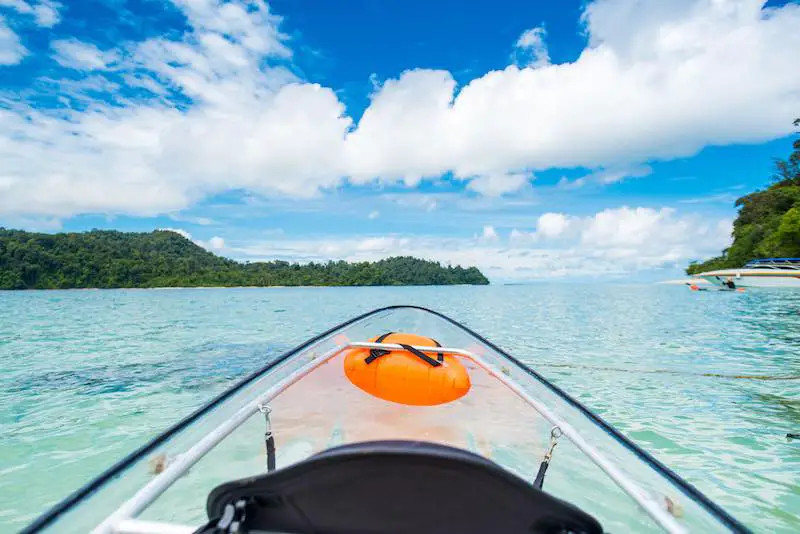 Clear kayaks are most often made from polycarbonate, a lightweight, durable, and completely transparent plastic material. It impact and scratch-resistant, which allows it to stand up to wear and tear from branches, sandbars, gravel shorelines, etc. 
Some clear kayak designs include a metal rim or frame for structural support or airbags in the bow and stern for added buoyancy. Some have padded, removable seats and others have clear seats that are molded into the hull. Weights range from a little over 40 pounds to just over 60 pounds, depending on the size.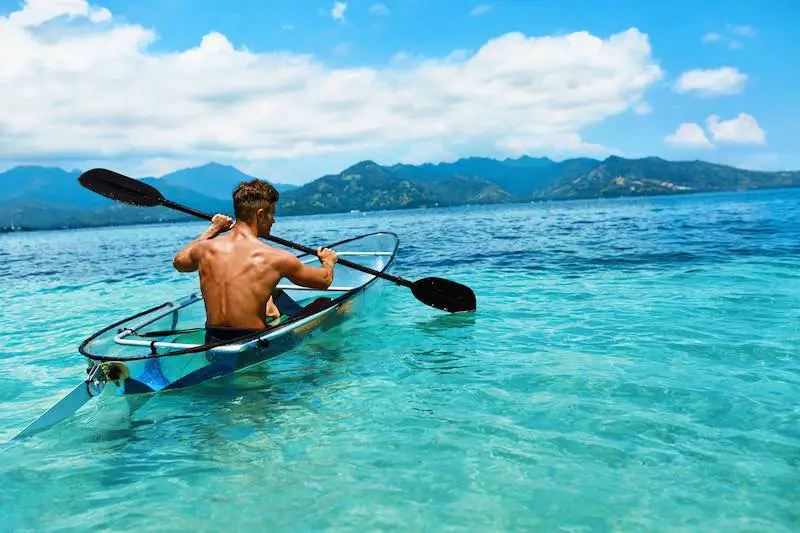 How To Use A Clear Kayak
If you have used a kayak or canoe before, transitioning to a clear kayak should be no problem. There may be an initial adjustment as you get used to being able to see the water, fish, etc. directly beneath you. Take a little time to get used to the experience before setting out on your adventure. There is no splash skirt to keep out water as with sit-in kayaks, so that is something to be mindful of with splashing water.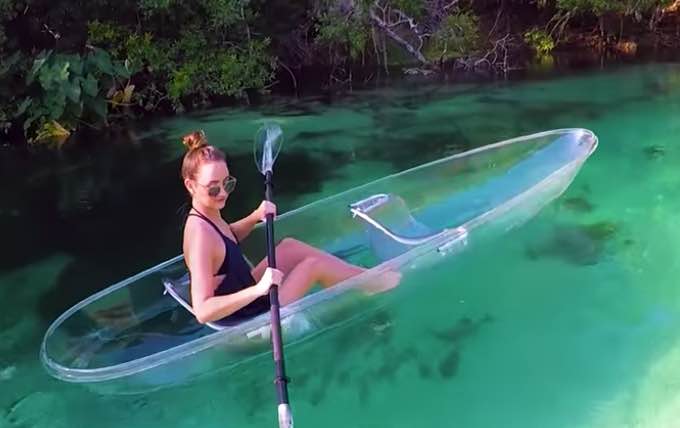 If you are new to kayaking, many excellent kayak tutorials will help you get the most out of your bright kayak adventure in Central Florida. Once you have a few techniques down, such as propelling yourself forward, putting on the brakes and turning left and right, you're ready to rent a clear kayak and hit the Florida waterways.
Things To Consider Before Clear-Kayaking
It's also good to be prepared for any new adventure. There are a few considerations that you will want to keep in mind before setting out on your trip. Make sure to bring all the necessary sun protection required for any water activity, sunblock, a hat, sunglasses with a strap, and a UV protected shirt and shorts. You may also want to bring insect repellent, a towel, water, and a life jacket if one is not provided.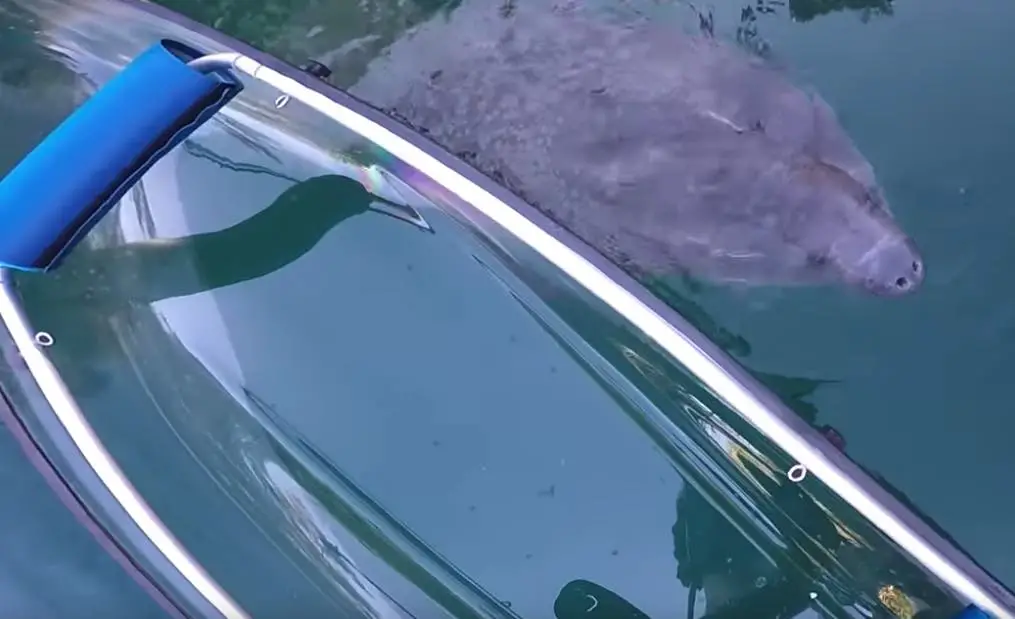 Keep in mind that the more gear you bring with you in your boat, the less room you will have in your kayak. You will also have less opportunity to see the water around you if your see-through kayak is packed with cargo. 
Identify what you would like to experience most during your clear kayak trip. This will help you determine what type of tour to book. Are you interested in catching fish as you watch them hit the lure beneath you? Looking for an unforgettable manatee encounter, you will never forget? Maybe you've heard about the bioluminescent tours near Titusville and Port Canaveral, and you'd like to set out on this unique nighttime excursion (more on this later). 
Whatever your kayaking dreams entail, booking a clear kayak is a fantastic way to experience the natural world in a profoundly up close and personal way. Instead of hanging your head over the side to view wildlife, all you have to do is look down! 
Where To Rent A Clear Kayak?
BK Adventures
The best way to view Central Florida's bioluminescent dinoflagellates (plankton) is in a clear kayak. The Indian River Lagoon and Merritt Island Wildlife Refuge light up in a mystical blue during select summer months. BK Adventures are experts on leading see-through kayak tours to this otherworldly destination.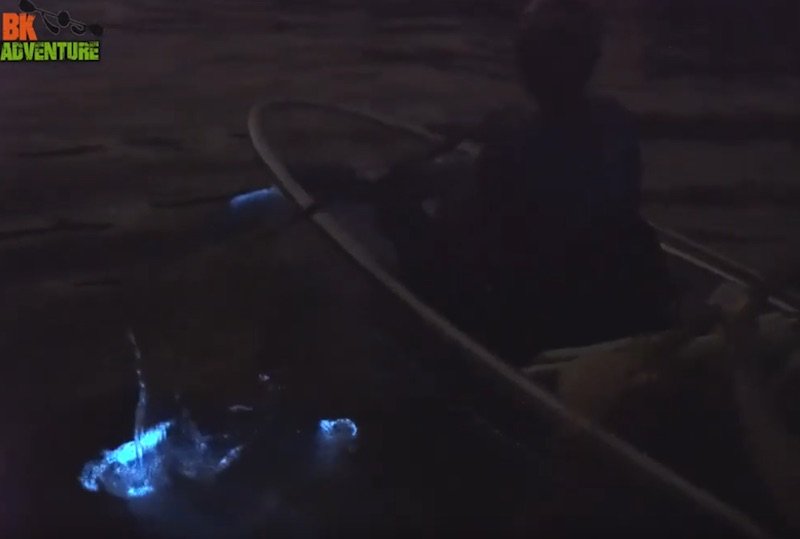 This incredible light-up plankton causes each paddle stroke to send a ripple of iridescent, sapphire water radiating away from your boat. If you are lucky, you may even see a tarpon or dolphin break the surface and send an explosion of blue into the dark, nighttime water.  
Get Up And Go Kayaking
Get Up and Go kayaking also offers bioluminescent tours as well. Besides, they provide a wide variety of clear kayak adventures to other destinations throughout Florida including Fort Pierce, Tampa Bay, Jupiter, Winter Park, Crystal River/Three Sisters Springs, Rainbow Springs, and Rock Springs.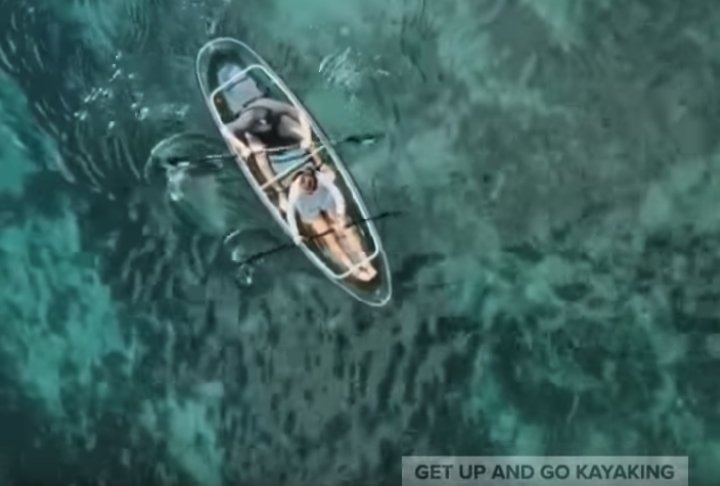 Manatees head inland to the springs during the winter months to seek out warmer water. This offers an excellent opportunity to get a fantastic view of these gentle giants. Get Up And Go Kayaking's Crystal River tour is ideal for manatee viewing during November-March.
They also offer a super cool LED "glow in the dark" night paddle at their Winter Park location. Their clear kayaks are equipped with special LED lights to illuminate the water beneath in the color of your choice. The lights also attract curious fish!
See Through Adventures
For another great opportunity to view manatees and dolphins, See Through Adventures leads clear kayak at Fort DeSoto and Shell Key Island near St. Petersburg.
Customers are reported to manatees 99% of the time and dolphins almost as often. In fact, they're so confident that you'll see at least one manatee during your trip, that they give you 50% off your next tour if you don't!
If you are planning a Florida paddling excursion, consider renting a clear kayak. This is a great way to immerse yourself completely in aquatic paradise for a nature adventure you will never forget. 
Please follow and like us: