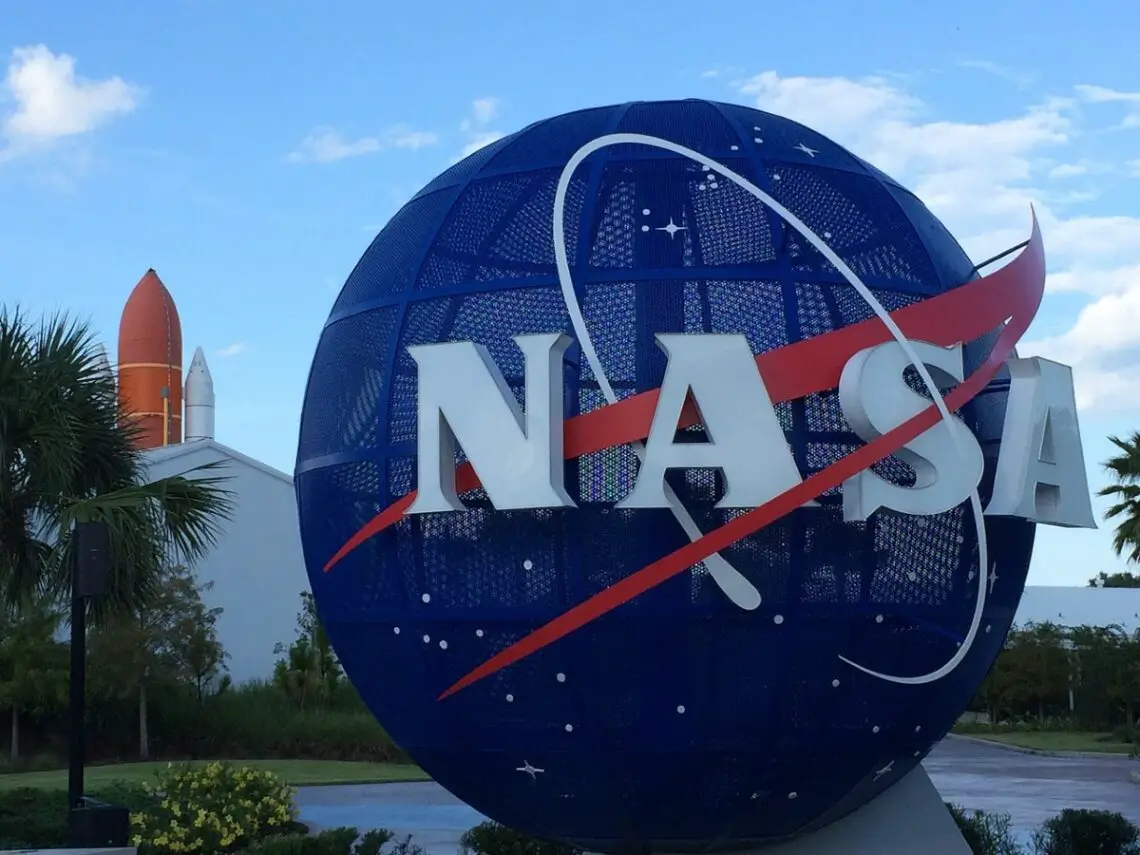 Skip The Mouse: Here Are Some Of The Best Places To Explore In Central Florida
(Last Updated On: September 23, 2023)
While we all love that iconic mouse, some of us are Disneyed-out. Disney World is a spectacular place, but there are other sights to see while in Central Florida. This area of Florida offers a diverse range of attractions beyond Disney.
Central Florida is a mix of urban centers and natural beauty. The region is situated in the middle of the state, and it includes parts of the Greater Orlando metropolitan area. It extends from the Gulf of Mexico to the Atlantic Ocean and encompasses a variety of landscapes, from wetlands and forests to urban areas and coastal regions.
If you want to spend time in Central Florida and get to know the area, here are some popular options: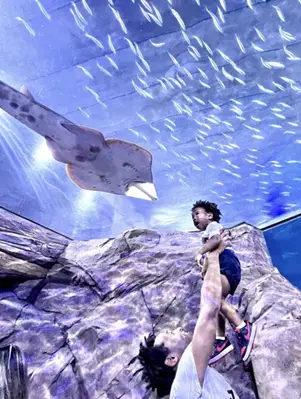 Sea World is a marine park featuring aquatic animal shows, interactive exhibits, and thrilling rides. It also includes Aquatica, a water park, and Discovery Cove, where you can swim with dolphins.
You can get up close with a wide variety of aquatic creatures like stingrays and sharks. For a unique experience, you can enjoy an immersive dining experience at Dine With Orcas, too.
Sea World is one of the largest marine animal rescue organizations in the world and concentrates on rehabilitation efforts. Check out their efforts here: 40,000 Animals Rescued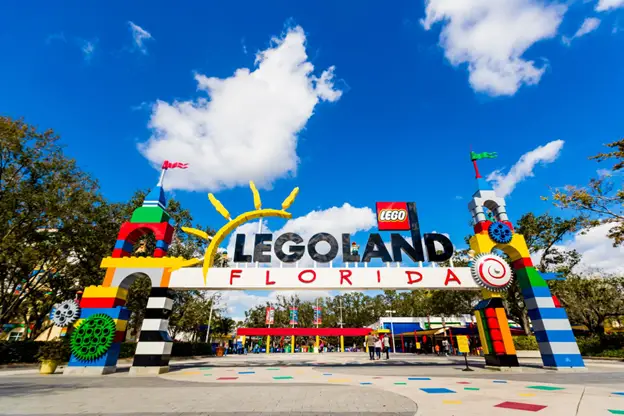 Geared toward families with younger children, this theme park features LEGO-themed attractions, rides, and shows. Everything is inspired by LEGO brands and characters.
Set on 150 acres, there is plenty to see and do. There is so much in fact, that you will want to download the Legoland Mobile App to make planning your day easier.
Take a look at what awaits you here: LEGOLAND Florida ATTRACTION GUIDE – All Rides & Shows – 2023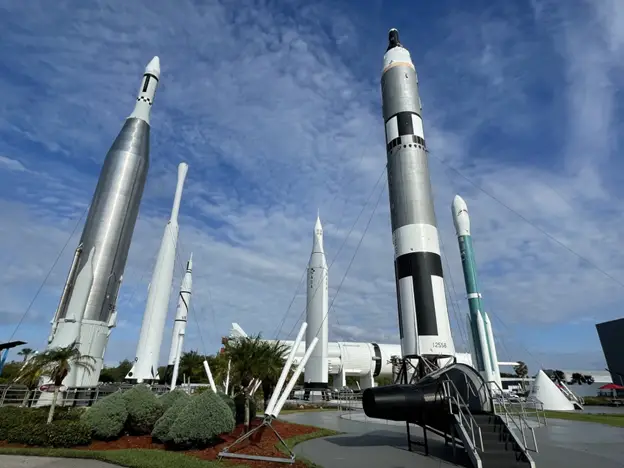 Kennedy Space Center, Visitor Complex
Located on the Space Coast, this attraction offers visitors the chance to learn about space exploration, view space shuttles and rockets, and even meet astronauts.
The eastern part of Central Florida is known as the Space Coast due to its proximity to the Kennedy Space Center and Cape Canaveral Space Launch Complex. This area played a pivotal role in the history of space exploration and continues to be a center for aerospace activities.
It offers visitors an immersive experience of the history and future of space exploration. The complex features a range of exhibits, attractions, and interactive displays that provide insights into space missions, astronauts, and the science behind space exploration.
This video will give you some of the highlights of this one-of-a-kind complex: The 2023 ABSOLUTE GUIDE to Kennedy Space Center!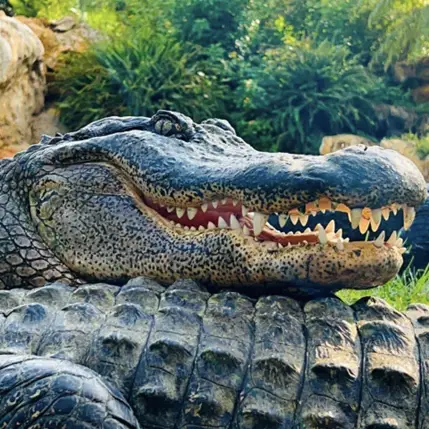 Gatorland is a well-known wildlife theme park located in Orlando. It is often referred to as the "Alligator Capital of the World." The park is dedicated to showcasing a variety of reptiles, with a particular focus on alligators and crocodiles.
Visitors to Gatorland can experience up-close encounters with these animals through guided tours, wildlife shows, and interactive exhibits.
The park offers a mix of educational and entertaining experiences, including opportunities to watch live demonstrations, feed the alligators, and learn about the behaviors and habitats of these creatures.
In addition to its reptile-focused attractions, Gatorland also features aviaries, a petting zoo, and various entertainment options.
While gators make my skin crawl, you can be brave enough to check out this Gatorland Orlando – Tour & Full Review from 2021.
Bok Tower Gardens is a renowned botanical garden and historic landmark in Florida. The centerpiece of the gardens is the Singing Tower, a 205-foot-tall (62.5 meters) neo-Gothic and Art Deco tower housing a carillon with 60 bells.
The tower and its carillon create melodious music with daily concerts that fill the surrounding landscape. The gardens cover approximately 250 acres and are designed with lush landscapes, tranquil ponds, and an array of colorful plants and flowers.
Bok Tower Gardens is a popular destination for nature enthusiasts, art lovers, and anyone seeking a peaceful and scenic escape in Central Florida.
See some of the serene sights here: Welcome to Bok Tower Gardens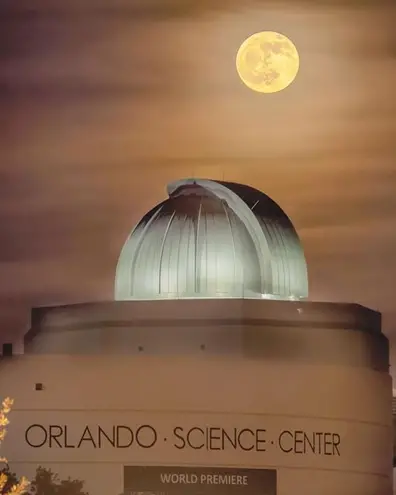 The Orlando Science Center located in Orlando, is a science museum. It offers a wide range of interactive exhibits and educational programs focused on science, technology, engineering, and mathematics (STEM) topics.
The center's exhibits cover various scientific disciplines, including physics, biology, astronomy, and more. It is designed to engage visitors of all ages, from children to adults, in hands-on learning experiences.
The Orlando Science Center also features a planetarium, live science demonstrations, workshops, and special events to promote science literacy and inspire curiosity about the world around us.
Here is the summer 2023 e-magazine for the Orlando Science Center:  Scope Magazine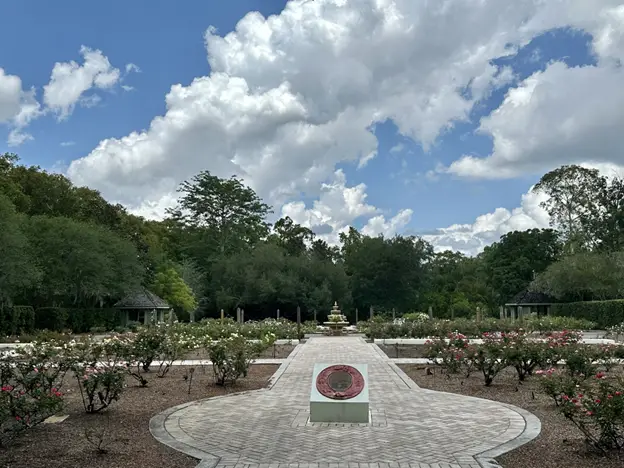 The Harry P. Leu Gardens is a beautiful botanical garden located in Orlando, Florida. It spans approximately 50 acres and showcases a diverse collection of plant species, including tropical and subtropical plants, palms, roses, camellias, azaleas, and more. The gardens are named after Harry P. Leu, a successful businessman and philanthropist who donated the property to the city of Orlando in 1961.
Visitors to the Harry P. Leu Gardens can explore themed areas such as the Rose Garden, Butterfly Garden, Palm Garden, and Tropical Stream Garden.
The gardens are known for their serene atmosphere and offer opportunities for leisurely walks, photography, and nature appreciation. The site also includes the Leu House Museum, a historic home built in the late 19th century, which provides insight into the history of the area.
The Harry P. Leu Gardens serve as a popular destination for locals and tourists alike who are interested in horticulture, gardening, and enjoying a peaceful outdoor environment in the heart of Orlando.
Check out this couple's well-done video tour of the garden: Best Gardens in Florida – This is the Harry P Leu Garden of Orlando.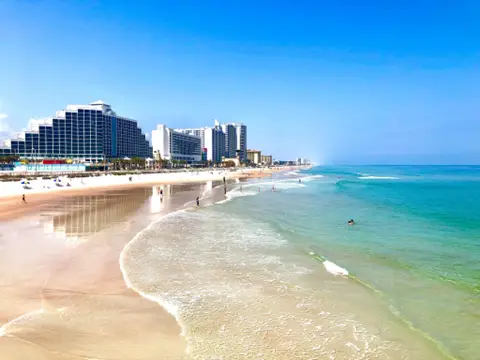 Daytona Beach is a coastal city located in Volusia County, Florida. It is renowned for its beautiful sandy beaches, motorsports heritage, and vibrant tourist attractions.
It is most famous for its wide and hard-packed sandy shoreline, which allows vehicles to drive on certain sections of the beach. It's a popular destination for sunbathing, swimming, beach volleyball, and water sports.
Daytona Beach is home to the Daytona International Speedway, a world-famous racing track that hosts events like the Daytona 500 NASCAR race, as well as motorcycle races, sports car races, and more. Bike Week and Biketoberfest draw motorcycle enthusiasts from around the country.
The Daytona Beach Boardwalk and Pier is a lively area featuring shops, waterfront restaurants, arcades, and amusement rides. It's a hub of entertainment and offers scenic views of the Atlantic Ocean.
Beyond the beach, visitors can enjoy water activities such as boating, fishing, kayaking, and paddleboarding in the surrounding waterways and the Halifax River.
Nearby, you'll find the Tomoka State Park and the scenic Ponce de Leon Inlet Lighthouse & Museum, offering opportunities for outdoor exploration and learning.
Here is a live webcam of the beach: Daytona Beach Cam or go here: Daytona Beach Tour for an interactive tour.

Silver Springs is a natural landmark and tourist attraction located in central Florida, near Ocala.
The springs are renowned for their crystal-clear freshwater springs that pump out millions of gallons of water every day. The springs feed into the Silver River, creating a unique ecosystem with abundant plant and animal life.
One of the main attractions at Silver Springs is its glass-bottom boat tours. Visitors can take these boat tours to see the underwater world of the springs, observing fish, turtles, and other aquatic creatures through the clear bottom of the boat.
The area around Silver Springs is home to diverse wildlife, including alligators, manatees, various bird species, and more. This makes it a popular spot for wildlife enthusiasts and birdwatchers.
The Silver Springs attraction is now part of the larger Silver Springs State Park, which offers opportunities for outdoor activities like hiking, picnicking, kayaking, and wildlife observation. The park also features walking trails that provide insight into the natural beauty of the area.
Check out the park here: How to Spend Your Day at Silver Springs State Park | Florida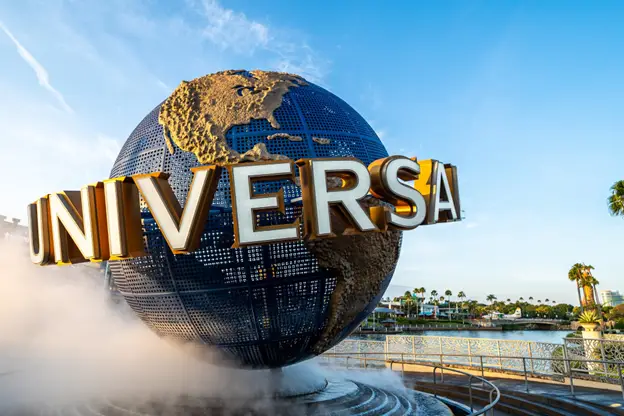 If you feel like you need a theme park fix but braving the enormity of Disney is too much, try Universal Orlando. This resort includes Universal Studios Florida, Universal's Islands of Adventure, and Universal CityWalk. It's known for its thrilling rides, immersive experiences, and attractions based on popular movies and TV shows.
Remember that the availability of attractions and their features can change, so it's a good idea to check their official websites for the latest information before planning your visit.
A direct competitor to Disney, Universal really can't compare to Disney World, but it will give you your theme park fix if you need one. This video gives you an idea of what you will see: Universal Studios Florida ATTRACTION GUIDE – All Rides + Shows – 2023 – Universal Orlando Resort
Final Thoughts
Central Florida is the home to Disney World, but it offers a lot more to see and do than just the House of Mouse. If you are visiting Disney World, consider spending a few extra days to explore the many other spectacular places in Central Florida.
Please follow and like us: