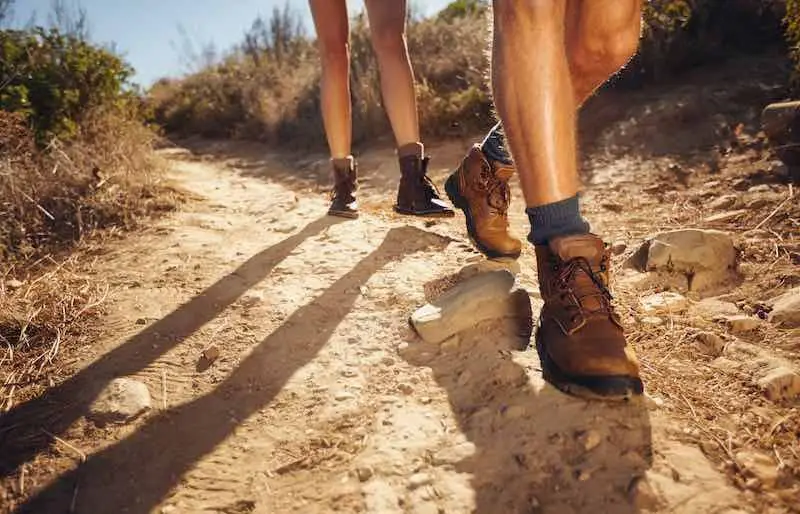 What to Wear Hiking in Hot Weather
(Last Updated On: September 19, 2023)
You love to hike, and you would love to hike in Florida. Before you head out on the trail, you need to know what to wear hiking in hot weather.
Even if you have hiked in other states, you will need to understand that hiking in Florida is different from hiking in any other state. 
Some hikers might think that Florida is flat, so with no mountains, it will be like a walk in the park. Not so. 
There are some great trails and vistas well worth seeing; however, Florida is an environment where temperatures are frequently in the 90s. 
Hot weather hiking needs particular gear and an awareness of how to navigate hot and humid weather.
There are many benefits to getting out and being in nature, as this article suggests: Why You Need To Go Hiking At Least Once A Week
We have listed some of the hot weather hiking must-haves that will help you when hiking in Florida.
Hot Weather Hiking Outfit
Since 1901, Hanes has been America's first name in comfort. The long sleeve Cool Dri fabric will keep you cool and comfortable even when it is hot outside. 
Moisture-wicking material keeps the moisture away from your body. The 50+ UPF rating gives you needed protection against harmful UV rays. 
Reviewers said that the sizes tend to run a bit large, so you might want to consider ordering the next size down from what you usually wear.
Here is a counterpart in women's sizes, the Baleaf long sleeve shirt has a soft, breathable fabric that wicks the moisture away from your skin. 
With a crew neck and raglan sleeves, this shirt dries quickly for extra comfort. 
The shirt has a system of flatlock seams and a tag-free collar so that you will have a chafe-free fit. 
UV protection of UPF 50+ will keep you safe in the sun on your hot-weather hikes.
The nylon spandex fabric of these shorts makes them lightweight, breathable, and quick drying. 
Great for any time of the year, the cargo shorts style will suit you well for hot weather hiking. 
Four pockets in the front and two in the back give you plenty of space for smaller items like phones and wallets. 
Reviewers felt that the lightweight material would make them especially great for hiking.
A must-have for hiking in hot weather, this Einskey sun hat is great whenever you are out of doors. 
The adjustable drawstring design makes this hat fit most all, both men and women. The wide brim provides protection from the sun. 
The waterproof polyester will be ideal in the rain. The built-in sweatband keeps the sweat from your eyes while the two-sided mesh keeps your head cool and comfortable. 
Easy to carry with you, the Einskey folds to be stowed in your backpack.
There are 12 different ways to wear this Neck Gaiter. One size fits most for both men and women. 
The moisture-wicking fabric will help transfer heat and humidity away from your body to help keep you cool. 
Made of quick-dry fabric, the neck gaiter will dry in minutes, rather than hours. 
You can use the neck gaiter as added protection from wind and sun when hiking.
Socks will be essential to you on a hike. Dickies crew socks have dri-tech fabric and moisture management fibers that help to keep your feet dry. 
Ventilation channels are engineered for air circulation and aid in moisture control. 
Arch compression hugs your feet and keeps the socks in place, with no slipping. In-step support and reinforced heel and toe give you cushion comfort.
Teva continues to work toward making their products as sustainable as possible. 
The straps of the sandals are now made using verifiable recycled plastic. The quick-dry webbing supports your foot with hook and loop closure. 
The shock pad heel will help absorb and cushion your feet on uneven terrain. The traction outsole has water channeling lugs. 
The Teva comes in a wide variety of colors.
Definitely, something you need for hiking in hot weather, the Teton sports hydration pack will allow you to keep hydrated in the hot weather. 
Lightweight and comfortable, the Oasis 1100 by Teton is an 18-liter day pack that comes with a 2-liter hydration bladder. 
The Oasis has a low profile cut that fits comfortably with adjustable shoulder, chest, and waistbands. 
The shock-absorbing chest strap reduces bounce. Perfect for hiking on a hot day, the hydration bladder has a kink-free sip tube with an innovative push-lock cushioned bite valve. 
The large opening on the bladder makes it easy to clean or to add ice. Use the bladder for water only.
There is no question that you will need a pair of sunglasses when hiking, especially in hot weather. 
You will want a pair that is both lightweight and polarized. The S1 Sport has a three-point fit that will stay in place on your face. 
The lenses are mirror flash coated to limit the amount of light that your eyes are exposed to—a real bonus to prevent eye fatigue. 
Complete UV protection is another plus with these glasses. 
The lenses are cut from a single toric lens and use polarized TAC lenses to give you depth perception, color contrast, and clarity.
Taking along a pair of water shoes for your hike in Florida will not go amiss. 
There are plenty of areas, even on a hike in Florida, where many parts of a trail can experience sudden flooding after heavy rains. 
The Simari water shoes are lightweight and easy to take along with you. The upper is made of Lycra material that will stretch yet fit snuggly. 
The shoes' soles have eight holes to ensure that they will drain well and not hold water. 
Elastic shoelaces with a locking mechanism enable you to quickly adjust the shoe and make for an easy on and off. 
There is an excellent variety of colors and designs to choose from. 
You will find these shoes to be handy on your hike, and for any time, you are at the beach or on a boat.
You have a backpack for your hike, but it is really handy to have a smaller pack for the items you want at hand. 
With over 30 different colors and patterns to choose from, the Waterfly fanny pack is ideal for the things you want to keep at hand. 
Keep your cell phone close and easy to reach. There is a place for a wallet and passport in the double zipper main compartment. 
Two extra front pockets and a hidden rear zippered pocket. Great for a day hike or if you are out for a run. 
The pack is also water-resistant in case it rains while you are hiking.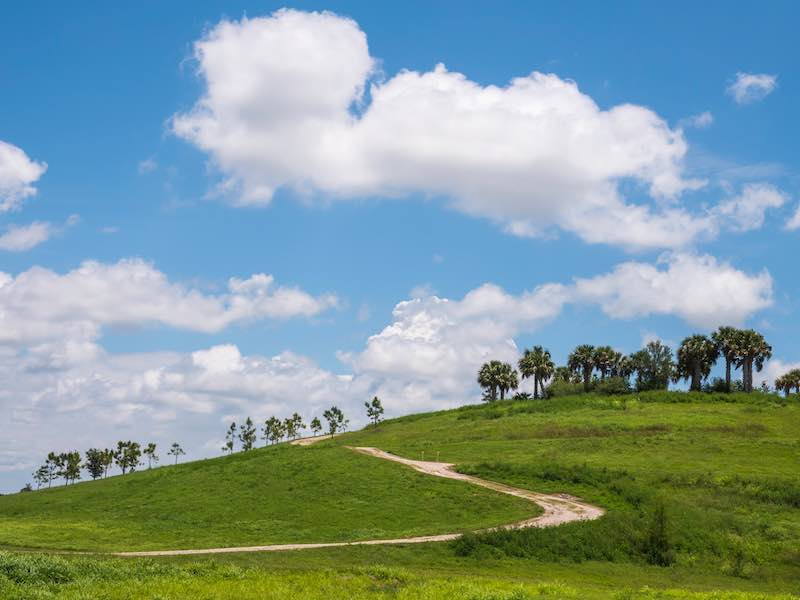 Best Places To Go Hiking In Florida
Before you check out some of the hiking spots in Florida, it is good to learn from others' experience, even if the area is not exactly where you will be going. 
You can always pick up tips that will be handy when you are on the trail, like this article A Solo Backpackers Guide to Outdoor Hiking. 
Here are some suggestions for places to hike in Central Florida.
Juniper Creek Trail, Blackwater River Forest
8.1 miles linear
The Juniper Creek Trail is one of Florida Panhandle's most spectacular day hikes. You will go by sandy beaches that lay along the curves of the creek. 
Fields of blueberries and pitcher plant bogs that grow on seepage slopes and pink and white blooms of mountain laurel are some of the beautiful foliage you will see in the spring. 
A day hike between the trailheads can't be beaten. There is a trail shelter and campsite along the way to make it a very easy and pleasant, but short backpacking trip. 
If you stop at the bluffs, you will get fantastic views from high above the creek.
Juniper Prairie Wilderness, Ocala National Forest
8.9 miles linear
Florida, Juniper Prairie Wilderness Map
On the Florida Trail, the nearly 9 miles through the Juniper Prairie Wilderness will take you up close to the Big Scrub. 
The Big Scrub is the world's largest sand pine scrub forest. 
There are no roads in this area and is an ideal place to enjoy a quiet stretch of wilderness in Ocala National Forest. 
You can do this section as a day hike or as an overnight backpacking trip. 
It is a very popular weekend hike, so some people go mid-week to enjoy a quieter time and Hidden Pond.
Green Swamp West
7 miles linear
As an important source of Central Florida's water, the Green Swamp is not as swampy as you might think. Hillsborough and Peace rivers flow south from the swamp. 
Withlacoochee and Ocklawaha Rivers flow north from the swamp.  Filled with pine, prairie and cypress domes, this section of the trail is generally dry. 
The trail will cross prairies and sandhills and wanders beneath tall pines.
Little Big Econ
4.9 miles linear
When in Orlando, you should visit the Little Big Econ. The American Hiking Society has named this section of the Florida Trail one of the United States' most family-friendly hikes. 
The route wanders parallel to the Econlockhatchee River. Views of the river from the bluff, you will see lush stands of palm trees. 
Numerous bridge crossings span tributaries that feed the river. 
Starting at the Barr Street trailhead, it is a 5.4-mile round trip to walk out to the pedestrian bridge over the river and back again.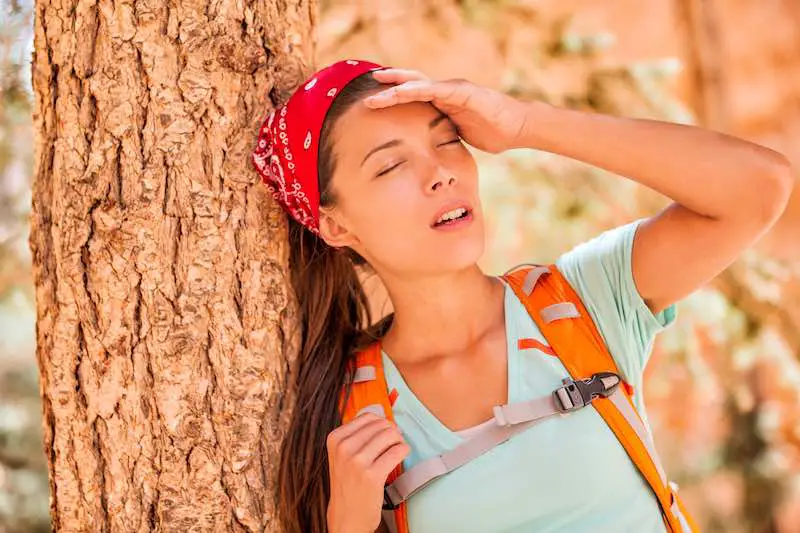 Best Hot Weather Hiking Tips
Number one
Check the weather before you head out. If it is humid, that can cause downpours. 
Those downpours can change the type of surface you are hiking on from dry and flat to wet and slippery. 
Make sure your footwear can handle both. If there are any rivers you might have to traverse, take that into consideration. 
You might be able to get over a slow moving river, but not be able to get back if the weather changes into a downpour.
Number two
Start early. Or start late. Try and skip the hours between 11 am and 3 pm. 
That is when the relentless heat and humidity could make the hike unpleasant at best and cause health concerns at the worst. 
Skip the midday heat whenever possible. 
The months between October and April in Florida have weather that is more conducive to hikes during the day.
Number three
Know the heat index. Hikers, as a rule, are probably familiar with the wind chill index that helps them prepare for cold weather conditions.  
The heat index is the summer equivalent of the wind chill index. When it is very humid out, the rate of sweat evaporation decreases. 
Because of this, you can overheat even at relatively low temperatures.  
When you have high temperatures that are combined with high humidity, the risk of heat-related illness increases. 
Check the forecasted heat and humidity conditions before going on a hike, and adjust your schedule accordingly. 
Number four
This may seem counterintuitive in hot weather, but layer up with long sleeves. 
Make sure that they are loose-fitting. No snug clothes. 
The loose fit will give your better airflow and keep you cooler. 
Choose light colors that will reflect the light, not absorb them. 
Synthetic clothes that have moisture-wicking properties can also prevent chafing. 
This is a must…wear a wide-brimmed hat! A lot of hats will have mesh sides to help release heat. 
Slather on the sunscreen and wear UV blocking sunglasses.
Number five
Hydrate! Hydrate! Hydrate!  
When hiking in hot weather, your body loses about one liter of water every hour. If the hike is challenging, that amount can be doubled. 
Always take along more water than what you think you will need. Your body can effectively take in half a liter an hour only. So drink frequently. 
Try not to chug your water, but sip it regularly. Remember the Teton water hydration pack listed above?
 A unit like that will enable you to sip as you go and not get dehydrated.
Number six
Another tip that is counterintuitive. Eat salty snacks while hiking in hot weather. 
You would think that this would make you more thirsty, and indeed it will. 
However, the point of salty snacks is to replace electrolyte levels that you will lose through sweat. 
Take along snacks that have complex carbs like trail mix, energy bars, and fruit. 
Electrolyte drinks or tablets will help too, so it would not be amiss to bring some along.
Number seven
Have a small first aid kit that you bring along, even on a day hike. You never know when a blister will arise, and you want to be able to address that as soon as possible. 
An extra pair of hiking socks should accompany you. 
Some bug spray and additional sunscreen will go a long way in making the day one that you want to repeat.
Number seven
Pick the right trail. You will need some type of GPS so that you don't get lost, like these Smart Watches for day to day use. 
If it is a particularly hot day, choose a trail that affords shade along the way. 
If you choose a trail that has some shade or runs by water, you will be able to protect yourself from the sun on occasion or use it to cool off. 
Take breaks along the way to let sweat evaporate and give yourself time to cool down.
Number eight
Know the signs of heatstroke. The early signs are:
Headache
Dizziness
Nausea
Muscle cramps
Confusion or disorientation
Lack of sweating
If you notice this in yourself or others, it is imperative to get help immediately. 
Stop hiking, find shade, and cool down asap. 
Don't hesitate to call 911. You will have just one chance to make a difference for yourself or someone else. Be safe, not sorry. 
Number ten
Expect to be slower in hot weather. You may be an avid hiker that hits the trail and leaves others in your dust. 
Hiking in the heat puts an extra strain on your body. One of the reasons for this is that your body cools itself by shifting more blood flow to the skin. 
Your heart works harder to accomplish this, leaving less blood available to your muscles. 
So do yourself, and your heart, a favor. Set a slower pace.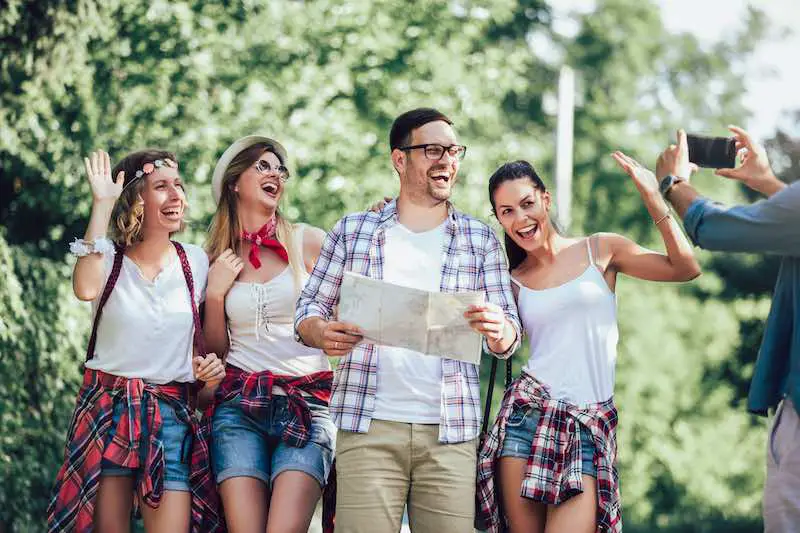 In Conclusion
Getting out into nature is worthwhile and satisfying. 
You can't always have a perfect day for hiking, but you can be prepared for the weather and still get out in nature. 
Your ancestors did not have the advantage of modern materials, hydrating backpacks and GPS when they were settling the Florida territory in the heat. 
Yes, they dropped like flies, but you have the clear benefit of all that modern-day man has at their disposal regarding knowledge and equipment. 
So don't let the hot weather deter you. Use your head and your resources to get out and enjoy the great outdoors.
Here are a couple of links to give you more information on hiking in Florida:
Florida National Scenic Trail – Home
Florida Trail Association: Home
Please follow and like us: