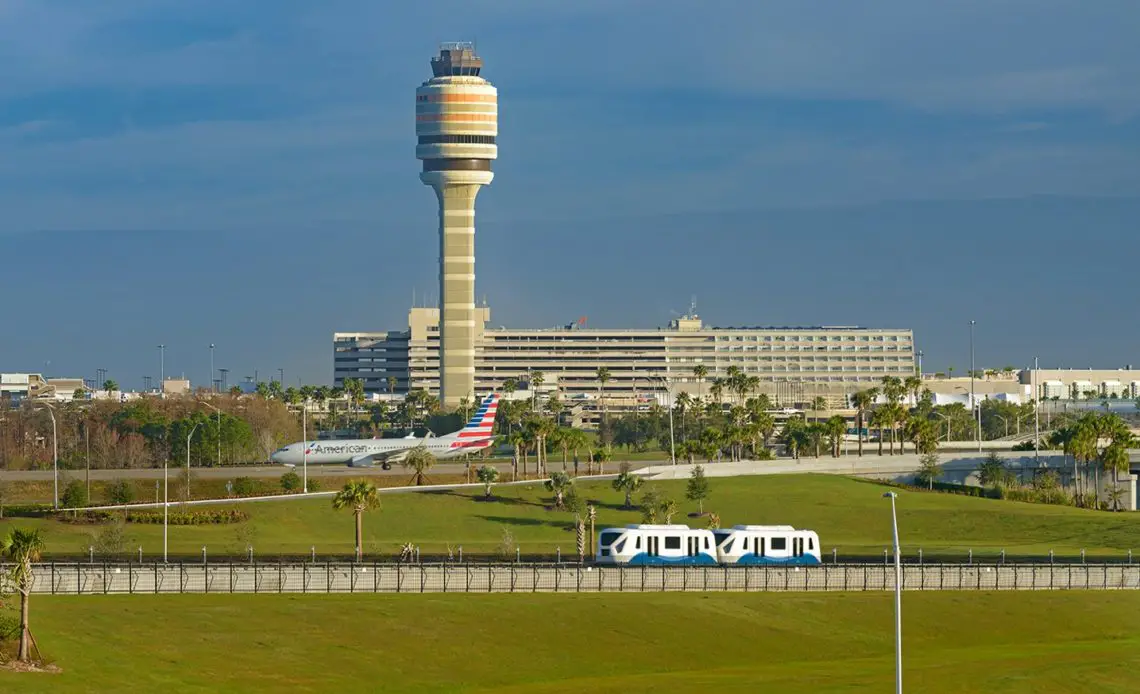 Central Florida Airports Near Orlando
(Last Updated On: September 23, 2023)
Thinking of flying to Florida? Whether you're flying to central Florida on your own plane, a private jet or a commercial aircraft, you have several airports to choose from. While the most obvious is Orlando International Airport (the first one on our list), did you know that Central Florida is home to a number of other airports to make your travel more convenient?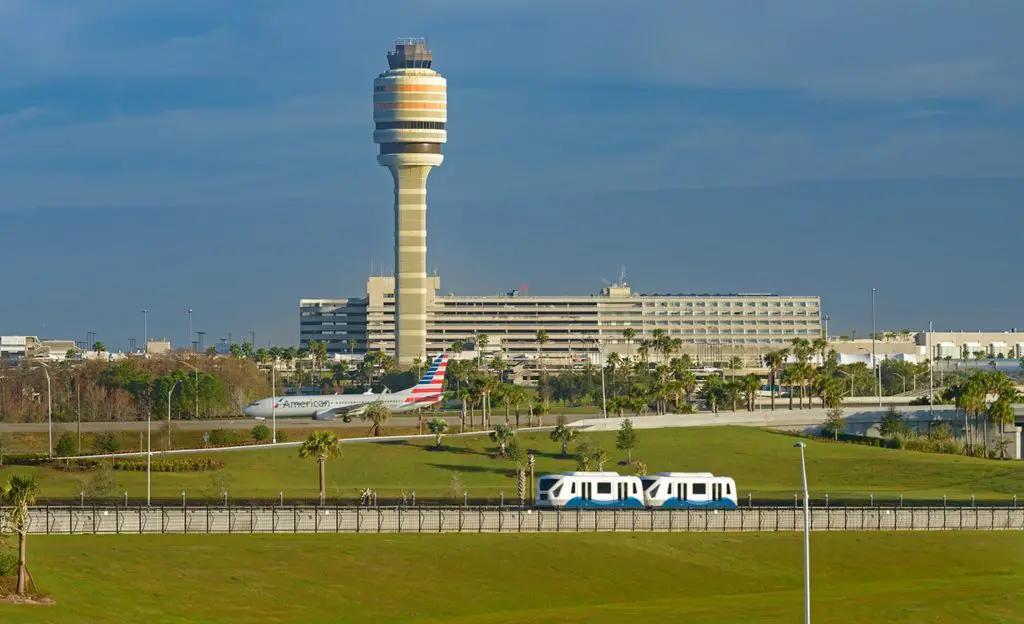 Orlando International Airport serves commercial airline services. MCO is Orlando's main airport for passenger travel. The airport serves both domestic and foreign commercial airlines. MCO also handles cargo, corporate and general aviation flights. 
MCO has 24 hour service and is equipped with a distinctive Federal Aviation Administration (FAA) control tower (see picture above) that raises 345 feet above the ground, and is the tallest in the U.S. 
MCO is Florida's top airport, and the seventh in the U.S.  Major airlines to Orlando International include Southwest, Spirit, Delta, Frontier, and American among others. 
Orlando has two main terminals, A & B. Due to the volume of passengers, expansion is taking place at MCO, and a new terminal, C is set to open later in 2022.
The two existing terminals have amenities that include free WIFI throught the airport, and multiple places for food and drink. There are ATMs and a currency exchange too. 
The airport offers a large United Service Organizations (USO) at the west end (A side) of the airport. The USO is a charitable organization that serves active-duty service members and military families. The USO houses a children's area, a quiet room, baggage storage and TVs and a DVD movie library. 
Unfortunately, Orlando International has the longest U.S. Customs wait times of any airport in the country. It can be up to 25 minutes to pass through customs at MCO and this can be significant to the passenger coming off a 10 hour flight. 
Amenities at the Orlando International Airport include:
Hyatt Regency Hotel located in Terminal B

Free Wi-Fi in all public areas of the airport

Restaurants, bars, cafes

and grab-and-go food outlets

Information booths in the central area of the main terminal, 

Children's play areas

Free access to wheelchairs

Nursing suites (in selected areas)

Duty-free shopping (Only in Concourses 1 and 4)

Live entertainment in the main terminal

Currency exchange and ATMs

Emergency medical care

Outlets and power stations

Car rentals (Alamo, Avis, Budget, Hertz and others)
Here is a list of Airlines Served at Orlando International Airport in Florida. 
It is not often that a person is privy to the view from the cockpit of a Boeing 757 landing at MCO, and this landing shows an exceptional pilot and a smooth landing: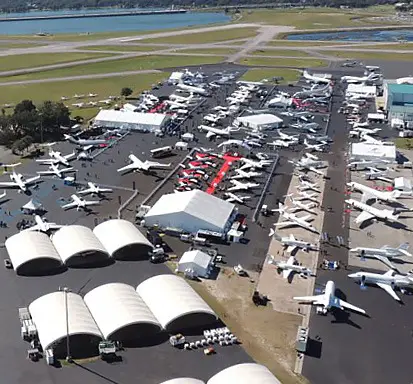 Orlando Executive Airport serves general and corporate aviation flights. ORL was Central Florida's first commercial airfield. It is located three miles from downtown Orlando on a 1,056 acre site that is owned by the city.
These days, the airport is primarily used by business and pleasure travelers that operate private and chartered aircraft. ORL is also used by law enforcement, air ambulances and search and rescue missions. 
Orlando Executive Airport provides 24 hour service and is equipped with an FAA air traffic tower. 
There are two terminals at ORL. One is managed by Sheltair Aviation, the nation's largest privately-owned aviation network. The other is Atlantic Aviation. 
The airport has two runways that measure 6,004 X 150 and 4,625 X 100 feet in length. There is also a Customs and Border Protection (CBP) customs facility at ORL.  Orlando Executive Airport is also the home base for the Orange County Sheriff's Office.
Orlando Executive Airport is the top choice for the majority of business jets and executive charter flights. The airport is also used as a landing and staging site for Marine helicopters during Presidential visits as Air Force One requires the long runways available at ORL. 
The two FBO (fixed base operators) at Orlando Executive Airport offer a variety of services to private and corporate owned aircraft. Those services include:
Airframe maintenance (minor/major)

Aircraft charter

Aircraft sales

Avionics maintenance

Catering

Conference rooms

Flight instruction

Fuel sales (100 Octane, 100LL Low-lead, Jet A) 

Jet maintenance

Pilot shop and lounge

Power plant maintenance

Weather information
As of March 2022, there are 215 aircraft based at Orlando Executive Airport, 132 single-engine, 42 multi-engine, 33 jet and 8 helicopters. 
A perfect sunrise Landing at Orlando Executive Airport: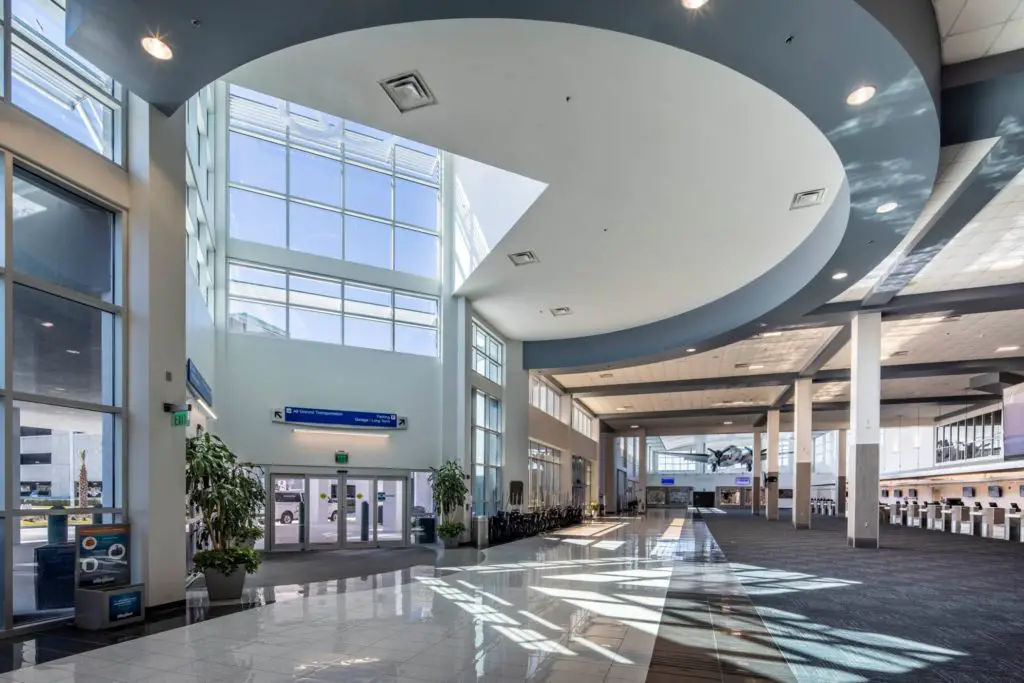 Sanford International Airport is located about 30 miles from Orlando. Originally built as a Naval Air Station for carrier-based attack and reconnaissance aircraft, in 1969 the airport became owned and operated by Sanford Airport Authority and is a base for Allegiant Air.  
A secondary commercial airport for Orlando, about 3.5 million people fly in and out of SFB as compared to the 40 million that frequented Orlando International in the past year. 
The airport has just one terminal, and you can usually get in and out of the airport quickly. 
Most of the airlines that operate at Sanford are domestic, although you can fly to SFB with TUI, a British charter airline. There are also direct flights from some UK airports like London Gatwick, Birmingham, Manchester and Glasgow. 
Low-cost carrier Flair Airlines, announced in the winter of 2021, that they have launched a service between Sanford and five Canadian destinations. 
The airport covers 3,000 acres and has four runways. The runways are in length:
11,002 X 150 feet

6,002 X 150 feet

5,839 X 75 feet

3,578 X 74 feet
Sanford International has car rentals on site like Alamo, Avis, Hertz and Enterprise. 
If you are looking for a place to eat at Sanford International, there are several options:
Sanford Market

Jetway Cafe

Budweiser Tap Room

American Grill

Port Paradise

Cheeseburger Cheeseburger

Dunkin Donuts

Cinnabon
The airport also has a World Duty Free Jewelry store, a Duty Free shop, a clothing store and Hudson News which has books, magazines and snacks. 
U.S. Customs and Border Protection has custom offices to help safely welcome global travelers to Central Florida. 
There are approximately 326 aircraft based at SFB: 221 single-engine, 53 multi-engine, 48 jet and 4 helicopters. Sanford Tower is an FAA air control tower located on the airport property. The airport also offers, for private pilots:
Airframe repair

Engine repair

Avionics repair

Fuel sales (100LL, Jet A)

Courtesy car
If you are thinking about flying your personal aircraft into Sanford International, this video from the FAA shows you the flight patterns:

Did You Know?
The National Business Aviation Association (NBAA) is holding its annual convention and exhibition in Orlando, Florida October 18 – 20, 2022. The most influential business aviation trade show in the United States, the 2022 NBAA-BACE will be held at the Orange County Convention Center. The convention will feature exhibitors with their latest products and services, two aircraft displays and more than 50 education opportunities. 
Each year for the past 9 years, Orlando Executive Airport has held a 5K run, which takes place on the runways. This year's 10th annual run will be held on April 16, 2022 at 7:30 am. All of the proceeds from the run go to Angel Flight Southeast. Angel Flight arranges free flights so children and adults can have access to far from home doctors to get care that might save their lives. 
International Air Transport Association (IATA)
The International Air Transport Association (IATA) is a global trade group that represents 290 airlines worldwide. The purpose of IATA is to advocate for "inter-airline cooperations" that promotes safe, reliable and economical air travel. Nearly all major airlines such as Continental, Delta, Federal Express, JetBlue and United are members of IATA.
If you are looking for an airport code, you can search here: Airline and Location Codes Search
Please follow and like us: