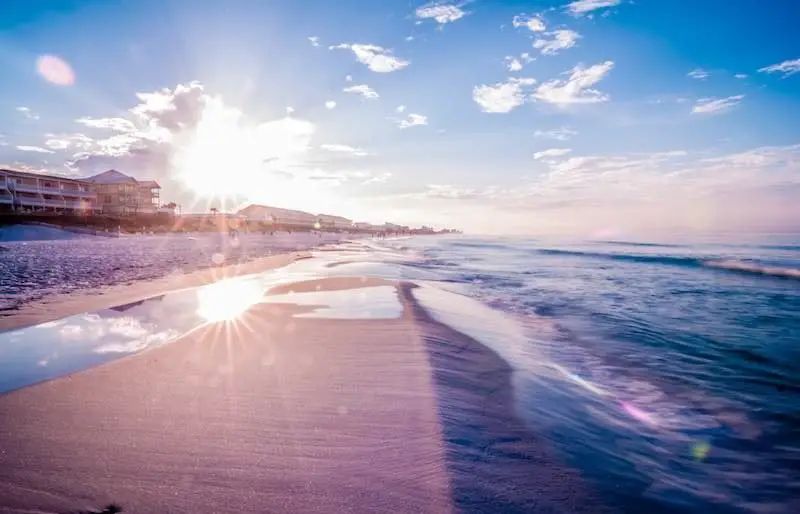 Central Florida Weather Year Round. What A First Time Visitor Must Know.
(Last Updated On: September 19, 2023)
It's called the Sunshine State, right? So central Florida weather should be sunny, right? Well, the answer to that is a definite maybe.
Central Florida resides in a humid subtropical climate. It is classified under the Koppen climatic classification as Cfa. 
What that means to a first time visitor to central Flordia is that the weather is unpredictable.
Central Florida Is Hot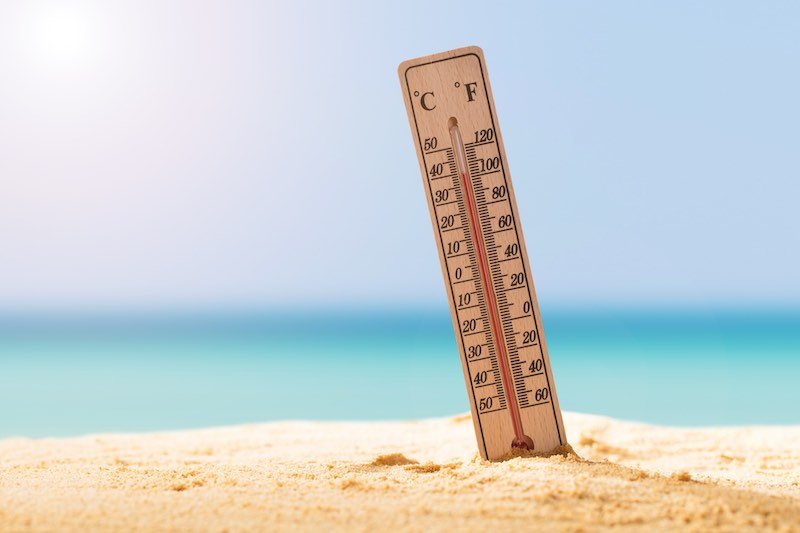 Primarily, there are two seasons year-round in central Florida. One season consists of a hot and rainy season. 
The other season is warm and dry. You might as well say that central Florida weather year-round is hot and hotter.
Another reason Florida is hot, especially in the summer, is the water surrounding the state. 
These bodies of water are quite warm as they contain currents warmed in the tropics. Air moving across the water absorbs the heat and disperses it over the land.
Florida See Millions Of Visitors Yearly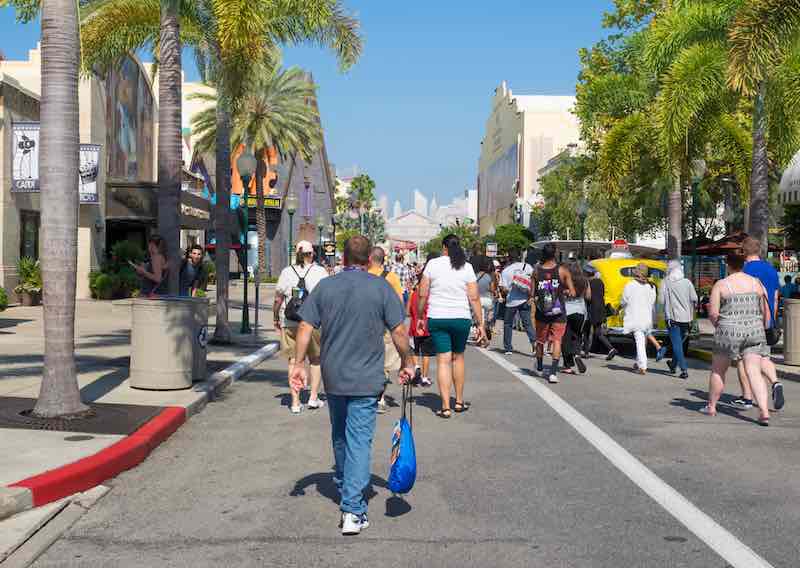 We know that 2020 is not a typical year to judge by. Instead, we will look back to 2018 when Florida saw a record 126.98 million visitors. 
Of those, 68.5 million visited the central Florida area. That is not a surprise as central Florida, and Orlando in particular, is home to seven of the world's top theme parks. 
If all those millions of other people come to central Florida, so can you!
Listen To Current Weather Forecasts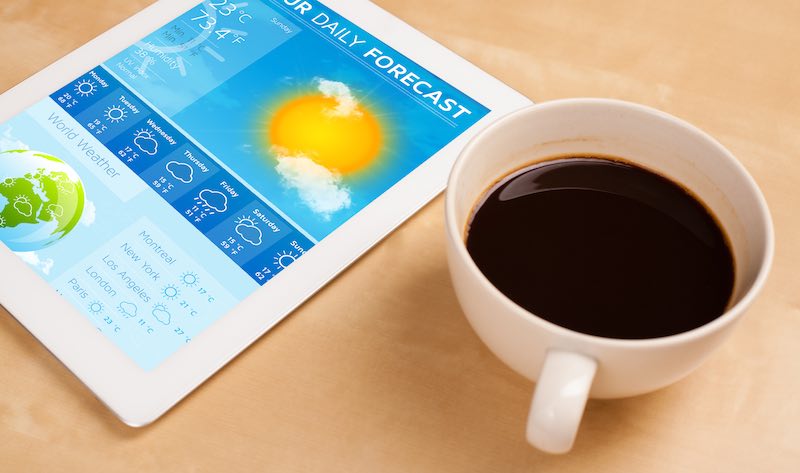 As a first time visitor to central Florida, be ready for a wide range of weather possibilities. Listen for forecasts and take heed of any warnings for wind, rain, or lightning.
Rainy Season 
Depending on when you visit, your Central Florida weather forecast may vary. From about May through October is when it is considered the rainy season. 
Florida will get 61% of its total annual rainfall during these five months. But don't let this discourage you from visiting! 
If you check the central Florida weather forecast and see a 40% chance of rain every day during the summer you plan on visiting, don't let that stop your plans. 
It will typically rain heavily for an hour or so in the afternoon, and then it stops. While it will rain every day during central Floridas rainy season, it seldom rains ALL day. 
Before your trip to the south, visit the dollar store for a couple of rain ponchos and have them handy.
A Variety Of Temperatures
At any given time of the year, the average temperature is 72 degrees. 
But from May to September (most of the rainy season), the weather will average about 91 degrees and is humid. 
October through April is relatively warm and dry. Temperatures are lower, with an average of about 69 degrees.
Cooler Weather
If you will be a first time visitor to central Florida and are trying to decide when the weather in central Florida will be the most accommodating, you might want to try between October and December. 
While that is when life can be the busiest with school and holidays, it is also the three months that central Florida is pleasantly warm. 
There are not as many thunderstorms and less rain. There is less of the extremes in temperature during these months. 
Storms and Hurricanes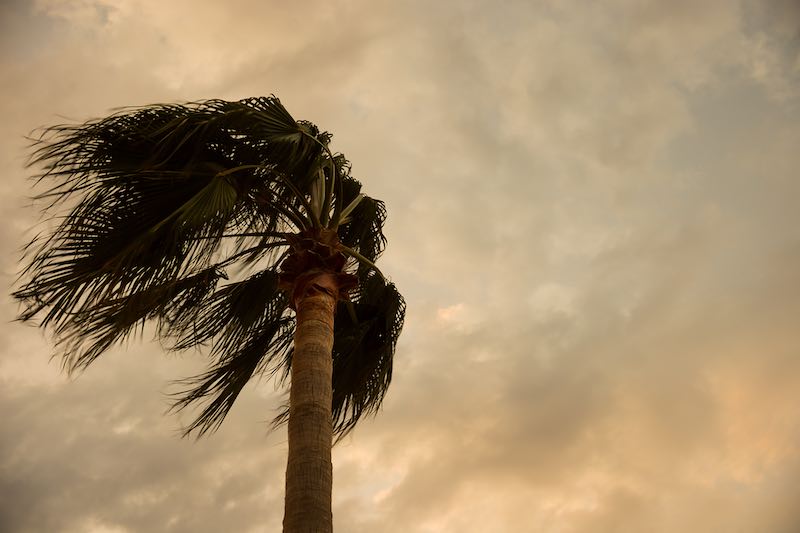 A first-time visitor might want to avoid June and August, as those are the months with a higher risk of storms and hurricanes and it rains considerably more.
Another reason Florida is hot, especially in the summer, is the water surrounding the state. 
These bodies of water are quite warm as they contain currents warmed in the tropics. Air moving across the water absorbs the heat and disperses it over the land.
Always Use Sunscreen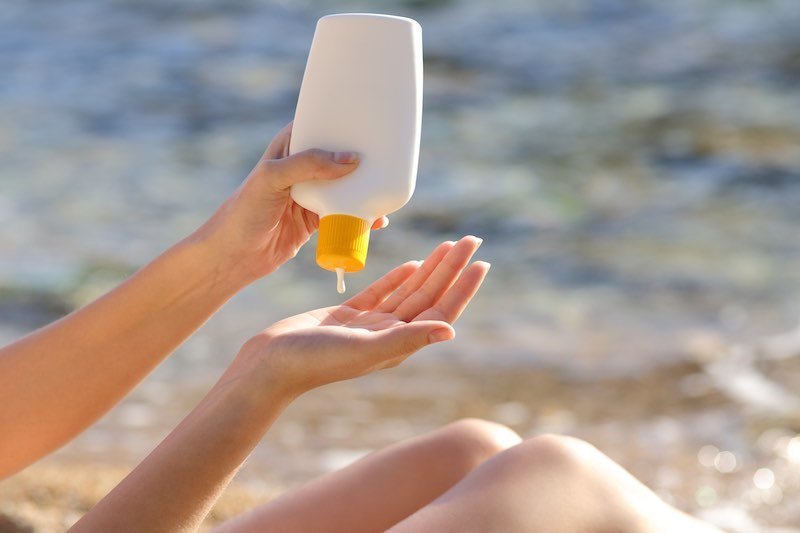 A first time visitor to the central Florida climate needs to know that no matter the time of year, you will need sunscreen. Consider it a necessity. 
Florida lies very close to the equator, so it receives stronger sunlight than the rest of the country. 
The Environmental Protection Agency (EPA) will help you out with Sun Safety forecasts and sun safety tips.
While the sun is lovely and warm, and you feel uplifted on bright, sunny days the sun can do damage to your skin. Central Florida is sunny in most all seasons, and sunburns can be a significant factor. 
For your first time visiting, don't forget the importance of slathering on the sunscreen of at least SPF 15, preferably higher. 
You would not want your first visit marred by a sunburn. The sun will be the strongest between the hours of 10 am and 4 pm. 
Even cloudy days in central Florida can give you a sunburn. Wear a hat and sunglasses with a 99 to 100% UV absorption rating. 
Believe it or not, a lightweight, long sleeve shirt will not be amiss in central Florida's intense sun even though the day is hot. 
Before you visit, be sure to read the EPA's Action Steps For Sun Protection.
Year-Round Weather in Central Florida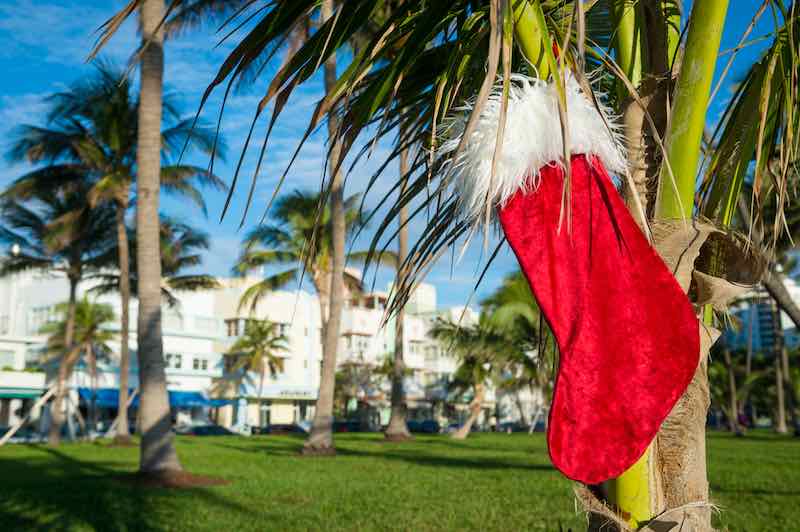 Here is a rundown of what to expect from central Florida weather year-round:
January
This is the coldest range for temperatures with an average temp of 48 degrees for a low and 69 for a high. 
Most tourists come from colder places and 48 degrees does not dissuade them. This is a great time to visit as most people went over the holidays, so lines at amusement parks will be shorter.
February
Again, the low temperature will be about 48 degrees. Highs will get up to 71 degrees. A good time for a mix of indoor and outdoor activities.
March
At this point, lows have gotten up to 53 degrees, and the highs are now 77 degrees.
April
Low temperatures are up to 59 degrees, and highs are hitting 82 degrees. This is bringing more visitors to Florida.
May
You can expect temps between 64 and 87 degrees. It is a great time to visit the ocean, where it will be in the 78-degree range at this time of year.
June
Hold on to your hat! You are going to need to have a wide brim one! This is the hottest month in central Florida, with temps between 73 and 89 degrees. 
That may not sound too bad, but remember that you are closer to the sun, and so the sun that you experience is scorching.
July
You are going to have temps between 73 and 91 degrees. The sun will radiate up to ten hours a day during July. However, the rain makes it very humid.
August
Temps are much like July, between 73 and 91 degrees. It will seem much hotter, though. This is right in the middle of the rainy season. 
When you get hot, your body sweats to cool you off. In a hot, dry heat (like Arizona), sweat will evaporate off your skin and help cool your body down. 
In Florida's humid temperature, the moisture in the air prevents the sweat from evaporating and so your body remains hot. 
If outside, use an umbrella and don't stay out in the sun for long periods.
September
The average sea temperature is going to be about 84. Inland, the temp will be between 72 and 89 degrees. It will still be hot and humid as it is still part of the rainy season.
October
Now temperatures are beginning their downward move. Temps will be between 65 and 84. The sea temperature will be 80 to 84 degrees. The rain is diminishing and life is grand.
November
Very pleasant temperatures between 57 and 77 degrees without the humidity. A minimum of rain and the sun will seem much more kind with its 8 hours a day appearance.
December
Tourists find the 50 to 74-degree weather just what they are looking for. This mild and dry weather is perfect for sightseeing and visiting amusement parks.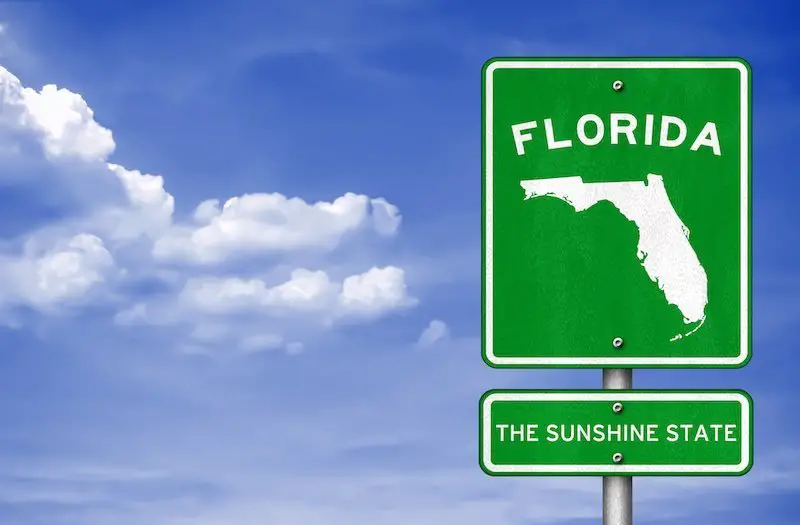 In Conclusion
Yes, central Florida is very sunny. Yes, it is very rainy. It can also be extremely humid and unbearably hot. 
Knowing what to expect from the central Florida weather in any given month will help you prepare for what awaits you as a first time visitor.
But the number of visitors to Florida and central Florida, in particular, continues to grow year over year. All those visitors can't be wrong!
The Koppen Climate Classification 
We talked earlier in the article about Florida classifies as Cfa in the Koppen Climate Classification.
This classification divides climate worldwide into five main groups. Each group is divided based on seasonal precipitation and temperature patterns.
Each group and subgroup is represented by a letter.
Those main groups are:
A Tropical
B Dry
C Temperate
D Continental
E Polar
The second letter indicates seasonal precipitation. The third letter indicates the level of heat.
According to Wikipedia, Florida's classification of Cfa means:
Humid subtropical climate; coldest month averaging above 0 °C (32 °F) (or −3 °C (27 °F)), at least one month's average temperature above 22 °C (71.6 °F), and at least four months were averaging above 10 °C (50 °F). No significant precipitation difference between seasons (neither abovementioned set of conditions fulfilled). No dry months in the summer.
 Here is a map of the Koppen climate classification courtesy of Wikipedia.
 Koppen Classification per Wikipedia
Please follow and like us: