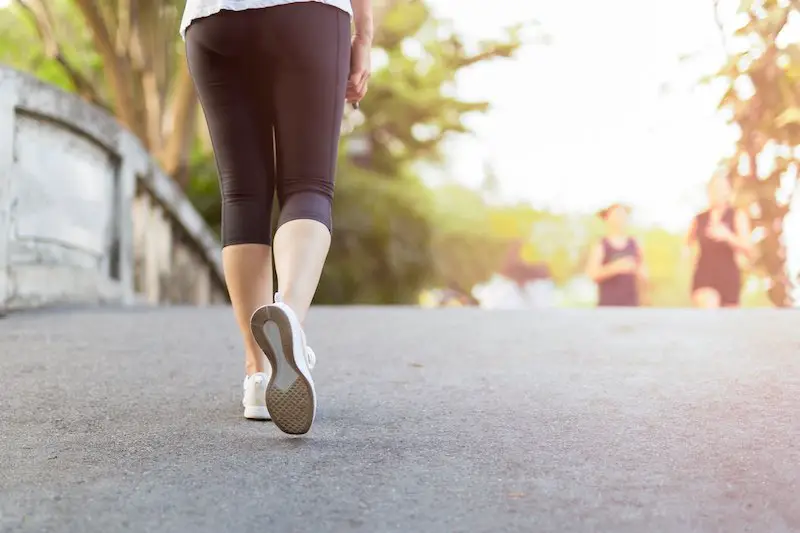 Best Shoes For Walking on Concrete
(Last Updated On: November 25, 2021)
Wear The Right Shoes To Avoid Future Pain
You may not have any foot problems and think that you don't need "special" shoes if you walk or work on concrete floors. You might not even realize that the floors are concrete as they may have a covering of tile or carpet.
Even with that layer of tile or carpet, concrete is unforgiving to your feet and joints. If you don't have issues with your feet, unfortunately you will after standing, walking or working on concrete.
Concrete is unforgiving and can cause sore feet, swollen legs, varicose veins, and back pain. If you start out wearing good, supportive shoes, it will go a long way to preventing problems with your feet from walking on concrete. 
In this article, we have listed 10 shoes that will help to cushion your feet from the damage concrete can do to them.
Best Shoes For Working On Concrete
Rockport Men's Chranson Walking Shoe
Rockport has long been a respected name in men's shoes, and the lace-up Chranson is no exception with a latex footbed and mesh lining that wicks away moisture and provides breathability. 
TruFlex technology provides shock absorbing heel cushioning and sits on top of a rubber EVA outsole to give the Chranson durable grip on any surface. 
Best Women's Shoes For Standing On Concrete For Long Hours
Fila Women's Memory Work Shoe
The perfect shoe for your workday, you can feel comfortable without sacrificing performance and protection throughout your workday with the Fila Memory Workshift slip-resistant safety shoes. 
The Memory Workshift is constructed from durable leather and synthetic overlays, the Fila features a rubber slip resistant outsole that will provide traction against slick or wet surfaces. 
ASICS Women's Gel-Venture 7 Running Shoes
For use on rugged terrain, such as concrete, these ASICIS feature an EVA midsole will give you shock absorption where you need it most. 
You will get additional support from the sturdy upper crafted from synthetic leather, and the internal heel counter helps your foot remain in its natural line of motion for a more efficient stride. 
STQ Slip On Breathe Mesh Walking Shoes
These slip-on women's walking shoes from STQ are kind to your feet, yet look good at the same time and the elastic cuff makes them easy to put on and take off. 
Lightweight and breathable, the durable knit upper of the sneaker gives the shoe stretch to provide comfort, while the outsole is made from high-quality rubber that is non-slip and wear-resistant.
STQ Casual Walking Shoes for Women
Perfect for your activities, especially outdoors, these STQ womens' walking shoes are made of mesh fabric uppers that let your feet breathe all the time. 
The MD outsole is non-slip, lightweight, elastic and designed with a lace-up closure for adjustable wear, you will find these shoes are easy to take on and off. 
Best Shoes For Concrete
New Balance Men's 608 V5 Cross Trainer
The New Balance 608 V5 is an incredibly comfortable training shoe that features cushioniong from all angles, including an NB Comfort insert for memory comfort that lasts. 
The ABZORB heel crash pad absorbs impacts through a combination of cushioning and compression resistance. Firm yet flexible, the rubber outsole features deep flex grooves that help the shoe move as your feet do.
Skechers Men's Afterburn Sneaker
This lace-up sneaker from Sketchers is a sporty training sneaker that is good for both casual and work environments. 
The memory foam insole will help cushion your feet when walking on concrete, and both comfortable and breathable, the leather and synthetic materials will help to support your feet all day.
Best Shoes For Standing On Concrete
Skechers Men's Go Walk Evolution
This shoe features lightweight, responsive Ultra Go suchioning and high-rebound Ultra Pillars for the ultimate in walking comfort with a soft woven mesh fabric upper, these sneakers have a seamless comfort fit. 
The synthetic toe and heel panel overlays add durability to the shoe. The slip on design brings comfort with the elastic side panels. 
Brooks Ghost 12 from Brooks
The balanced, soft cushioning works together to provide a just-right softness underfoot without losing responsiveness and durability. At the same time, the shoe is light on your feet, not heavy. 
The newly engineered mesh and 3D Fit Print seem to conform to your feet. With strategically placed stretch and structure and a segmented crash pad, an integrated system of shock absorbers, for smooth heel-to-toe transitions. 

If Your Feet Don't Hurt, Why Do You Need Supportive Shoes For Walking On Concrete?
Every step that you take when walking delivers an impact to yor body. Concrete has no pliability or "give" to it. Walking or working on concrete means that your feet take a constant pounding.
This continued stress can lead to muscle pain, tissue damage, shin splints or Plantar Fasciitis. 
Even if your feet don't hurt at the moment, they will eventually. Concrete provides none of the cushioning effects that your feet need.
Tips For Standing And Walking On Concrete Floors
Supportive shoes will be your biggest ally in the battle against concrete floors, and there are some other tips to help you combat stress to your feet.
Change Positions Often. Use a stool to sit at intervals. If that is not possible, use a small step stool to rest one of your feet off the ground periodically.
Use An Anti-Fatigue Mat. Place the mat in the area you work to provide a softer surface to help reduce the pain of standing on concrete.
Use Orthopedic Inserts. Get the best supportive shoes and use an orthopedic insert to provide arch support and reduce stress on your feet, legs and back.
Keep Floors Clean And Dry. Avoid letting debris that might cause you to trip and injure yourself.
In Conclusion
The best time to take care of a foot problem is before it happens. While some situations can't be avoided, problems caused by improper footwear is one that can be prevented.
You will thank yourself in years to come that you took the time to get shoes that protect your feet when you walk or work on concrete all day. 
Please follow and like us: