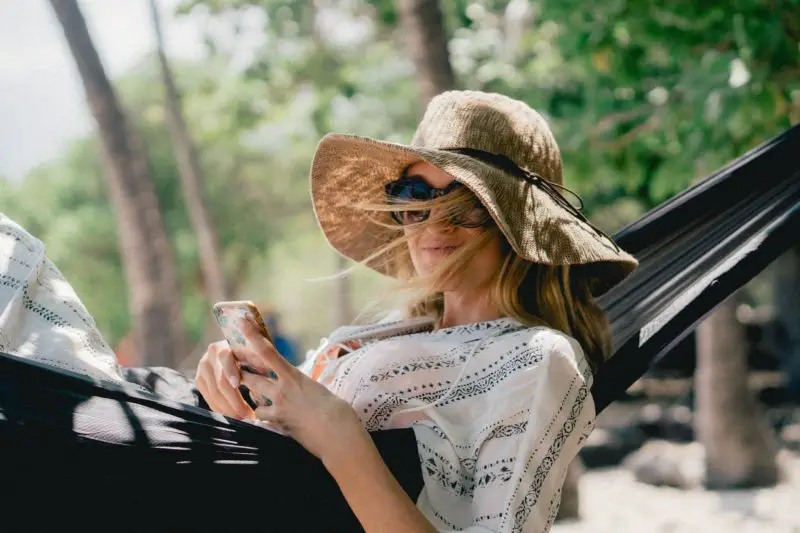 20 Best Dream Travel Essentials
(Last Updated On: December 15, 2020)
Whether you're traveling abroad or just to another state or city for a vacation, you'll want to be sure that you have everything you need before you hit the road. The only problem is that no one ever realizes what they're missing until they need it! Instead of throwing everything you have into your suitcase, or just going without, check out these top 20 best dream travel essentials so that you can start your trip well.
Travel with a dishwasher-safe Tritan bottle in hand. Fit ice cubes inside due to the wide mouth, which also makes washing extra easy, and use the loop top to prevent ever losing your cap.
You'll have everything you need with a Waterfly Fanny Pack in any of the great available colors. It's water-resistant, light, and completely adjustable to fit on any waist.
Use this water filter by LifeStraw wherever you go. It will filter up to 1000 liters of contaminated water without any batteries or moving parts. All you need is the bottle.
Keep your items safe in this lightweight and durable waterproof bag. As long as you roll the closure system closed, everything you own will be completely protected at all times.
Use this lightweight umbrella anywhere. It's so small that you'll probably even forget that you have it, but you'll love the colors, size, and sturdy design if you need it.
Spend your time outdoors in luxury with this portable lantern and fan. It includes different settings to fit your comfort level, and has a light to see your campsite too.
Grab this compact pepper spray whether you're traveling or not. It will keep you safe no matter where you go, with a maximum-power spray that will project up to ten feet with ease.
These trekking poles by TrailBuddy are meant to be tough, tougher than carbon fiber. Yet they're lighter than aluminum, easy to adjust, and built to feel comfortable in your hand.
Put up these sun shades in your car to always keep your eyes pointed forward. They install easily in your car in just seconds, and will fold down when you're done.
There's lots of storage space in this travel makeup case by Relavel, so you can fit all of your makeup right inside. Even the compartments are adjustable to keep everything safe.
Don't risk losing your smartphone when you have a waterproof camera in your hands. This is lightweight and easy to use, not to mention compact too.
It's great to travel with a pair of AirPods, which are easy to set up on all of your devices. They'll be automatically on and connected no matter where you go, as long as you set them in the case.
Keep your phone safe with this water proof case. Mpow knows that your items are important to you, which is why this case will still let you tap your phone without taking it out of the case.
Slip these aqua socks on to run around safely in the rubber role. They're lightweight and fashionable too, since the breathable and quick-dry fabric comes in tons of colors too.
Slips on these Merry's sunglasses to reduce glare and restore colors even under bright sunlight. You can wear them anywhere and for any activity.
This Etekcity luggage scale will help you weight your luggage no matter where you go to avoid overweight fees. Just hook your back and put your scale back into your pocket when you go.
Use these Bagail packing cubes to separate all your stuff. They're all high-quality, so you'll never have to deal with broken stitches or missing items.
Listen to your music without worrying about getting your speakers wet. These waterproof speakers are portable and still include stereo sound for a good experience every time.
You'll always have a first-aid kit with you if you pick this up. It meets FDA standards, and includes fully-organized compartments for easy access to everything.
This is a great hammock for resting when you're out and about. The nylon is made not to break or tear, and the mesh will easily keep out bugs too.
Important Essentials for International Travel
If you've gone on a big trip before, you might already have a master packing list ready for you to check things off. If you haven't, well, you'll certainly need one to travel to another country! Beyond the usual things like socks and your phone, you'll need some essentials so that your trip goes smoothly.
Start by making sure that you have your passport in order. It should be current, and shouldn't expire within the next six months. It wouldn't hurt to have an extra copy of your passport either. Just in case you do happen to lose it, you'll always be able to access a copy.
Look at your travel insurance next. You probably won't think that you'll be part of the small percentage of travelers who actually needs their insurance, but it doesn't hurt to have it for safety. It can cost just a few dollars per day, and can cover anything from your broken camera to emergency medical attention.
In terms of documents, be sure that your credit cards are valid, and won't charge international fees for purchases, and that you are vaccinated to be sure that you're safe. Beyond the documents in general, think about getting yourself an adapter for all of your chargers, and getting a hotspot for yourself so that you don't have to worry about your data usage while you travel.
Must-Have Essentials During:
Summer Adventures
Some of these summer travel essentials might seem obvious, but remember to bring the basics. This includes sunscreen, swimwear, caps, reusable water bottles, a light jacket, comfortable shoes, and sunglasses.
Definitely don't forget the comfortable shoes. You'll be walking a lot, and you won't want your feet hurting as you go. Keep that in mind for clothing too, which should be lightweight, soft, and won't cause you to overheat as you move around. If you're having trouble keeping everything nicely organized in your suitcase, try using packing cubes for easy traveling.
Winter Holidays
A winter vacation is another thing entirely. Obviously, you'll need things like medication, which you would need on any trip, but make sure you have some cold medication specifically, and maybe some tea for the cold weather. Another obvious one: the jacket. You should have a good jacket, heavier depending on where you plan on traveling to.
The same goes for scarves, hats, and thermals. Pack something that will keep you warm if you're going somewhere with a lot of snow. You might not need something quite so warm if there's no snow where you're going.
You know everything you need for your trip and you've got it set out on your bed. Now, how do you get it all in your suitcase? Packing tips will do wonders.
Packing Tips
Packing Cubes
Dividing your belongings into color-coded cubes is a big help when you're traveling. You'll know exactly where everything is right away, so you won't have to spend time rifling through your suitcase.
Filling Your Bag
It helps to have a hard-shell bag for packing since you won't be tempted to try and stuff more than you can fit into the bag. No matter what bag you have though, edit everything you have when it's still sitting on your bed. Be sure that think twice about everything that ends up in your bag and if you actually need it.
Your Items
Think about using solid soaps and products when you travel, which will weigh less than the liquid counterparts. You don't need to bring toiletries either if you can just buy them there, but whether you bring them or not, be sure that you fill every ounce of space in your bag. Think of it like Tetris when you fit everything in properly.
Pack Outfits
Packing by outfit will prevent you from overpacking, which is what most of us do. Try to pick clothing that can mix and match too, so that you don't have to wear the same outfits all the time. This goes for shoes too; pick a pair that will match with just about everything so that you don't have ten pairs with you.
Conclusion
There is any number of items you might need for your trip. It can seem impossible to go through them all to decide, but this list of the best 20 items will help a lot. Go through these options to figure out what you need and what you can live without, and use our packing tips to help you get everything into your suitcase just right!