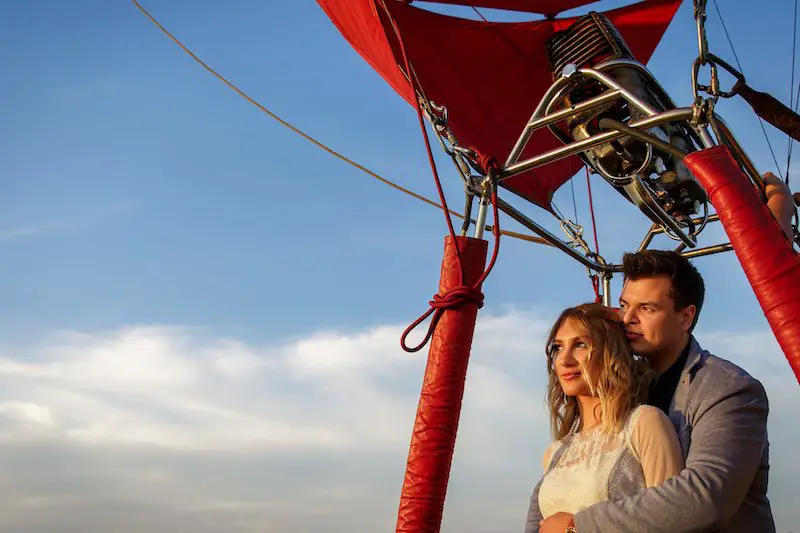 What to Expect From a Hot Air Balloon Wedding Ride in Florida
(Last Updated On: December 15, 2020)
Planning Your Romantic Rendezvous In The Clouds
It's no surprise that Florida is a popular destination for weddings and especially for a hot air balloon wedding ride. Natural beauty, innumerable things to see and do, and warm sunshine allow couples to combine their wedding ceremony and honeymoon into one magnificent experience.
Planning a hot air balloon wedding in Florida? Congratulations! Tying the knot in a hot air balloon is one of the most romantic, serene, and magical ways to say "I do." Imagine floating in between heaven and earth while you and your betrothed vow your everlasting love. So dreamy!
Florida is also a great destination for hot air balloon rides. Since the landscape is mostly level, visibility stretches out in all directions on a clear day. Depending on your launch location, you have the opportunity to gaze out upon lush groves of trees, glistening waterways, pristine beaches, or manicured parks. You may even spot a gator or two. 
In addition to the tropical landscape, incorporating a hot air balloon into your Florida destination wedding offers an amazing photographic opportunity. The breathtakingly beautiful wedding album images will forever remind you of the exciting airborne adventure on your very special day.
There are some special considerations to keep in mind in terms of planning. Here, we'll take a look at what to expect from a hot air balloon wedding ride in Florida.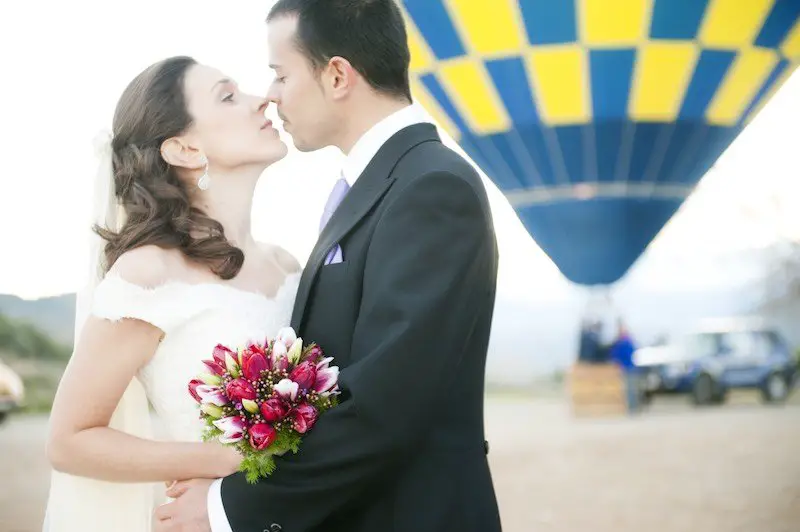 About Hot Air Balloons
Hot air ballooning is the oldest form of aviation dating back to 1783. Including a hot air balloon in your nuptials is a great way to honor the glory days of 1800's innovation.
Hot air balloons work on a basic principle. Hot air rises. The burner in the middle of the basket heats the captured air, which causes the balloon to rise. Balloon pilots are skilled at determining the right amount of fuel to produce the proper amount of lift.
Steering is accomplished by taking advantage of wind direction. Pilots will raise and lower the balloon to catch the right airstream at different altitudes. Up, up and away!
Ways To Incorporate A Hot Air Balloon Into Your Wedding
There are several ways to include a hot air balloon into your wedding ceremony, depending on the style and size of your wedding.
Here are a few ideas:
You, your future spouse, an officiant, photographer, and even a small wedding party can take a breathtaking ride in the balloon while you have your ceremony in the air. Some gondolas (the basket for passengers) can accommodate up to 50 riders.
After you have your wedding ceremony on the ground, you, your spouse and photographer can lift up and away from the reception for a romantic photoshoot.
The hot air balloon can stay at ground level for a dramatic background for photos and reception party ambiance.
The balloon can also be tethered at the reception so the operator can take guests up for a short ride. This way, they get to experience the quiet beauty of the Florida landscape themselves.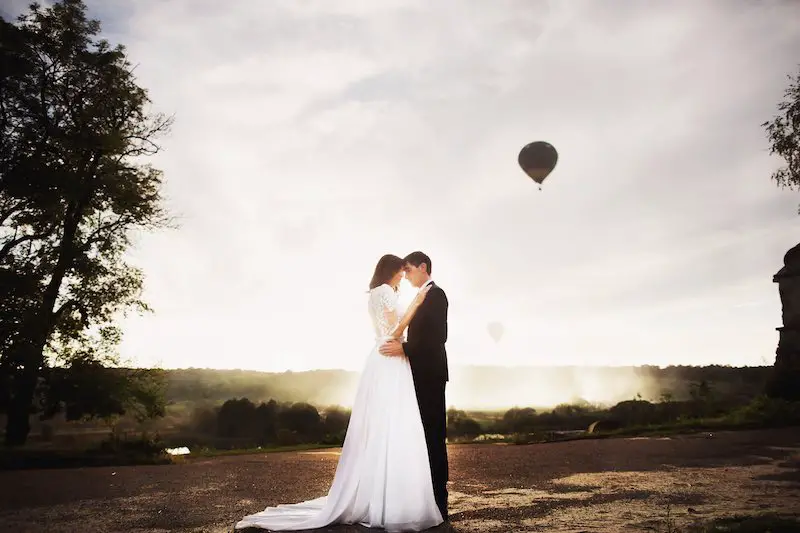 What to Wear on A Balloon Wedding Ride
There are a few considerations when deciding what to wear for your hot air balloon wedding ride. Here are some dos and don'ts
Do plan on wearing a dress that is relatively easy to maneuver in. Keep in mind that you will need to climb in and out of the gondola, so you will want to factor that in when choosing your wedding dress.
Don't wear a long wedding veil or other long flowing fabrics. Consider an updo using a ring of flowers or a tiara instead. This will reduce the risk of any incident involving the propane flame onboard. You will also not have to worry about the wind blowing your veil into your face during the ceremony or photo session. Ties should be firmly tacked down as well.
Do wear sensible shoes. Avoid high heels and open toes. You'll be in close quarters with the other members of your party during the ride. Closed-toe shoes will reduce the risk of toes getting stepped on. You will also need to maintain a good footing, especially during landing. High heels may make balancing yourself difficult.
Don't wear anything that might fall. Nerves are common during a wedding, and this can increase the possibility of a butterfingers moment. You may want to tie a ribbon to your wedding rings until they are safely on a finger.
What To Bring On a Balloon Wedding Ride
If you are planning to have the ceremony aloft, it's helpful to make a checklist of things you'll need to bring beforehand. This way, you don't leave anything behind due to wedding day jitters. This includes vows, rings, bouquet, etc.
Again, make sure small objects can not be dropped over the side or leave them behind. Items such as a camera, phone, bouquet, etc. can be fitted with a wrist strap to avoid mishaps.
And, of course, don't forget the champagne and glasses!
Who To Invite On a Balloon Wedding Ride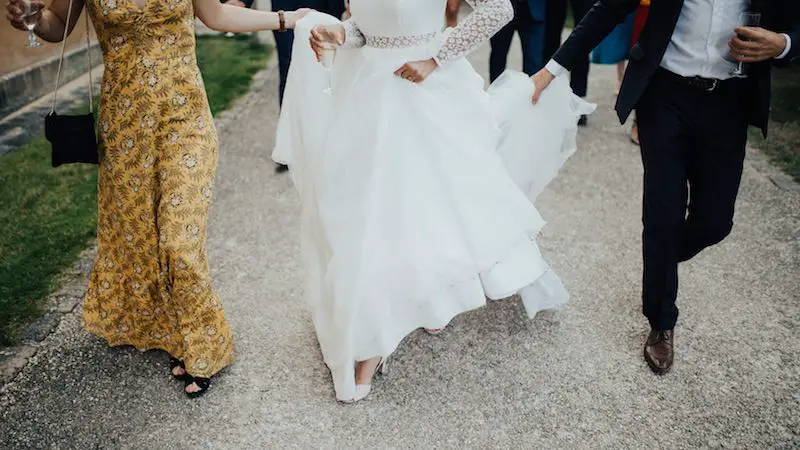 Plan to have the pilot, officiant, and photographer, at a minimum if you are tying the knot during the hot air balloon wedding ride. If you plan on having a small wedding party, check on the gondola capacity with your hot air balloon company. Keep in mind that if the basket can fit 50 people maximum, that means everyone will be close together. If you'd like to have a clear area around you during the ceremony, you may need to scale back the number of people to allow for some extra elbow room.
Photographing a hot air balloon wedding involves some unique challenges. Contact the hot air balloon company for recommendations on a good photographer that is familiar with these kinds of shoots. Ask to see samples of previous hot air balloon wedding ceremonies they have done so you can get a feel for their style and expertise.
When thinking about what to expect from a balloon wedding ride in Florida, it's important to remember to have fun! Enjoy the experience, be flexible, take a deep breath, and drink in the glorious views. You will cherish these memories of love and excitement for a lifetime!
Please follow and like us: