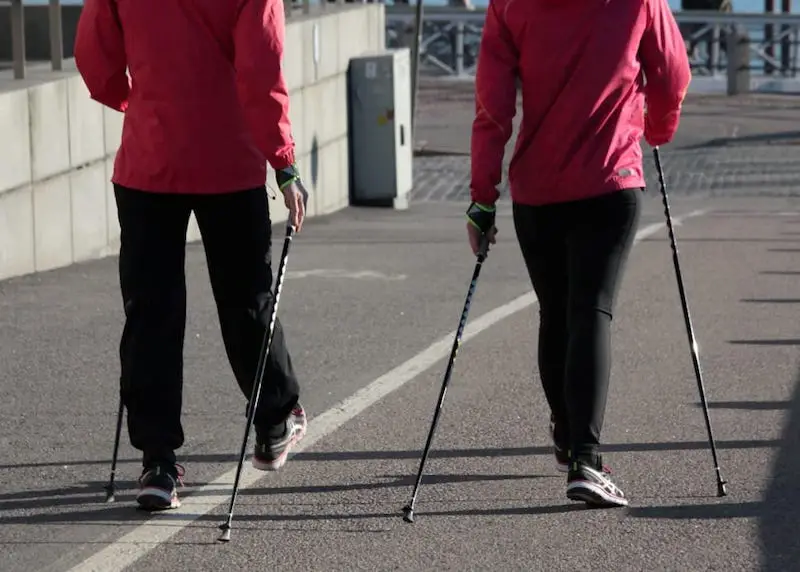 The How, What, and Why of Trekking Poles and Hiking Sticks
(Last Updated On: November 7, 2021)
If you enjoy hiking on a regular basis, among the most necessary items you may have considered buying hiking sticks to assist you in your travels. 
Hiking sticks and trekking poles are terrific tools that can benefit outdoor adventurers in a variety of ways. Here, we'll cover why a hiking stick is beneficial, what to look for, how to use it properly, and some hints for additional uses. 
Benefits
There are a number of reasons avid hikers use a hiking stick (also known as a hiking staff) or trekking poles when traversing the terrain. They provide balance when negotiating uneven footing, they reduce the impact on the walker's knees, and they help keep pace on a straightaway. 
On rugged trails, a hiking stick comes in handy when going up and down hills. On inclines, maneuver your pole in front of you to pull yourself forward. As you move downhill, place the pole in a secure spot as an anchor to stabilize your descent.
Slippery trail conditions can be a difficult and potentially dangerous situation for a hiker. One misplaced step can result in a twisted ankle or worse. By having another point of contact on the ground, you gain better footing on slick surfaces. 
Crossing water is sometimes unavoidable on a trail. The support of a hiking stick can really help when fording shallow streams and puddles as well.
Hiking for a long period of time can sometimes make hands swell uncomfortably. When your arms are raised to the same level as your heart, it allows the blood to return more easily from your hands which prevents them from swelling.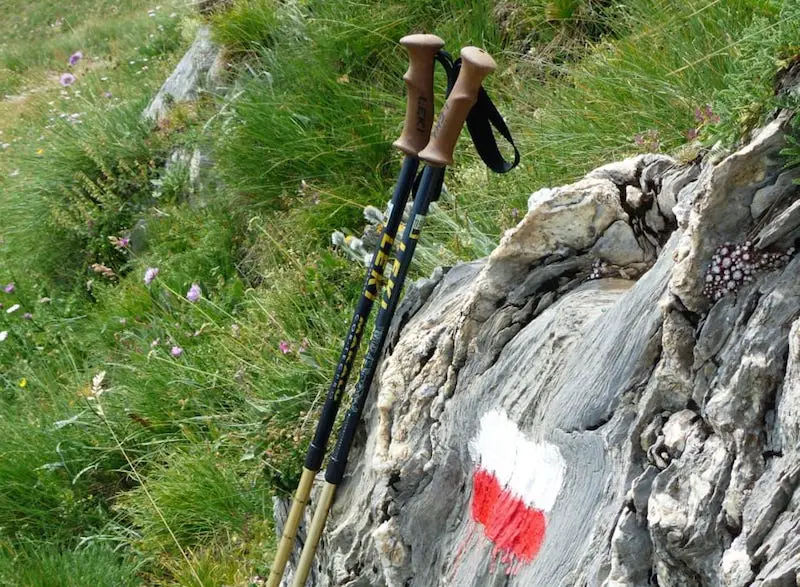 Types 
There are many types of hiking sticks and trekking poles available on the market today. Trekking poles are sold as a set of two and used in tandem. They are primarily used in rough, elevated topography. In Central Florida, you are more likely to see people using a hiking stick or staff due to the relatively flat terrain. 
Portability and Shock Resistance
The first question you want to ask yourself when choosing the right hiking stick is, what are your travel needs. Are you more interested in portability or shock resistance? 
Many brands have a spring built into the pole. This type is popular because they reduce the amount of impact you may feel on your arm and can be more comfortable for long treks. 
There are also standard pole options that do not have a spring mechanism. This type tends to be lighter in weight which can also be beneficial if you don't want to feel weighed down. 
A third type folds down into sections or telescopes in on itself for easy packing with the rest of your gear. Some hikers prefer only to use a walking stick if the terrain becomes problematic. This is when a collapsing variety really comes in handy. Just pull it out of your pack, extend, and away you go. 
Locking Mechanism
Adjustable poles are essential to fine-tune your hiking staff to the correct height (more on that later). It's also helpful to adjust the length of your pole when going up and down hills. Increase the length when descending and shorten when ascending. There are a number of different locking mechanisms to consider.
External lever lock – This clamplike lock is easy and quick to adjust. 
Push-button lock – This variety extends to a point at which a button falls into a predetermined hole. 
Twist lock – Uses an expander and screw system for a reliably strong and consistent lock. 
Grip
Another component to consider is your handle grip. There are three common options, cork, foam, and rubber. 
The foam absorbs moisture well and is soft to the touch. However, it can eventually break down over time. Rubber is a good option for reducing shock to the hand but performs poorly in hot weather as it can chaff or even cause blisters with the constant movement of sweaty hands. Cork is a better option for hot weather hiking. It tends to resist sweat and conforms well to the hand. 
Materials
Weight and durability often play a part in the hiking stick decision-making process. Aluminum is more durable and economical in the long run. It is possible for aluminum to bend under duress but rarely breaks. 
Composite materials are another option. The pole shaft is composed either partially or entirely from carbon which is a great lightweight option. The downside is cost and their potential for breaking on impact.
Use
A perfect hiking staff is only beneficial unless it's being used correctly. It's important to make sure the pole's length is correct for your height. In order to determine the correct hicking stick height, your elbow should come to a 90-degree angle when holding the grip. 
An adjustable shaft really helps you to achieve exactly the right height. In general, if you're taller than 6 feet, you want a pole that's at least 51 inches. If you're shorter,  most adjustable poles should work fine. 
Fixed-length pole sizing runs as follows:
< 5 ft. 1 in. = 39 inches
5 ft. 1 in. – 5 ft. 7 in. = 43 inches
5 ft. 8 in. – 5 ft. 11 in. = 47 inches
6 ft + = 51 inches
Once you have the perfect hiking stick that is the correct height, you're ready to head out on the trails! Alternate your pole and legs and walk naturally at a steady rhythm; if you fall out of step, no worries. Just keep moving forward and lift your pole up for a half-beat until you get back on track. After a while, hiking with the staff will feel completely natural.
Some Other Uses
In addition to balance, support, and minimizing impact stress, there are some other unique uses for your hiking stick. Florida has its fair share of wildlife including snakes. If you venture off-trail, it's helpful to agitate the brush in front of you before stepping to give critters a chance to scurry away. 
Photographers can also use their hiking staff as a monopod to stabilize a camera. Some poles even have a camera mount built into the handle. 
If you are an overnight adventurer, there are hiking sticks on the market that are designed to be a support for specialized lightweight tents. You can also suspend it horizontally between two trees to dry wet clothes. 
Once you are accustomed to the benefits of hiking with a staff, it's hard to imagine venturing out without one!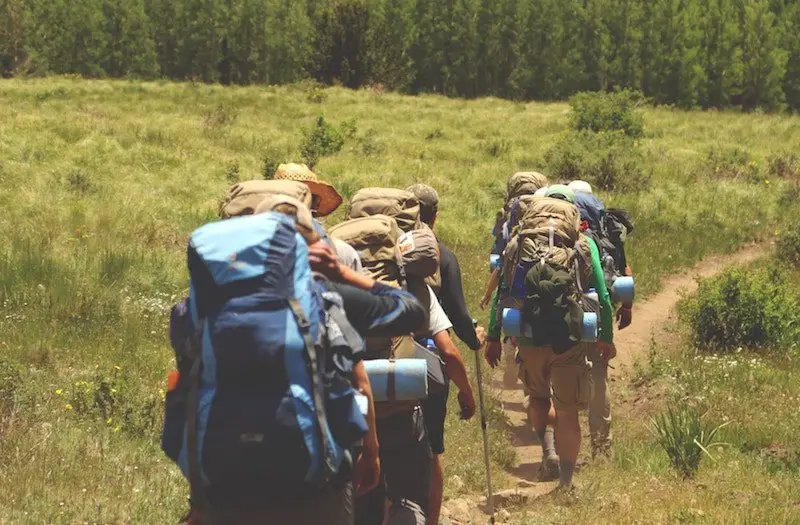 Please follow and like us: