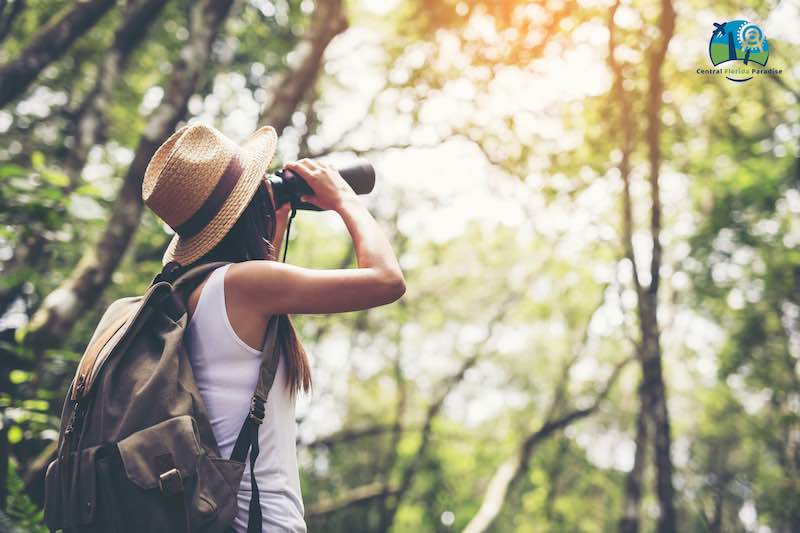 The Best Binoculars Under $200 You Will Want to Carry Everywhere
(Last Updated On: March 1, 2021)
If you were a superhero, you might have the power to see great distances with clarity, all while zooming through the atmosphere at phenomenal speeds. But your feet are on the ground, and your eyesight is not 20/20.
There is, however, an instrument just as super, to help you see things that you might otherwise miss. 
We have chosen the Vortex Crossfire as our best binoculars under $200.  This pair of binoculars come in a wide range of options to choose from.  The Crossfires deliver exceptional resolution and outstanding color fidelity. At under $200, the Vortex Optics Crossfire HD Binoculars will provide you with outstanding color fidelity, edge-to-edge sharpness, and light transmission.
Here are some other binoculars we believe are worth your consideration. 
Our Pick For The Best Binoculars Under $200
---
Anti-reflective coating on all glass surfaces increases light transmission and edge to edge transmission.  The internal roof prism enables a more compact size and greater durability. 
The Crossfire has a center focus wheel that adjusts both binocular barrels at the same time. Comfortable and adjustable eyecups twist up or down for viewing without eyeglasses. 
The exterior of the binoculars has a rubber armor with a non-slip grip.  These binoculars are adaptable for use on a tripod or car window mount.  They are also water and fog proof, which makes them an excellent choice for a variety of outdoor activities. 
Included with the Crossfires is the wearable GlassPak Harness.  It stores and protects your binoculars wherever you go and keeps them close at hand for quick use.  The harness has tethers that attach to your binoculars and provide added security against dropping them. 
The Occer has a 12X magnification and 25mm objective lens.  An internal BAK4 prism enables you to see farther and wider.  
The binoculars can be easily used both with or without eyewear or sunglasses.  Both lightweight and compact, you can learn how to use these binoculars one-handed, which is convenient when bird watching or at concerts.  
Made of ABS plastic, the Occer comes with a handy binocular strap.  The non-slip rubber coating is made for a secure grip.  While the binoculars are water-resistant, they are not waterproof, so be careful not to have them out in the rain. 
The SkyGenius was created for wildlife enthusiasts.  They have combined quality with functionality.  The binoculars use a corrective optical coating for better contrast, light transmission, and color fidelity. 
The lenses offer a clear, sharp, and vivid image with bright colors.  The 10X magnification helps you to be able to see in greater detail when observing wildlife and birds.  
The central-right adjustment that offers a quick and easy approach to focusing. This adjustment allows both eyepieces to calibrate separately to give you an even clearer view.   
The Adorrgon binoculars are very lightweight at only 1.1 pounds; it makes them easy to carry.  They are equipped with a powerful 12X magnification and 42mm objective lens that is capable of delivering a great view from 650 feet away. 
The BAK4 prism and coated lenses enable a brighter view and crisper images.  This pair of binoculars are great for bird watching or concerts.  They can deliver a clear vision in weak light, but not in complete darkness. 
The Adorrgon binoculars come with a carrying case, lens protection covers, a cleaning cloth, and a handy neck strap.  
The 10X power magnification of the Gosky is excellent for outdoor activities like hiking, watching wildlife and concerts, and sporting events. 
A shock-absorbing rubber armor helps to protect the Gosky in case it is dropped, and the coating also helps provide weather protection. 
These binoculars come with the newest smartphone mount that is compatible with a variety of smartphones.  The carrying case is included, along with rubber lens covers, cleaning cloth and neck strap.  
The Bushnell H2O  binoculars are 100% waterproof.  The lenses are O ring sealed and nitrogen purged for fog-free performance.
The textured, non-slip rubber pads help you keep a good grip on the binoculars even when it is slippery and wet outside.
These binoculars feature BaK-4 prisms for quality viewing and multi-coated optics that produce great light transmission and exceptional viewing experience.  A center knob enables easy focus adjustments. 
Bushnell has been the industry leader in high-performance sports optics for more than 65 years. 
The Adasion has a BAK4 prism that is made of thick barium crown glass with a fully multi-coated lens that delivers a bright, crisp view.  
The large eyepieces produce a bigger image and are comfortable to view.  The binoculars can resist light moisture but should be kept out of heavy rain or dropped in water. 
Weighing only 1.25 pounds, they are lightweight and easy to carry and hold for viewing.  It can be used with or without glasses. 
The Celestron Nature binoculars are great for everyone, from beginning birders to more experienced enthusiasts. 
Maximum light transmission is provided through the multi-coated lenses that result in brighter, sharper images even in low light conditions.  The BAK4 prisms increase the contrast and resolution so that nearby objects are easy to view with a close focus of just 6.5 feet. 
100% waterproof, the Nature binoculars are purged with nitrogen gas to prevent internal fogging of the lenses in wet conditions. Included with the binoculars are a compact carrying case, lens caps, eyepiece rain guards, neck strap, lens cloth, and an instruction manual. 
Celestron has been based in California since 1960.
The Stellax binoculars have a powerful tenfold zoom. Compact in size and light in weight, the binoculars are versatile and easy to take along wherever you go. 
The body is sealed with nitrogen, which makes them fog proof, and waterproof.  The multi-coated lenses and BAK4 prism deliver a bright and clear image. 
The phone also has a smartphone adapter, a carrying case, neck strap, cleaning cloths, and eyepiece covers. 
Celestron's Outland X Series is a mid-sized pair of binoculars, and are great for outdoor enthusiasts.   The multi-coated optics give high resolution and contrast views. BaK-4 prisms provide sharp and enhanced color fidelity.
Extra protection is provided by the exterior rubber coating and an anti-slip grip.  The binoculars have adapter threads for a tripod.
Twist-up eyecups give quick adjustments and can be used with or without eyeglasses.  Large focus knobs enable precise focusing.  
The binoculars are great for birdwatching, the concert hall or ballpark, they have a neck strap and carrying case. 
---
What Are Binoculars?
Before we get to what binoculars are, let's take a short step back and define what binocular vision is.   This is a type of vision in which an animal that has two eyes then can perceive a single three-dimensional image of its surroundings. 
In other words, you have two eyes and use them together. Your eyes are capable of taking two images and putting them together to make a single image. 
The word binocular comes from the Latin bini (for double) and oculus (for eyes).  Simply put, binoculars are magnification instruments.  
Binoculars, sometimes known as field glasses, are two telescopes mounted side by side with the telescopes being aligned and pointing in the same direction.   This allows the user to view distant objects with both eyes and see objects as if they were much closer.   
Unlike a telescope, which is used with one eye making the image appear flat, a set of binoculars with magnify the image and make it clear to see. 
The majority of binoculars are meant to be held with two hands.  Sizes in binoculars can vary widely from small, compact opera glasses to large pedestal mounted military varieties. 
How Do Binoculars Work? 
To explain how binoculars work (science is fascinating!), we start with the way light bends. Light can bend and curve when passing through an object.  The way light bends is called refraction.
Refraction is the key to how lenses work, and lenses are the key to binoculars.  I know all of this seems a bit much, but it really is interesting to know a bit about how our world works.  
Back to the lens, which is a curved piece of glass, it is an essential element in making binoculars work.  As light hits the lens, it slows down and bends. 
If the lens is shaped like a dome, it is a convex lens.  The light will bend in toward the middle, which brings distant light rays into focus.  This converging lens (so-called because it brings the light rays together) makes objects appear bigger.  Magnifying glasses are an example of a converging lens. 
So, if you take two convex lenses, place one in front of the other, the first lens will catch the light rays from an object in the distance.  The second lens will pick up the image and magnify it.  If you put two of these lenses in a tube, you have a telescope.  Binoculars are two telescopes side by side.  
Thought that was it, right?  Not quite, but we are almost there.  Going back to the light, when light rays coming from a distant object passes through a convex lens, they cross over. I don't know why it does this, but you can see an example of this by trying to look at a distant object through a magnifying glass. It will be upside down. 
To solve that issue, most binoculars have a set of prisms inside that rotate the image.  One prism will rotate the image onto its side (90 degrees), and the other prism will rotate it again (another 90 degrees) so that the image is turned upside down or right side up for viewing.   
The prisms can be in a back-to-back order (a roof prism) or at 90 degrees (porro prisms).  The roof prisms are smaller and more compact, which makes them lighter in the binocular.  The porro prism uses a double Z shape, which generally makes the binoculars bigger and heavier. The advantage is that they are usually less expensive. 
There are also field glasses, which do not contain prisms but flip the images using lenses only.  They are more lightweight and smaller, but the image quality is not as good as those with prisms. 
What Do The Numbers On Binoculars Mean?
The numbers on a set of binoculars indicate the magnification that they can make.  So, how many times closer will the object in the distance appear to you, than if you just used the naked eye.
For example, there are two numbers, such as 7X35 or 8X42.   The first number, such as 8X, represents the power of magnification.   In this example, an object in the distance would appear 8 times closer than if you viewed it with your naked eye.  
The second number tells you the size of the objective lens diameter in millimeters. The objective lens is the one that is closest to the object that you are looking at.  With our example above, an 8X42 binocular has a magnification power of 8, and the objective lens is 42 millimeters in diameter. 
The second number will also give you an idea of how big the binoculars are and how much light they can take in.  This helps you in choosing the type of binocular you would want for a particular activity, such as hunting or birdwatching.   
Later in this article, we will make some recommendations for types of binoculars that are suitable for various activities.  Before that, we want to finish covering a few more things that will be helpful to know. 
Back to the objective lens power. This second number on a set of binoculars refers to the diameter of the lens, and the larger the number, the more light the binoculars gather and provide a brighter image. 
A higher number will mean a brighter image and will provide for better viewing in low-light situations.  It is also easier to keep focused on your target image if your hands shake or move when you have a broader objective lens. 
I promise that I am getting toward the end of what these numbers mean, but there is one more piece of information concerning the numbers that you need to know.  That is the exit pupil size.
The Exit Pupil Size
The objective lens is where the light enters the binoculars and is the lens that is farthest from your eyes.  The ocular lens is the lens that the light exits from and is closest to your eyes. 
When you hold up a pair of binoculars, keeping them about two feet away from your eyes, you can see a bright circle in the center of the eyepiece.  That column of light comes through the binocular to your eyes and is called the exit pupil.
You calculate (I know, I know) the exit pupil size by dividing the diameter of the objective lens by the magnification number.  So, if we use our previous example of 8X42, we divide 42 by 8 and get an exit pupil diameter of 5.25mm.  
This gives you the size of the shaft of light that will reach your eyes, whose pupils will vary from 2mm in bright light to 7mm in complete darkness. 
Low Light Situations
Knowing this piece of information, you will know if a set of binoculars will be suitable for low-light situations.  If you would be using the binoculars at dusk or dawn, or in dense cover, you now know that a high pupil exit number will make viewing easier.
The exit pupil size will not be as important if you will mainly be using the binoculars in bright daylight viewing as very nearly all binoculars have exit pupils that are more than 2mm. 
Whew!  It seems like a lot, but it is all necessary to know before you go shopping for a pair of binoculars.  We have inserted a video below that nicely explains how these numbers work.
Video: Explanation of Numbers on Binoculars
Which Binoculars Are Right For Me?
If you are looking for binoculars for a specific purpose, the magnification and size are the places to start.  Here are our suggestions for various purposes:
Bird Watching
Look for midsize and full-size models unless size and weight are an issue.  Some of the most popular sizes with bird watches are 8X32's and 8X42's.  
It may seem like a 10 power magnification would help scout out birds. Still, an 8 power magnification will have a wider field of vision.  If you are birding near water, look for a set that is water-resistant and won't fog up when they go from a warm house to cold temperatures outdoors. 
Looking at the Stars
This will be the time to look for a set with the maximum magnification, in addition to the best light gathering ability.   The best options are 7X42 and 7X50.  
Magnification higher than that, the binoculars will be bigger, and you will need a tripod to hold the binoculars steady.   Depending on the binoculars, you can see up to 50 times as many stars with a pair of binoculars than with your eyes. 
Outdoor adventure
When you are hiking and camping, both size and weight will be a factor. Ideal sizes are 8X25, 10X25, 8X28, and 10X28. Look for compact binoculars that have a rubber coating, which will make them more durable.  A waterproof set is also a great choice when you are out in the great outdoors. 
Extreme Outdoor Adventures
If you are ever blessed enough to go on a safari, whale watching, or visiting any National Park, make sure that you have a pair of binoculars with you so that you don't miss a magnificent moment. 
If you are going to be far away from the animals or sights, go with higher magnification, like a 10 rather than an 8.  There is a range of models that would be good, 8X32, 8X42, 10X32 and 10X42.   If you want something smaller and more compact, choose the midsize (32) rather than full size (42).
Some binoculars are water-resistant and waterproof.  If you are whale watching or any other watching on or near water, choose the waterproof model.
Concerts and Sporting Events
For these venues, a magnification of 7X will be a good option.  With a higher strength, it makes it harder to keep up with the entire field of play. 
My favorite water sport, kayaking, is the perfect time to bring along a pair of binoculars.  The best choice would be a lower magnification, such as an 8 or less.  The higher powers can make steady viewing difficult when in a kayak on the water.  8X32 is a popular size, and it should be waterproof.
Hunting: The most popular lens size for hunting is 42mm.  It provides a balance between being able to capture light and the weight of the binoculars.  With a magnification of 8X or 10X, these will furnish a clear and stable image and are less affected by hand movements.
There is a broader field of view, and they yield a brighter image when hunting at dawn or dusk. 
The best thing to do is to think about where you will be using them the most.  If it is in wooded areas with lower light levels, choose 8X42 or 10X42.  If you are hunting in open spaces, magnification of 10X or 12X will work better for you. 
Binoculars under $200 Or More Expensive Binoculars
You have decided that a pair of binoculars would be a great addition to your life and activities. What should you consider before purchasing?  My first thought is always the budget. The binoculars we reviewed above are all binoculars under $200.
Some people have a better, more expensive pair for their favorite activities, and an inexpensive pair that can be carried in a pocket for casual use. 
When you are looking, remember that it is what is on the inside that counts.  Advanced optics can be more expensive and can increase the price of binoculars that look similar and can make them hundreds of dollars more. 
Probably the most important consideration for you to make is what the primary use of the binoculars will be. We listed above the popular models for various activities. Decide their use before you purchase a set so that you won't be disappointed if they don't suit your purpose.
Think about if you will need a protective coating, or if you need fog-proofing or waterproofing. Think, too, about how often you will be using them.  If you are going to be something you will regularly be using, go with a better model.  I still have my Dad's set and use them from time to time.  
Binoculars come in compact, midsize and full-size models based on their objective lenses.  Variations in design can make models with the same size objective lenses still differ in size and weight. 
If you were carrying a set in your backpack, a lightweight, compact model would be best. The midsize models are comfortable to hold for long periods, so consider how long you will be holding it before purchasing a full-size model. 
Remember that 8 power binoculars will give you a wider field of view, while 10 power will provide a closer, more detailed view.  
Video: Choosing The Best Binocular for You
What's New?
Digital camera binoculars have been around for a few years. Still, the difference is that the technology for them has improved. They have an objective lens that works in concert with a 5-megapixel camera.  The camera provides a glare-free picture display and takes photos that are crisp and clear. 
Besides, digital camera binoculars now feature a built-in video camera that can capture HD video, and are supported by an SD card that can hold up to 32 GB memory cards.  Lithium batteries provide two hours of continuous use so that you can capture those amateur sporting events or live concerts.
Wearable binoculars now make it possible to have a hands-free, yet magnified viewing experience.  These are worn just like traditional eyeglasses.  Being lightweight, they are comfortable for extended use so that you will be able to enjoy sporting events, concerts, live theater, and other activities.  Your experience will be enhanced by having your hands free while enjoying what is going on around you.
Main Binocular Accessories to Consider
A binocular tripod mount, or adapter, can be easily used to attach your binoculars to a tripod window or hide clamp.  This is handy if you have unsteady hands, or just keep it in one spot for quick access. 
The neck or shoulder strap is an accessory that is often overlooked.  Still, they are a necessary item, and you will miss it terribly if you do not have a strap for your binoculars. 
Binocular suspenders, or bino harness, is a very comfortable and convenient way to carry your binoculars for hours on end. A good harness will spread the weight across your shoulders, and the harness will keep your binoculars from jostling around as you walk, and they free up your hands.   
 Main Binocular Terms 
Magnification:  How many times an object is enlarged when you look through your binoculars. A pair with 8X is magnified 8 times more than you can see with the naked eye. 
Objective Lens Diameter:  The bigger the lens diameter, the more light that can enter the lenses.  The measurement is in millimeters
Exit Pupil: This is the amount of light that enters the objective lens and exits through the ocular lens. 
Eye Relief:  This is the distance that light travels from the eyepiece lens to your eye and is measured in millimeters.  If you wear glasses, look for an eye relief of 11mm or more. 
Eye Cups:  These attachments are on a binocular eyepiece. Usually made of rubber, they help position your eyes away from the lenses. 
Prism: Light will travel through prisms after entering the objective lens.  There are two types of prisms, roof, and porro. 
Field of View:  The amount of space that you can see through the binoculars.  It is measured in feet and refers to how much you can view standing 1,000 yards away. 
Coating:  A coating is put on lenses.  It can be for anti-reflection or water resistance. It can be coated with aluminum, fluoride, magnesium, silver, and other coatings. The coating offers higher quality images. 
Please follow and like us: