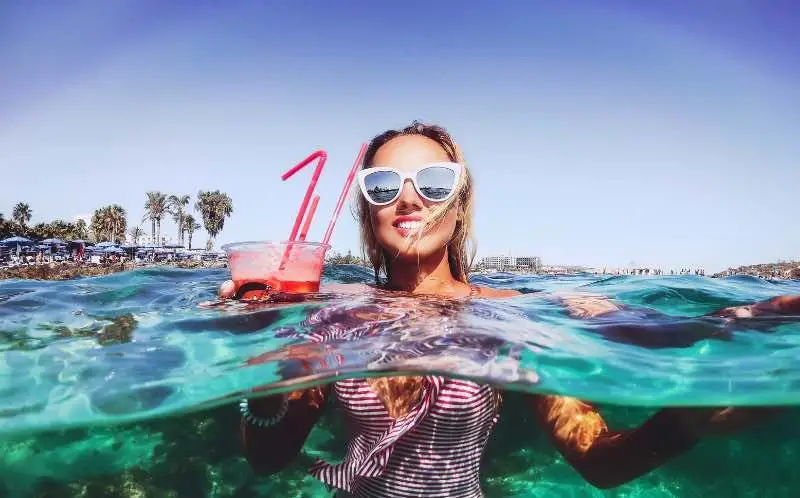 No More Diving for Sunglasses! Here Are the Top 5 Floating Sunglasses
(Last Updated On: September 21, 2023)
Old&New
Sunglasses have been around for a very long time.  In prehistoric times, Inuit people would flatten walrus ivory to use as an aid in blocking the rays of the sun.  
Early references to sunglasses date back to ancient China and Rome. In Rome, the emperor Nero watched gladiator fights through polished gems. 
Sam Foster developed the mass production of sunglasses in 1929.  This mass production made the glasses less expensive so that the average person could afford them.  
When actors and actresses began using sunglasses to protect their eyes from the harsh lights of movie sets, sunglasses became a fashion trend. 
We've come a long way
With today's sunglasses, we have come a long way, baby!  We have learned the importance of eye protection.  Protection from UV rays, sunburn (yes, your eyes can get sunburnt), and from snow blindness are imperative for those of us who are active outdoors and wish to continue to be so. 
From fashion statement to essential equipment, it is time to recognize the significance of the eyewear that does so much more than make us look cooler than we are. 
When you are in the out of doors, you are at risk for sun, wind, and snow damage to your eyes. Taking this into consideration, it only makes sense to get a piece of equipment that helps prevent damage and adds to your enjoyment.
No more sinking sunglasses
In addition to having sunglasses with a UV400 rating and are polarized, adding floatation to the list is a win-win.  Once you find your favorite pair, you add the benefit of not losing them while you are fishing or enjoying water sports. 
We have compiled for you the Top 5 Floating Sunglasses.  No more diving for sunglasses that have gone overboard while reeling in a catch or have been lost when you have to bail from your board!  
Check out these Top 5 Floating Sunglasses:
| | | |
| --- | --- | --- |
| 5 Floating Sunglasses | Preview | Color |
| RUNCL Sports Polarized Sunglasses | | Matte Black/Blue Mirror |
| Eagle Peak Floating Polarized Sunglasses | | Black V3 |
| WindRider Polarized Floating Sunglasses | | White |
| Cressi Ninja Floating, Adult Sport Buoyant Sunglasses | | Black/Dark Lens |
| MERRY'S Polarized Wooden Coated Floating Sunglasses  | | Green |
1. RUNCL Sports Polarized Sunglasses
FLOATATION TECHNOLOGY: The glasses are built with Japanese floating material TPX, that will keep them afloat if they hit the water. The angler-friendly design makes them perform above-and-beyond on the water. 
SOLID CONSTRUCTION: TPX, besides providing flotation, also enhances durability. They are also featuring injected hinges to increase durability.
ERGONOMIC DESIGN: Sporty wrap-style frames offer a perfect fit for your face. They deliver a massive amount of protective coverage and stylish appeal. Soft-touch nose pads eliminate slippage. All-day comfort, even in rough water, wider temples help to block wind and side glare.
POLARIZED LENS: Fitted with a special TAC filter, the polarized lens blocks reflective light, reduce glare off the water surface, increases your ability to locate fish below the water's surface. The lens of sunglasses have undergone rigorous tests, resulting in optics that are hydrophobic, scratch-resistant, and will not fog
UVA PROTECTION: The high-quality lens blocks 100% UVA and UVB for superior protection for your eyes.
2. Eagle Peak Floating Polarized Sunglasses
The Eagle Peak floating sunglasses will be stylish protection for your eyes as they offer 100% UV from the sun's harsh glare.
The composite frame and lenses are both lightweight and unbreakable, so they are perfect for whatever sports activity you would like to use them for. 
Take them along when you are fishing or relaxing on the boat, and have confidence knowing that these polarized sunglasses for men will float if you lose them in the water. 
The polarized lenses eliminate reflections and are impact resistant so they are great for your active lifestyle.
THEY FLOAT!: You will not have to worry about losing this catch to the sea!  These glasses float!
POLARIZED LENSES – REDUCED GLARE: If you have spent any amount of time on the water, you already know that polarized lenses are an absolute must.  
LIGHTWEIGHT and COMFORTABLE: The lightweight of these glasses make them comfortable to wear the entire day without issue.
WATER and OIL REPELLENT LENSES: The lenses reduce fingerprint smudges, and water will bead up and run off.  They also repel oil, so working on your boat motor might not be fun, but it will be a bit easier. 
LIFETIME WARRANTY: This company stands behind their product.  If you break or damage your glasses, send them back, and they will be replaced or repaired. But they will want to hear if there was an epic story to go along with the damage! 
BUOYANT: These floatable frames are ideal for your outdoor activities. Perfect for fishing, boating, sailing, and other water activities. 
LIGHTWEIGHT FLOATABLE FRAME: Made light for all-day comfort and durable for your most challenging activities.
TAC POLARIZED WRH HYDROPHOBIC LENSES: These lenses allow you to see better both above water and below the surface. TAC (Tri-Acetate Cellulose) polarized lenses offer superior visual and polarization clarity.
WRH: This treatment makes them water-repellent.
UVA PROTECTION: Lenses block 100% of the harmful UVA / UVB rays, in addition to being shatterproof.  
INCLUDED: Protective carrying case and a lens cleaning cloth.
CRESSI MADE: Cressi is an Italian brand with 70+ years in the Scuba Diving industry. As the experts in ergonomic water sports equipment design,  they bring this knowledge to designing sunglasses that excel on the water and in everyday use.
Wooden frame
Composite lens
polarized
Lens width: 48 millimeters
POLARIZED LENS – High-quality solid color lenses, providing great clarity of vision, comfort, and protection. Polarized sunglasses minimize glare reflected off of any horizontal surfaces. They restore true color, eliminate reflected light completely, and scattered light protecting eyes perfectly. Polarized sunglasses neutralize glare and haze so your eyes are more comfortable and you can see better.100% UV400, Protection Against Harmful UVA/UVB Rays.
STYLE-Classic Brand Design; it is good for any shape of a face, Show Your Unique And High-end Taste.
Suitable- Houseboat, Driving, Running, Fishing, Racing, Skiing and Climbing, Trekking and Business Or Other Outdoor Activities Enthusiasts
In Conclusion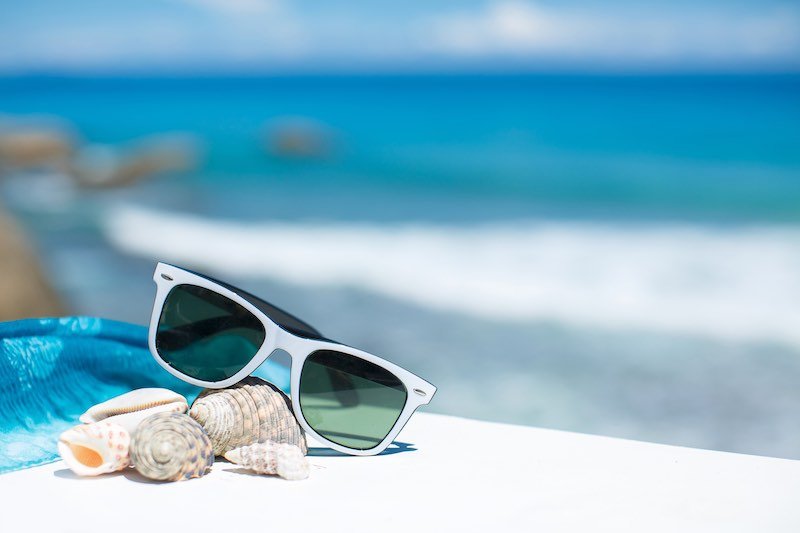 Your eyes are important
Taking care of your eyes should be part of your regular "maintenance."  Part of that maintenance is protecting your eyes from UV (ultraviolet) rays are present in sunlight.  These rays can be damaging to materials and living tissues. 
If a person is not careful while out of doors, their eyes can suffer from sunburn. Jeff Pettey, an M.D and clinical spokesperson for the American Academy of Ophthalmology, says, "it's called photokeratitis. "It's essentially a sunburn on the cornea and whites of your eye."  
UV Protection is a must
Because of the damage that could result in your eyes from UV rays, the sunglasses you wear must have UV protection. Look for glasses that provide 100% UV protection, and these glasses will be labeled 'UV400'.
Polarization is essential
Another advancement in sunglasses is polarization. Polarized lenses in sunglasses have a chemical treatment that reduces glare. When light is reflected off a solid surface or water, the resulting glare makes it difficult to see. 
Any sunglasses that you purchase should have both UV protection and polarization.  Now you can add flotation to the list of essentials for the glasses you use for fishing, sailing, boating, and other water sports. 
Floatation is an added benefit
Modern technology has stepped in so that sunken sunglasses can become a thing of the past. This technology uses a hyper-lightweight frame material in which the molecules are far enough apart to allow for buoyancy.  Frames weigh approximately 30 percent less than standard sunglasses – also a bonus when wearing sunglasses for long periods.
When an essential piece of equipment – your sunglasses – also can float, you add the benefit of not losing them to the watery depths and being able to continue to enjoy your outdoor activities without interruption.
Please follow and like us: