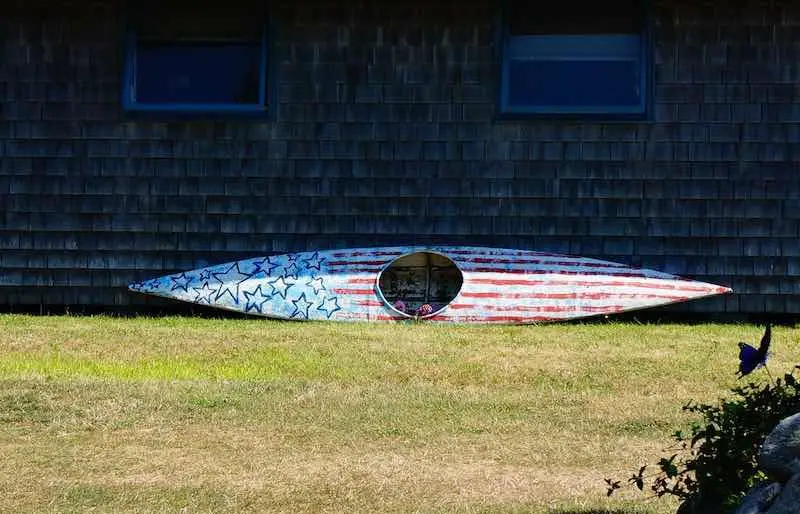 Make The Most of Your Summer With Outdoor Gear Made in the USA
(Last Updated On: April 9, 2022)
Why You Should Buy Outdoor Gear Made in the USA
We make choices every day. Some of those choices make little difference; wear the red shirt or the blue one? Others have a ripple effect whose impact is significant and critical.
When heading out to make the most of your summer, you may find that you need or want new outdoor gear. 
Choosing what you would want may seem like a simple choice of what size, how many, or which color. Your purchase has far-reaching ramifications.
You have probably heard "Buy American!" and it may sound like just another slogan.
Nothing could be farther from the truth.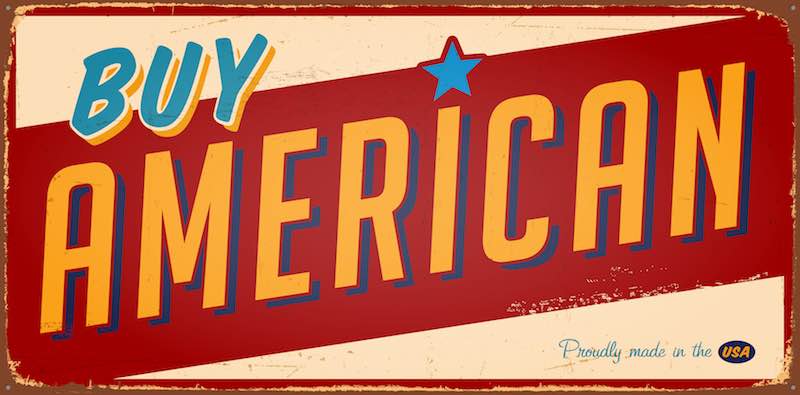 A Strong American Economy is Directly Related to Buying American
Over 70% of the entire US economy is driven by consumer spending. Small businesses generate close to 80% of the jobs in America.
Just as you work and earn to support yourself and your family, so too does the American business owner work to support themselves, their employees, and their families.
The more the demand for American goods and services, the more jobs are created in the USA.
Collectively, consumers buying choices can make or break a small business. The more Americans buy from fellow Americans, the faster the economy grows, and the stronger the economy becomes.
It is not just the small business owner that benefits from consumers buying American. There is a trickle-down effect that strengthens the entire nation. 
Buying domestically helps to make our economy less vulnerable to outside economic influences and increases our stability.
We have compiled a list of items to make your summer even more enjoyable. 
All of the items listed are made in America and will contribute to a more robust economy when you purchase them.
Top-rated Made in the USA Summer Outdoor Gear
The Max Hitch Cargo box is the perfect solution for a lack of space in your vehicle when on a trip. 
You already know that everyone wants to bring everything, and yes, the George Foreman grill is an essential item. 
The space in the vehicle is already tight, and your significant other won't let you leave the kids at home, even if you stock the frig and leave the cereal within reach. 
Enter your hero, the StowAway Max Hitch Cargo carrier box, with a swing-away frame. You can stow up to 200 lbs of gear within its rugged walls. 
Stowaway Carriers came into being from the need of three duck hunting buddies for more space for equipment. 
Not wanting to tow a trailer or use a rooftop carrier, they welded up a frame and bolted a plywood box to the frame. 
Soon other hunters were asking where they could get one and whalaa! Stowaway Carriers was born! 
If you are wondering how much you can fit in the StowAway, check out the video to see just how much. (It's a lot!) 
The Max hitch cargo box comes with a locking latch, taillights and side reflectors, and even a drain plug for cleaning. 
Check out how the made in America StowAway MAX Cargo Carrier works. 
You will be able to get on the road quicker, as you will dramatically reduce the time you spend arguing about whether or not to leave the George Foreman at home!
Advertised as the last waders you will ever buy, Sitka Gear stands behind their Delta Zip waders. 
Are they expensive? Yes. 
But when put in perspective, the price becomes incidental. Other items in life seem overrated cost-wise. 
A prom dress worn once. Designer handbags that can cost hundreds more than Delta Waders. 
Try to put custom rims on your ride, and you can expect to pay about a couple of thousand without breaking a sweat. 
So, to me, it is a matter of perspective. You probably put time and money into choosing the right firearm. Your waders are also essential. 
It is not clothing; it is gear. When you look at it from the proper perspective, then the cost is justifiable. 
An Amazon reviewer who purchased and used the Delta Zip waders said, "I know these things are a lot of money compared to other products; however, the quality is unsurpassed." 
See why Sitka says Delta Waders are the last wader you'll ever own. Proudly made in the United States, this gear will span the weather and protection needs of an entire season. 
The waterproof zipper makes the waders easy on and off. With reinforced shins and knees, you can make it through the brush of the early season and the cold late-season storms. 
Sitka Gear was built on the philosophy that the experience of hunting is as (if not more) important than the harvest. 
It provides a meaningful connection to the wild, grounds you and shapes your life beyond a day spent in the field. Check out this brief video to see the Delta Waders Features.
In today's world, clean water is no longer a given. Epic Water Filters and their products were founded to find a solution to the plastic bottle pollution in our oceans and beaches. 
It started with developing a bottle whose filter could be used in countries that had poor water quality. 
However, with Flint, Michigan made headlines in 2015 with their water pollution crisis, it was apparent that water quality everywhere was a concern. 
Epic feels it is clear that developed countries are the main offenders regarding single-use plastic bottle pollution. 
You can now bring your water that will be good for your body, wallet, and the planet. 
You know the importance of keeping hydrated, especially when you are enjoying the outdoors in the summer. 
There is no assurance that the water fountain at the park or filling your water bottle from a rest area tap will give you clean water. 
So carry your security and peace of mind with you by using the Epic Nalgene water filtration bottle. 
Made to go wherever you go, the Epic OG Grande is a big 48 ounces. Whether you are at the gym, school, or work, you will be assured that your water will be safe for drinking. 
This is especially important when you are off on summer adventures. The made in America proprietary carbon fiber filter will give you 75 gallons of clean, healthy water. 
That is about 300 fills of the 48 ounce Grande before you need to change the filter. Epic filters last three times longer than standard water bottle filters. 
It is also far more cost-effective than bottled water. Not only is the Epic good for you, but it is also good for the environment. 
Each urban filter included in the Nalgene OG Grande replaces 550 single-use plastic water bottles. 
If you and your friends were to use the Epic on your summer adventures hiking and biking, that would keep a ton of plastic out of landfills and more money in your pockets. 
Both the urban & outdoor filters for the Epic will remove over 200 + known water contaminants. 
The filters will remove bacteria, viruses, cysts, lead, chlorine, odors, chromium 6, fluoride, heavy metals, herbicides, pesticides, VOC, PFOA, PFOS, and trace pharmaceuticals. 
This OG bottle will keep you supplied with clean water when you are on the trail. When asked what the OG in the Epic Nalgene OG Grande meant, back in the day, "OG" indicated Original Gangster. 
Today, people use OG as a quick way of saying "The Original." Epic thinks that there is nothing more OG than the Nalgene wide-mouth bottle. 
A great way to have fun in the sun, the Floating Oasis water pad will keep the kids entertained for hours. 
At Flotation iQ, they believe in creating products that empower experiences. 
They want to make the time in and around the water more memorable for you and your family, just as they want for their own families. 
iQ feels that sunny days are made for having fun and creating adventures. They are crafting their products with quality materials that will serve your time in the water well. 
Measuring a generous 15 feet long and 6 feet wide, the Oasis is the perfect item on the lake. 
If evenly distributed, the Floating Oasis can hold up to 1500 pounds of giggling girls or boisterous boys. 
Adults will also appreciate the ability to float upon the gentle waves on the Oasis pad. A D-ring makes it easy to tether to a dock or favorite spot. 
Tether the Flotation IQ Floating Oasis to a non-moving watercraft and use it as your own private island! Floating Oasis to a non-moving watercraft and use it as your private island! 
Tear and puncture resistance, UV resistant, and easy to clean with soap and water; this made in the USA water float will bring family and friends hours of fun.
Built-in the United States and used all over the world, the AB Biller professional speargun is the foremost production speargun on the market today. 
Spearfishing is for anyone who loves a challenge at sea. A method of fishing that has been used for millennia, early spearfishers were stuck with using sharpened sticks. 
Those early hunters would have coveted today's Biller speargun with its stainless-steel trigger mechanism smooth action. 
Most of us will agree that any day spent in the water is a good day, but this AB Biller speargun can make your day in the water a great day! 
Powerful, yet quiet underwater, the Bill speargun provides accuracy and maneuverability. 
Taking care with the manufacturing process, the shafts of the gun are heat-treated to 44C to produce a combination of hardness and spring tension. 
You can choose from several variations in the AB Biller, confident in the quality. The Biller company has provided guns for both the US National and State Spearfishing Champions. 
The AB Biller company feels that no matter how superior a speargun may be, the person operating it is the most significant factor in safe and successful spearfishing. They believe that a speargun should be used with care, respect for the environment, and with the best of sportsmanship.
Hallelujah! Finally, there is a way to safely carry all of your much needed (yes, you need them ALL six of them) fishing rods to your favorite fishing hole without them being tangled and mangled. 
A beautiful thing, the hitch mount rod holder from our favorite StowAway company, takes the complication out of transport. 
Now your prized rods and expensive reels will make it safely to a day of adventure and back again! 
You might think it couldn't get any better than that, but it does. Not only does this made in America rod holder cradle your equipment, but the hitch mount also provides room for two coolers. 
Oh, the joy of arriving for a day in the sun with your rods in one piece and coolers full of cold beverages and ham sandwiches. 
It can't get a whole lot better than that! Only it does. The swing-away frame allows you access to the back of your truck or SUV without removing the frame. 
And this swing-away frame does double duty. 
On the odd chance you won't need your rods, simply remove the rod holders for camping, hunting, tailgating, or road trips, and you still have the heavy-duty steel cargo rack.
Summer calls, and you certainly don't want to be stuck in the house or behind a desk! So load up your bikes and prepare for some time in the great outdoors. 
As the saying goes, add some life to your days, not days to your life! Getting out on a trail can do that for you. 
Saris feels strongly that biking can lead to a healthier, more connected world. They believe that bikes set you free to explore, move, and experience relationships with people and places like nothing else. 
Their mission is to set everyday cyclists free to explore without limits, which is the motivation behind their bike hitch car rack. 
The Saris Superclamp bike hitch can help you put life in your days by transporting your bikes to those adventurous locations. 
Even if it is just the trails in a nearby town or the vacation of your dreams, the Saris will get you and your bikes safely there. 
American made, with a lifetime warranty, this bike rack will encourage you to take your bike wherever you go. 
Most of us would rather take our bikes to the beach than a Mercedes to work. 
With a full tilt feature, you can still access your back hatch on your SUV. Carry two bikes that weigh up to 60 pounds each. 
This rack can hold e-bikes, mountain bikes, and TT rigs or other assortments of bikes. 
Integrated locks, reflectors, and SuperClamp 2-bike makes transport easy. This short video shows the features of the Saris. 
Making biking easy, the Saris will have you wanting to take more detours.
There comes a time in every adventure when you need to take a bit of a rest. 
Just a bit of a breather to sit and contemplate, and get ready for the next exciting event. 
It can also be nice to take that breather a bit above the ground, not that you don't like the earth, but there are times when you would rather not share it with all the other crawly creatures. 
Enter the immensely comfortable and portable Jumbo Stool made by Camp Time. 
Camp Time origins began in 1979 when Mel and Dave were searching to find a camping table that did not have sharp edges. 
Today, with over 40 years of continuous production, Camp Time products will suit your camping needs. 
You will also appreciate that Camp Time products are made in the USA with Oregon aluminum, Washington labor, and Illinois hardware. 
At the height of 19″, the Jumbo Stool is the height of an average chair, making it a comfy height for sitting. 
Folding compactly, the stool has an over the shoulder strap for easy carrying and weighs just over one and a half pounds, so it is lightweight to tote. 
The Jumbo Stool will hold up to 300 pounds, which is one sturdy stool.
The Pelican name is synonymous with high-quality performance protective cases. 
This global leader in design and manufacturing is located in Torrance, California. 
When you buy from Pelican, you will be purchasing a made in America product from a company with over 46 years of experience. 
Started in their garage by Dave Parker and his wife Arline, the Pelican product line has grown steadily over the years.
Ideal for protecting those sensitive and precious items you want to bring with you on your next outing, the Pelican Transport case can store and protect those items.
The case is made watertight through the use of a tongue and groove fit and a polymer o-ring and great for protecting smaller valuables.
An automatic pressure equalization valve releases built-up air pressure and keeps water out at the same time.
No matter where you go or what you are engaging in, the Pelican can enable you to take your needed items along and keep them safe at the same time.
The 1040 Micro case is perfect for those electronic items or other precious small items, as the rugged dustproof and crushproof Pelican can keep them safe and free from damage.
Pelican has grown the Pelican BioThermal product portfolio to be the most comprehensive in the industry. The 1040 Micro will help keep your summer care-free by protecting your essential items.
The spirit is willing, but the flesh is weak, and that is precisely how it can feel on your bottom after sitting in your kayak for a short time. 
Summer beckons, and you want to spend quality time on the water, but your fanny does not want to cooperate. 
After just an hour or so, you are miserable and tired of continually shifting positions. 
That is where Skwoosh comes to the rescue! 
Providing relief to your tailbone and cushioning pressure points, the Skwoosh Kayak fishing seat pad will enable you to extend your time on the water. 
Skwoosh knows all about making comfort cushions. 
Based in Massachusetts with manufacturing in New York, Skwoosh is a leader in gel cushions for watersports, motorcycles, auto, truck, and home along with office and wellness markets. 
Filled with fluidized gel, and a non-skid bottom, the fishing seat pad will cradle your posterior in comfort. 
Waterproof, it will also float and has a low friction cover, so no rubbing!. The seat will not mold and needs no maintenance. 
An elastic cord slips around your kayak seat and keeps the fishing chair seat pad in place. 
Reviewers on Amazon felt that the Skwoosh seat pad extended their time and enjoyment on the water. 
Summer is the time for being outside in nature and experiencing that connection with your environment. 
The Skwoosh will be an invaluable addition to keeping you afloat comfortably.
FAQ's
How Can I Know A Product Is Made In The USA?
Regulations in the United States since the 1990s have required that goods show the country of origin. 
Even so, it is not easy to determine where something was manufactured. It can be confusing! 
The Federal Trade Commission (FTC) regulates the "Made in USA" labels and requires that products with that label are at least 75% American made. 
While that label can be a great indicator, the label is only required on cars textiles, furs, and wool. That leaves a whole lot of products that it is difficult to determine where it came from. 
There is a United States Non-Governmental Organization (NGO) that is called CERTIFIED, Inc., which is a certification source for "Made in the USA, Product of USA" claims. 
If a product passes, CERTIFIED, Inc.'s criteria will get awarded with a "100% US Content" label. You can look for the symbol or search the AMA member directory for companies that sell the products you are looking for.
Are Products Made In the USA Better?
Consumer Reports stated in a 2015 report that 80% of shoppers say they prefer to buy products made in American. Most consumers feel that goods made in the USA are of better quality than those from overseas sources. 
In the United States, there are consumer protection laws that are in place. Those laws ensure that manufacturers in the US produce safe, quality products. Those products also undergo testing to make sure that this standard is guaranteed.
Why Buy Made In USA Products? Does It Really Make A Difference?
Yes, it does. It makes a critical difference. When American made products are purchased, it strengthens the country and makes the economy strong. 
The economy is the sum of all the systems by which decisions are made regarding resources like water, fuel, food, land, and labor. So a strong economy is essential to the American standard of living. The stronger the economy, the more stable jobs are, and the better people can provide for their families. 
When American consumers buy American made goods, they are putting the money back into the economy that benefits them with services like infrastructure improvements and education. The importance of buying American products cannot be understated.
Please follow and like us: