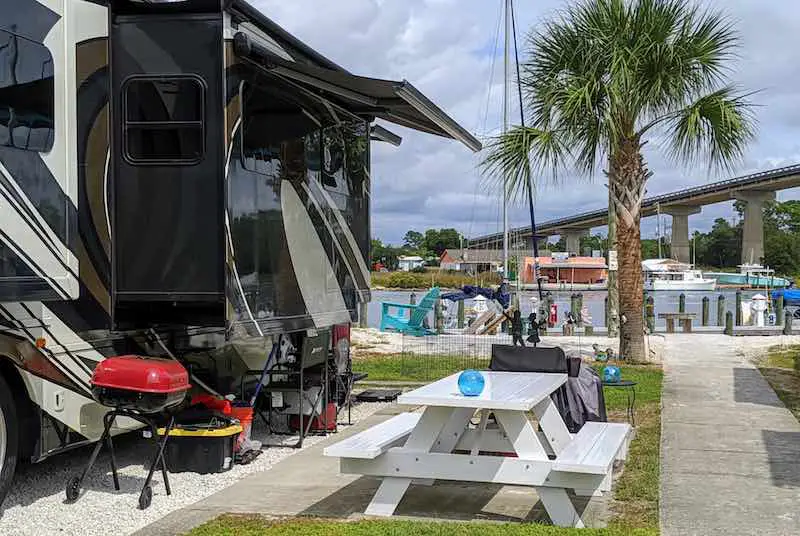 Here Are Some Amazing Must-Have RV And Mobile Home Accessories
(Last Updated On: March 25, 2021)
Mobile homes, RVs, and Camper Vans all have one thing in common: real estate is at a premium. When space is tight, you want accessories that will be worth the precious space they take up. 
And while you will not be driving your mobile home down the road, you will still benefit significantly from mobile home accessories that give you the most bang for your buck.
RV accessories can do double duty in a mobile home or live the van life in a camper.
We have listed some mobile home accessories that will be ideal for RVs and Camper Vans. These items will make life easier and a lot more fun! 
There is dirt wherever you go! Even mobile home living has its fair share of dirt. What mobile living does not have a lot of is space. 
Enter the ThisWorx portable vacuum, and you have a solution to the dirt problem!
Perfect because of its size, ThisWorx portable handheld vacuum takes up a minimum of space. 
You can put it in a drawer, slide it under a bench or store it in your vehicle. The 16-foot power cord that connects to your vehicle's 12 volts lighter port allows you to reach the places that need attention. 
You will like that this unit comes with three different nozzles to use for the most effective job. The easy to clean HEPA filter comes with a cleaning brush. 
Lastly, the whole ThisWorx handheld vacuum comes in a nifty carrying case that keeps everything together in one spot and makes it easy to store in your RV or mobile home. 
In your home kitchen, you probably have your fair share of pots and baking pans. When you are RVing, you don't want to take up precious cupboard or drawer space with a gazillion pans. 
That is where the Omnia Oven, also known as a Wonder Pot, comes in. This one-pot wonder can bake pizzas, brownies, cakes, bread, and casseroles right on top of your RV or camper stove! 
The Omnia Oven will bake on any type of burner that you are using while camping. It will work with gas, electricity, kerosene, a camp stove. Remarkably, this nifty little oven will even work on a grill! 
An important point if you have picky kiddos, the food baked in the Wonder Pot will have the same texture as food baked in a conventional oven. 
This pot's compact size and versatility are ideal for a mobile home or camper van. This will be one pot that you will be sure to have in the RV on every trip. 
Out of the 717 reviewers on Amazon, 84% of those buyers gave the Omnia Oven 5 out of 5 stars reviews.
As a valuable space saver, this set of four round food storage containers are a bright and welcome addition to your RVing needs. 
These food storage containers stack on each other; they are made of collapsible silicone and collapse to ⅓ of their original size. So they take up even less space in your RV cupboard. 
You can store wet or dried foods, and leftovers can find a home in these colorful containers. 
Snap-on lids mean that the cover will not come off and spill inside the frig when you are traveling down the road. 
Even if you have a mobile home, which is not mobile at all, you know that space is a valuable commodity. These Thin Bins will not take up much room but be perfect for your storage and microwaving needs. 
While the containers are airtight, they include an air vent when you want to use them in the microwave.
Made from 100% FDA compliant, non-toxic, BPA free and food-grade silicone, so use this set with confidence.
The Primula is the classically shaped aluminum coffee maker that most campers and RVers are so familiar with. You might be on the camping trail, but that doesn't mean you need to leave the amenities behind. 
Keeping your camping needs in mind, the Primula features a high-quality aluminum body and heat resistant handle that offers a firm and reliable grip. One of the RV must-have accessories, the Primula forces pressurized water through coffee grounds and deposits a rich, full-bodied espresso blend into the pouring chamber. 
Use this versatile pot to make other delicious coffee recipes like cappuccinos, lattes, americanos, macchiatos, and mochas. 
While on the road in your RV, you will be able to make your beverages yourself, rather than relying on expensive coffee shops!
This 19-inch diameter propane gas fire pit is a definite take-along for your RV, as a van accessory and a mobile home must-have. You will find yourself using the portable fire pit again and again. 
Well constructed, this generously sized fire bowl by Outland is a pleasure to use. No more need for purchasing expensive firewood when on the road. You don't have the space to haul firewood in your RV and even less pace when traveling in a van, so you are hostage to high prices. 
You will not have the dirt of ash that comes with burning wood, either. There is no smoke to contend with, but you will have a gorgeous fire. 
This fire bowl can travel with you when you go camping, tailgating when living the van life, at the beach, or in the side yard of your mobile home park. Supply your own 20 lb propane tank to the fire bowl. 
If you run the propane at full heat, you will get about 6 hours of continuous fire. Turn it down a bit, and it will last even longer on those outdoor nights. The included natural lava rock gives you a no-mess fire pit. 
The Outland comes with a cover for the fire bowl and a carry case, too. This fire bowl got rave reviews on Amazon. 
With almost 2000 reviews, 89% of buyers gave the Outland Firebowl a five out of a five-star review. That is impressive, so break out the marshmallows!
This "must have" RV and Van accessory that should go with you everywhere! Just like the commercial for a popular credit card: don't leave home without it! It would be a quick end to a great day if your battery were to fail in the middle of nowhere. 
When living the RV and Van life, you are well aware that most of the time, you are relying on your ingenuity to get where you want to go. There is not a gas station on every corner. 
Having the NOCO Jump Starter Box will give you the boost you need to keep a trip from turning into a disaster. You will be able to jump-start a dead battery with this lithium battery up to 20 times on a single charge. 
Safe and easy to use, the NOCO has a spark-proof (my favorite) technology and reverse polarity protection. Not only that, the NOCO is a jump starter, portable power bank, and an LED flashlight all in one unit. 
Talk about saving space in the RV or Camper Van! Recharge your smartphone, tablet, or other USB devices. All of this handiness weighs only 2.4 pounds and comes with its microfiber storage bag.
While this Garmin GPS is touted as a truck navigator, it will be ideal for your RV or Camper Van. 
While this unit will direct you as a car GPS would, you have the advantage of custom routing based on the size and weight of your RV or Camper Van. 
The Garmin will also give you alerts for upcoming bridge heights and sharp curves. This valuable information is beneficial when driving an RV. This intel could save you from disaster by giving you a critical heads-up. 
You will also get truck-friendly (meaning larger vehicle) parking information along your route. 
Equipped with a voice assistant, you will be able to talk to the dezl navigator while keeping your hands on the wheel, keeping yourself and your passengers safer. 
You will appreciate the large, crisp seven-inch display in your RV. With built-in Wi-Fi connectivity, it is easy to keep your maps up to date, too.
A bright, colorful blue, the Camco drinking water hose is ideal for use at your mobile home or to take along in your RV or Camper Van. 
When using this hose outside at your mobile home, you won't have to worry about the kiddos taking a drink out of this drinking water safe, lead, BPA, and phthalate-free hose. 
No plastic taste is associated with water from this hose. Take it along in your Camper Van and RV to use when you hook up to a water source. 
Sturdy, the Camco is 20% thicker than standard drinking water hoses so that this hose will stand up to rugged use. 
This is one piece of equipment for RV and Camper Van life that is necessary, but also just plain fun at the same time! Take these along to keep in communication with others in your group or when you are hiking a trail. 
The Topsung walkie talkies come in a four-pack (two blue, two silver) that will keep you connected with others in your group. The rechargeable batteries can be recharged with the included USB cable but will run about 48 hours on standby before recharging. 
Take it along when hiking, biking, or as a way to keep the kids in range. NOAA weather will scan through 10 available weather bands and lock onto the strongest channel to keep you aware of severe weather updates. 
Take these handy communicators along in your RV whenever you hit the road.
Aptly named the Wanderer, this solar starter kit from Renogy is perfect for those who want to start using solar. power Use this at your mobile home, on your RV or Camper Van, or even on a boat. 
This starter kit will give you quiet power production, vital for the times you will be off-grid. When you add a polycrystalline or monocrystalline solar panel kit, you can extend your travels even farther. 
The negative grounding controller ensures broader off-grid applications and safety, especially when used on a battery negative on the chassis. 
Great when you are really on a "get away" in your Camper Van or RV. Easy to hook up and use. These grids will give you the ultimate off-grid experience!
Please follow and like us: