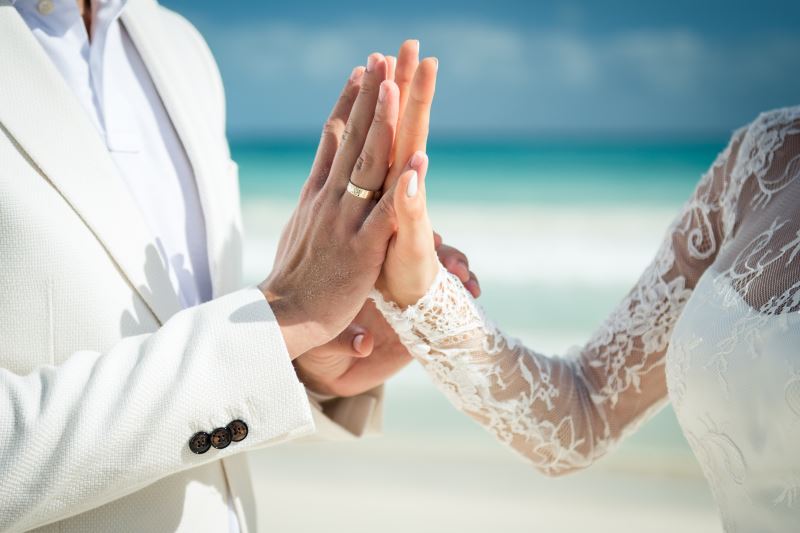 Why Florida Beach Weddings Are More Popular Than Ever
(Last Updated On: January 11, 2021)
You have found that one true person with which to spend the rest of your life!  As this is an occasion that will be a once-in-a-lifetime event, you would like it to be memorable and to be held in a beautiful setting that will be as magical as the day itself. Florida beach weddings can be just that magical!
Few settings provide both the magic and the great, all-in-one nature-filled location the way a beach does.  The sun, the sea, and surf, along with a breathtaking blue sky all combine to provide the perfect backdrop for pledging a life of love and commitment in a central Florida paradise.
You have thought that a wedding on the beach would be the ultimate location on which to stage the most important day of your life.
So, where do you start?  What are the questions that you need to ask to ensure that there are no last-minute surprises?
If you have chosen to go with an event planner for your beach wedding, the planner should have all of the details along with dos and don'ts for executing the perfect ceremony. 
However, we feel that when you are planning a once in a lifetime occasion, it is best to be educated yourself, regardless of who is helping you.  If you have a background of what it entails, you are in a better position to know what questions to ask. 
Beach weddings here in our central Florida paradise, are beautiful, magical occasions. To help educate you in creating your perfect day, we have a few tips and things for you to consider while you begin your planning.
BEST TIME FOR THE BEACH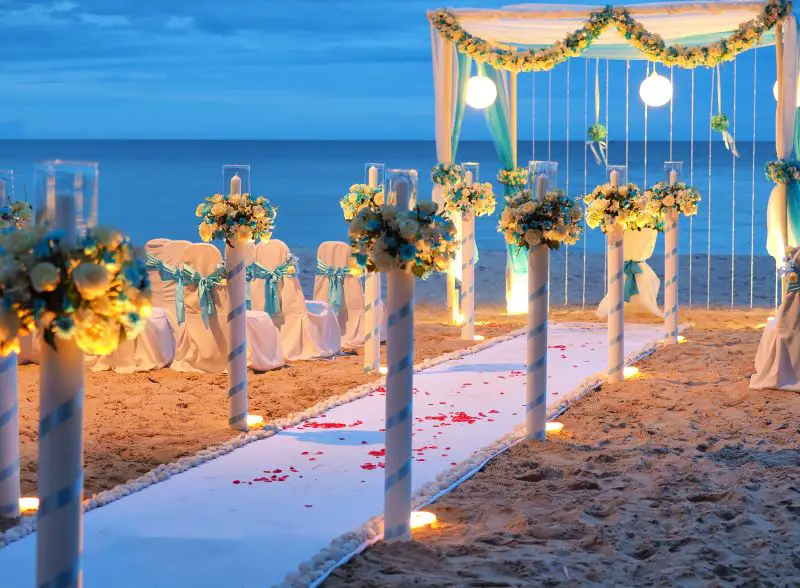 The best time for a beach wedding is Monday through Friday.  Beaches are less crowded, and parking areas are less full.  Mornings, before 10:30 am and one hour before sunset are the best times of the day as the sun is not at its heights. Florida beach weddings do have a schedule you should consider.
The best months for a Florida beach wedding are October through February.   October through December has very few tourists in Florida, and it is still warm.  November can be a great time as the humidity is down, there is no haze in the air, and so it is beautiful on the water.
Choosing a month from October through February will also help to avoid the rainy season during the summer in Florida, where is rains (albeit for short periods) almost every afternoon.
 January and February may have cooler temperatures, but the beaches are open, and you will be able to get discounts at that time of year. 
TO HAVE AND TO HOLD, TO PERMIT OR NOT:
Traditionally, beach weddings tend to be smaller, intimate affairs, with fifty people or less, with 20 – 25 being the average, and it is just the same with Florida beach weddings!
For the most part, ocean beaches all over the United States are open to the public,  keep that in mind when choosing your site.  Unless you have access to private property, know that you cannot block off space.
If you have a planner and a venue, they will be able to advise you, and they may have designated spots for a ceremony. Still, please take into consideration that you cannot legally block others from the beach or the water.
If you are considering an Airbnb with a secluded beach, they must be notified of any planned events, and are sometimes wary of allowing such activities. So start your search early if that is the direction you want to go in.
Get in touch with the local government to see if you need any type of permit for a gathering, such as a beach ceremony.   Some beaches have rules as far as gatherings, regardless of the type, and the number of people attending.
Check with those same government officials to see if there is an option for roping off a section of the beach.  But, for the most part, do not expect complete privacy.
While you are at it, know that most beaches prohibit alcohol consumption, so investigate the local codes to see if the beach you are interested in applies.  Ask about bonfires and any other type of activity that you are considering making part of the wedding.
CONSIDER YOUR GUESTS:
First off, when choosing a beach, find out if the beach is accessible.  How easy is it to get on and off the beach?  Is the beach close to the main road, or is it a long hike from the parking lot?
Do any of your guests have mobility issues?  Wheelchairs, crutches, strollers, and older guests may have a challenge traversing the sand.  Will your guests stand, or will there be seating?
It is not just your guests who will be impacted by the trek to the beach.  If you have tables and chairs, decorations, and food, all of those vendors will need to transport items for set up.  It would be a good idea to have a location that is easy to access.
THE WIND AND THE SURF
One of the joys of walking down a beach at sunset is hearing the waves crashing against the shore and letting the wind blow softly across your skin.
That joy can fade a bit if you are trying to recite handwritten vows, but your voices are drowned out by those same waves crashing against the shore.  A professional sound system would not be amiss in this situation but look for ways to power it up on the beach.
Wireless microphones and speakers can be purchased or rented so that the guests can hear the officiant.  You could also look into a windscreen for your microphone, which will help deflect the sound of the surf.
If there is a venue near the beach, or if you have a planner, make sure to ask about the use of a microphone and windscreen.
BEACH DECOR
It is magical by the water, and the breeze from the ocean is part of that atmosphere.  Choose your accessories with those breezes in mind.   Tall arrangements will likely be in danger of toppling over, as will candles, ribbons, and balloons.   Breakables are not a good idea on the beach where glass can be imbedded unseen in the sand, and glass is usually prohibited from the beach.
Sturdy decor, and ones that will hold up to high temperatures, will be the best choice at a beach ceremony.  Choose items that have some weight and can stand up to the wind, or you can secure items with adhesive.
Orchids, calla lilies, and chrysanthemums do well in the heat.  Think about combining them with fruits or seashells to create artistic centerpieces that will do well in the heat and wind.  These items can be paired in colorful choices that will lend to the beach theme and make your decor either elegant or festive.
HAVE IT MADE IN THE SHADE
We love the sun and the surf.  Any event that is held outside needs to take into consideration the elements.  Whether it be rain or bright sunshine, take a moment to consider how you and your guests will be impacted. 
If you choose a time for the wedding that is in the morning or late afternoon, you will avoid the heat of the day.  Canopies that cover the seating area can provide shelter from the sun.  Bamboo poles draped with a light, and the white fabric can look lovely on the beach and keep your guests comfortable, especially when it comes to your older guests and young children.
CEREMONY OR RECEPTION OR BOTH
It is best to decide if you will have the service on the beach and the reception at a venue, hall or restaurant.   As mentioned earlier, if you want to have a meal on the beach, find out if you will need a permit and what will be allowed.
If you can get permits for both ceremony and food on the beach, keep in mind that items that generally require refrigeration will spoil quickly in the high temperatures at the beach.  Try to choose items that will not melt or spoil fast.  Buttercream frosting, popular on wedding cakes, will not hold up to the heat.
If you are getting married on the beach and have a venue for the reception, then food on the beach won't have to be a consideration.  We have some suggestions for food and beverages that will be in keeping with the beach vibe.
For a Cocktail hour or during the meal:
Flavored rum and vodkas that include splashes of mango, citrus extracts or coconut
Smoothies made with fruit or ice-blended drinks
Pina Coladas and Margaritas
Ideas for Appetizers:
Shrimp cocktail or coconut shrimp
Fresh tropical fruit
Iced oysters
Crab or shrimp stuffed mushrooms
Sun-dried tomato bread
Sushi
Mini crab cakes
Key lime popcorn chicken
Salads: (combine with light, flavorful dressings)
Caesar salad with shrimp
Baby greens
Soups:  (you could choose a soup rather than a salad)
Gumbo
Shrimp or lobster bisque
Asparagus soup with lemon creme fraiche (can be served cold or warm)
Gazpacho
Clam chowder
Entrees:
Grilled or broiled fish
Surf and turf combination                                                                                                     
Seared Diver Scallops                                                                                                          
Applewood-Smoked Salmon                                     
Roast Tenderloin of Beef                                                                                                     
Herb-Crusted Chicken
Vegetables and side dishes:
Candied carrots
Cold vegetable platters with dip
Veggies on skewers
Seasoned rice
Vegetarians:
Lemon thyme gnocchi
Butternut squash and goat cheese in phyllo
Roasted Eggplant
Roasted Sweet Corn Ravioli
Desserts:
Color Coordinated Candy bar
Gourmet cupcakes
S'mores dessert bar
WEATHER, TIDES, TIMES AND BACKUP PLANS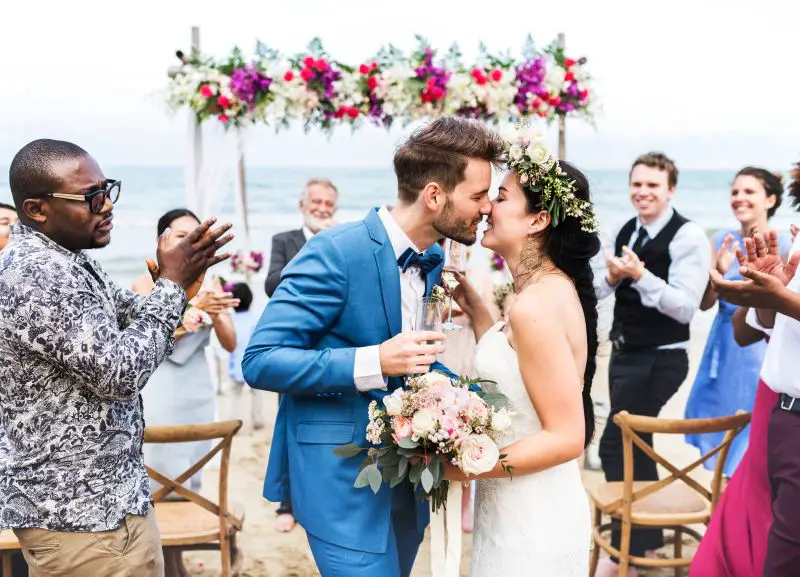 As the saying goes, time and tides wait for no man.  Or woman, or wedding ceremony!  Remember that the beach may look like it is miles wide, but the tide will come in, and half of the beach will disappear.
Timing will be important on your big day.  If the sun is too high, you and your guests will be getting sweaty.  Along with that, you will be squinting in the sun, and shadows will be cast over each other in any pictures taken.  Mornings and late afternoon are often good times on the beach to avoid the intense sun.
Sunset and tide times change during the year, so check in advance to see both of these times before setting arrangements for your nuptials. 
Plan B is essential to have any time that you are planning an event in the great out of doors.  It is just not possible to predict the weather.  When you are looking for a location, look to see if there is also a nearby pavilion or covered area that could be used in case of bad weather.
Another option is to secure a tent just in case of wind or rain.  If you choose this route, have a tent professional meet you at the location to get an idea of the best size and type of tent.  Tents can include liners, draping, and lighting that can transform the interior of the tent and "dress" it up for the wedding.
If the weather cooperates, the tent will have panels that can be pulled open and tied back, allowing for the beautiful sea views that brought you to the beach in the first place.
Ask, too, about the pedestal and misting fans that can help to keep you and your guests comfortable.
THE BEST ATTIRE FOR FLORIDA BEACH WEDDINGS
Your wedding day is when you will look spectacular.  Getting married at the beach will present some amazing photo opportunities, and you will want to be ready for them. 
To be picture perfect, keep this in mind: wear something that does not cause you to overheat.  Consider a dress that is a lighter material, as most wedding dresses will have a heavy lining.  Consider the material that will breathe with you and allow the air to pass through.
Lightweight fabrics like chiffon and charmeuse will feel airy, and your gown will also be able to flow freely.
A long train is lovely and wonderful in pictures, but it can be really difficult to walk the beach in. If you are choosing a long train, find one that can be detached and reattached easily.  You would be able to detach and then reattach once you are in the location for photos.
The same idea holds when it comes to your veil.  Not all brides wear veils.  A long veil, just like a train on a dress can have a way of getting away from you when you are out in the wind.  Choose a short veil, or go with flowers.  Even a fascinator (think about the royal family at posh events) would be an idea instead of a veil that might be in your face a lot of the time.
Which brings us to your hair.  You might want to think about an updo for the occasion.  The wind will do the very same thing to your hair that it will do to your veil. An updo can add elegance to the event without being overly formal at the beach.
At some point during the proceedings, you will want to take a stroll down the beach.  That cannot be done in any kind of graceful way in high heels.   Sandals will be the best option, and you can find some very stylish options.  You could also do what many brides do,  decorate them yourself, making them as glitzy as you want.
So, too, as with the bride, the groom should also consider a lightweight suit, forego the tuxedo, and remain cool and comfortable throughout the ceremony.  The last thing you would want is to become overheated and be uncomfortable during the biggest event of your life.  Lightweight cotton pants for the groom and his best man will be far more appropriate for the beach.
A FEW MORE TIPS ON FLORIDA BEACH WEDDINGS:
Have your photographer visit the site the day before, and during the same time frame as the ceremony to get an idea of how the light will be and the best angles for those magnificent photos.   If your photographer sees the area in advance, they will be able to plan for the best photo ops. Florida beach weddings and the pictures took are always amazing.
Bring some sunscreen and some bug repellent.  The sunscreen and repellent will be for the guests who might not have thought about applying some in advance.
Bring some wet wipes. There will be those guests, and yourself, who might decide to walk in the water.  Putting shoes on with sandy feet is very uncomfortable, and the wet wipes will take care of that.  You could also have flip flops available as an option for people to switch into for their time on the beach.
BEST PLACES FOR FLORIDA BEACH WEDDINGS:
We have several beach recommendations below.  You can also check out the link for beaches in the Orlando area. Ideal for Florida beach weddings!
Fort Myers Beach:
This beach is famous for it's "sugar sand."  The sand is primarily made of quartz crystal. Having hardly any shells, the sand is almost white and feels like sugar when walking in it, hence the name "sugar sand."
Fort Myers has miles of beaches, and there is plenty for guests to do, such as various watersports and dolphin spotting.
Naples:
Another area that has miles of white sand beaches, Naples has turquoise waters and a gazebo that overlooks the ocean at Naples Beach.  A perfect spot to get married at!
St. Pete Beach:
The western coast of Florida on Long Key, Sunset Beach, requires a permit to get married on the beach.  Pass-A-Grille Beach is one of the best spots as it is an area that has no high rises.
If you are looking for central Florida locations, check out the link below:
Treasure Island:
No, not a book or an island, Treasure Island is on the shores of the Gulf of Mexico.  It is a city on a barrier island.  The extremely wide beaches are lined with cypress and palm trees.
Indian Rocks Beach:
One of the popular locations for Florida beach weddings is this one. There are two public beach accesses.  They are nestled among condominiums, Indian Rocks has 27 access points. You will walk over little bridges to the sand, that is close to the water's edge.
Clearwater Beach:
Much busier than nearby Indian Rocks, there are many restaurants and a lot of nightlife.  Try and avoid spring break time!  The sand here is soft and white with a wide beach. While this is a more crowded area, there is a mood of celebration throughout the town.
Siesta Key:
This is one of the most popular wedding locations in Florida.  You will want to consider renting a house or a condo along this beach.  The Siesta Key beach area has been voted one of America's most beautiful by Tripadvisor.
Both wedding locations and vow renewals are available at locations in the Cocoa Beach area.  Check out the link below.
IN CONCLUSION:
Whether you decide to marry on the beach or at a more traditional venue, try to concentrate on what the day represents. The most important happening of the day will be the exchanging of vows, the pledges spoken in front of witnesses that will bind the two into one for all time. 
Whether it is a sunny day, a rainy day, or somewhere in-between, that will be the most important moment of this momentous day. Make the most of your Florida beach wedding!
Please follow and like us: