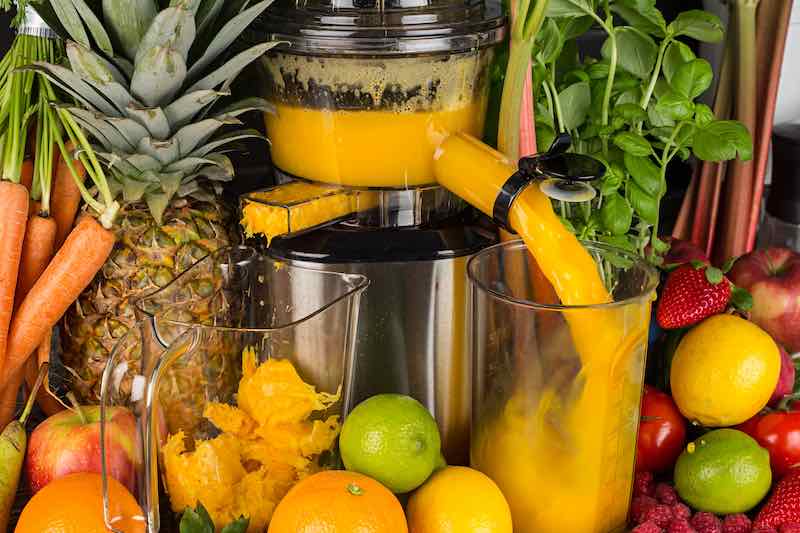 Best Juicer Machines For Fruits and Veggies
(Last Updated On: April 9, 2022)
Drinking fresh juices is one way to get healthful fruits and vegetables, and the best juicer machines will deliver those refreshing drinks right in your home.
Juice makers are a popular way to get vitamins and nutrients into the most finicky eater. In Central Florida, where there is an abundance of Sweet and Juicy Florida Oranges, a juicer is a must-have machine.
Depending which type of  fresh juice maker you purchase, you can make smoothies, baby food and almond milk, too. 
We have listed five of the best juice machines that will deliver a refreshing, healthful fruit or vegetable drink. 
Our List of The Best Best Juicer Machines For Fruits and Vegetables
Sleek and modern, the stainless steel design and low counter-top footprint of the Mueller Austria Juicer makes it a space saving value in your kitchen. It has a compact, stacked, and vertical construction to take up less space.  
The Mueller Austria is a budget-friendly centrifugal juicer that looks good and is easy to maintain. With less clogging and less foaming, you will be able to create a refreshing 16-ounce glass of juice in seconds. 
This two-speed ultra centrifugal juicer has less separation and higher juice yields. For safety (and so you don't have a huge mess!), the Mueller features a locking bar that holds the lid guard in place and connects to an auto shut-off switch. 
You can't accidentally start the juicer because if the locking bar is not full upright and locked, the juicer won't start. 
The Mueller has another valuable safety feature; it will automatically shut off the motor if it becomes jammed or overheats while it is processing. This ensures that you will not inadvertently damage the juicer. 
With the Mueller, you won't have to chop your fruit into tiny pieces as it has a convenient 3-inch round chute that will accept whole fruits and vegetables. 
The 1100-watt dual motor speeds allow you to juice softer fruits like oranges and tomatoes or harder ones like carrots and celery. The machine runs between 12,000 and 15,000 rpm at low speeds and high speeds between 15,000 and 18,000 rpm. 
As will all centrifugal juicers, this machine has limitations in extracting juice from leafy vegetables. Clean up is easy with a culinary grade stainless steel cutting disc and PBA-free plastic and dishwasher safe parts.
Features
Max power 1100 W
Speeds up to 1800 rpm
Over-heat shut off feature
Anti-slip silicone feet
Stainless steel blades
3-inch wide mouth
68 fl oz pulp container
34 fl oz juice container 
On this Hamilton Beach Juicer, the Big Mouth stands for the extra-large 3-inch feed chute. Most types of fruits, apples, celery, and carrots will fit with ease. Having this size chute means you will have the minimum pre-cutting, so that is less prep time. 
Making refreshing orange juice or a nutrient-rich green juice is easy with this Hamilton Beach.  You can make juice with confidence knowing that virtually no heat is transferred into the juice by the Big Mouth juicer. 
Also easy to use, just insert the strainer into the Hamilton Beach and lock on the lid with metal latches and then add the pulp bin. You will be able to juice with the powerful 800-watt motor. With the Big Mouth, you can make up to 12 ounces of juice in less than 30 seconds. 
The stainless-steel micro-mesh strainer can turn even dense vegetables like beets and whole apples. The Hamilton Beach will even be able to juice both ginger root and leafy greens. Make healthy and nutritious soy, almond, or rice milk, too. 
The drip-tree spout keeps drips off your kitchen counter. The removable parts are both dishwasher safe and BPA free. 
Features:
850 watts
Two speeds on low and high
3-inch feed chute
Cleaning brush included
Dishwasher safe parts
Three years limited warranty
Designed to be a fraction of the size of larger centrifugal juicers, the KOIOS is a compact and sleek juicer that has a 13-row saw pointed stainless steel blade. The even distribution of these blades makes grinding more comprehensive and produces a higher yield of juice. 
In Just a few seconds, you will be drinking a 16 ounce glass of juice without the machine clogging and with less foaming. The safety features ensure that the juicer will not operate unless it is assembled correctly, so no accidents wil happen.
The KOIOS will save you time, too, with the large three inches mouth on the juicer. You will not need to cut fruit and vegetables into minute pieces; whole apples will fit into the chute without needing it to be cut into pieces. 
This powerful juicer will accept softer fruits like oranges and tomatoes. It is also perfect for harder vegetables like carrots, celery, and beets. 
KOIOS extends you a 100% three year warranty on their juicer. 
Features
Three-inch wide mouth 
Three-speed mode
1300-watt motor
Runs from 15000 to 18000 mph
BPA free material
Stainless steel cutting disc
Three-year warranty
The Easehold will extract the maximum nutrients, vitamins, and juice from the fruit, vegetable, or leafy greens that you choose to use in the juicer to make healthy and delicious juices. The Eashold will do so without ruining the natural flavor and without robbing the juice of its nutritional benefits. 
You can have peace of mind with the BPA free food grade stainless steel blade surrounded by a filter. This arrangement extracts more juice, vitamins, and minerals. Two different speeds and the powerful blades give you fast results, too. 
The Easthold Juicer also takes safety seriously. This juicer extractor won't operate without the juicer cover in place and with the locking arm in position. An overload protection system will turn the juicer off if the unit starts to overheat, thereby keeping the juicer burning out. 
Easy to use, easy to assemble, and easy to clean with the included brushes.
Features
600-watt motor
18,000 rmp
Safety locking arm
Anti-drip mouth
Non-slip feet
Not for use with banana, mango, or fruit with little juice
The Amzchef is a slow juicer compared to the other centrifugal (and fast) juicers we have reviewed thus far. This masticating juicer will handle all types of items like apples, ginger, pears, and wheatgrass. 
Your juice will have the highest amount of nutrition because it is extracted with minimal loss to heat or oxidation. With minimal agitation of the juice, there is much less oxidation, which makes a longer shelf-life for the juice that has been extracted. 
The 150 watt motor in the AMZCHEF, while it is powerful, is not so strong that it agitates the juice and causes the loss of nutrition due to oxidation. Equipped with a 7-spiral advanced auger, your fruits and vegetables have more juice extracted from them with the 80rpm extractor. 
The big plus with masticating juicers is that it produces a higher yield without damaging nutrients, enzymes, minerals, and vitamins. The quiet operation of the AMZCHEF will not disturb other members of your household so that babies will sleep through the process, and it won't scare the cat.
Features
150-watt motor
Seven spiral auger
80 rpm
Quiet operation
Parts are dishwasher safe
BPA-free and food-grade materials used in construction
Compact design
Buying Guide For Juicers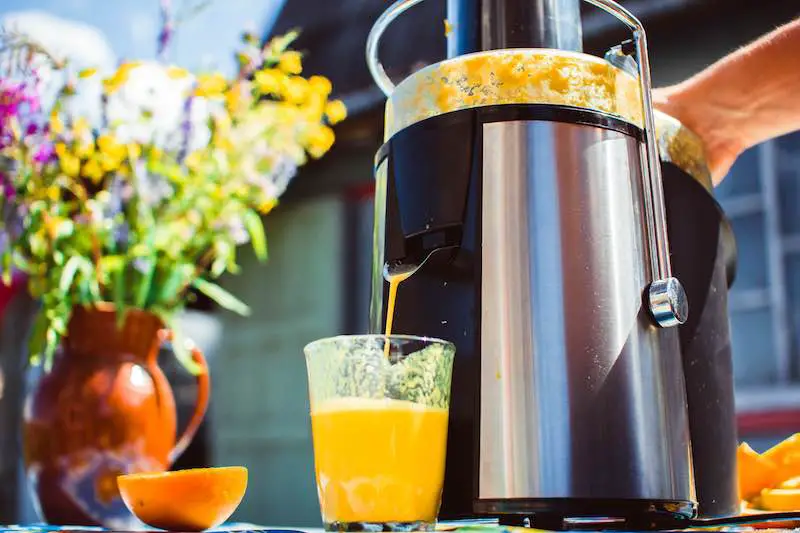 Before you begin to look for a juicer, decide if you would like to get a centrifugal or a masticating juicer first. There is a big difference between the two, so decide which one will work best for you.  
Centrifugal Juicers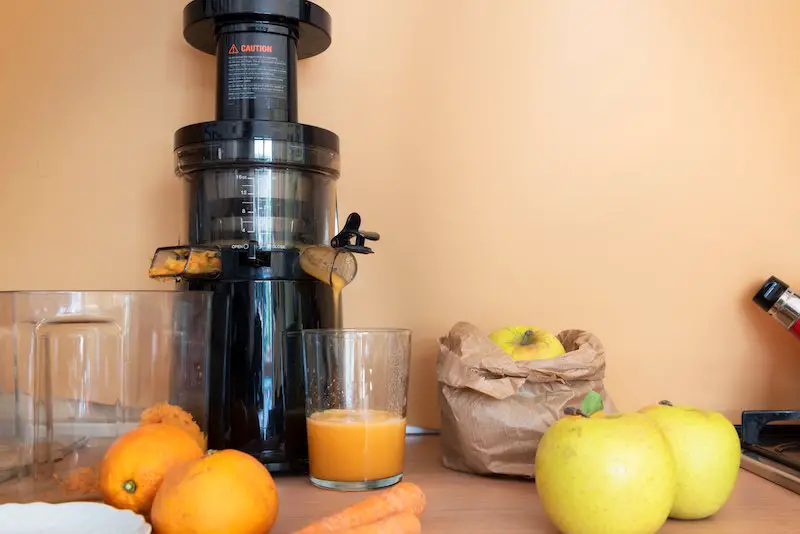 A centrifugal juicer is designed to use a plunger to push fruit or vegetables down a chute or tube. The product then gets shredded or crushed by a sharp cutting disc or spinning blades that spin against a mesh filter and rotates rapidly. 
The centrifugal juicer separates the pulp into a holding container while extracting the juice. This type of juicer works great on fruits and vegetables that are more solid, like apples, carrots, and celery. They often have two speeds and tend to be noisy.
Masticating Juicers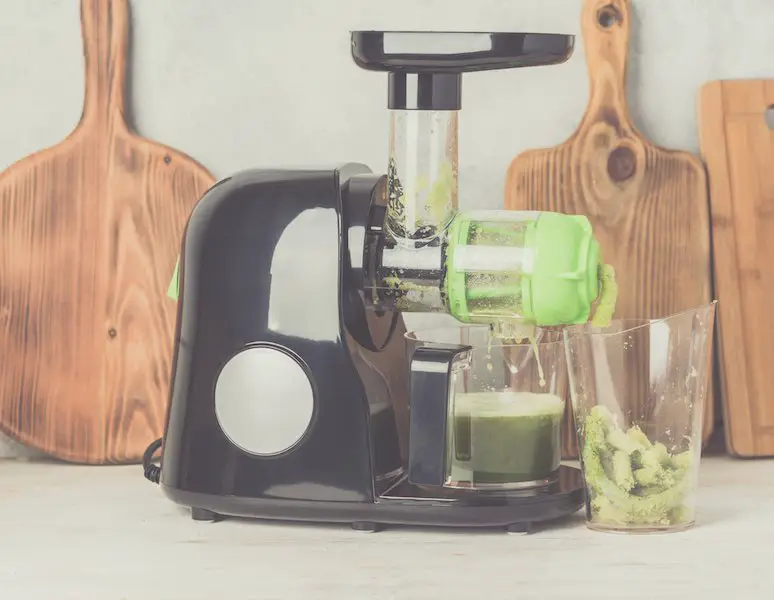 While it is hard to say the name, fortunately, this juicer can also be called a Cold Press or Slow Juicer.  These juicers can handle leafy greens, grasses, and wheat grasses, along with apples and other solid fruits and vegetables. 
The juicers use a single auger to crush and press the produce through a screen. Juices go to one reservoir and pulp to another. Because this machine uses a slower turning speed, it can extract much higher yields of juice. 
This juicer will give you the additional capability of making smoothies, baby food, almond milk, and nut butter. These juicers also tend to be much quieter.
What To Look For In Either A Centrifugal Or Cold Press (Masticating) Juicer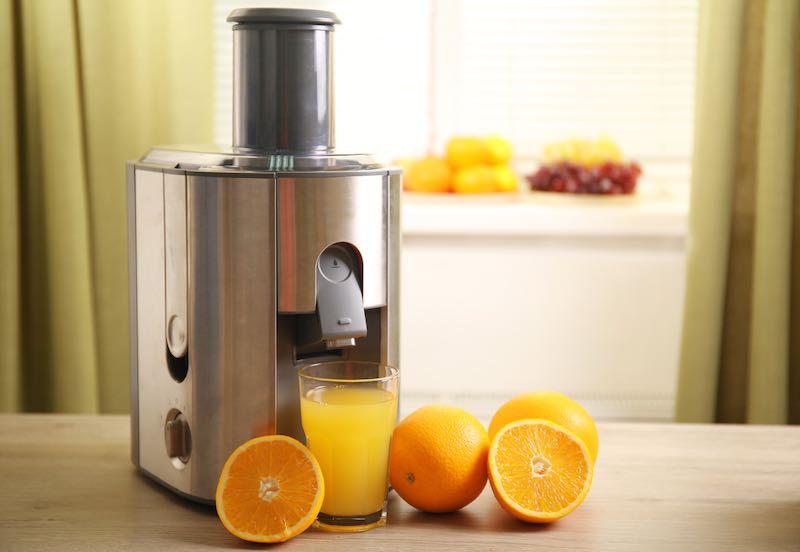 Speed Level
One aspect of a juicer is the speed, and by speed, we also mean the length of time to make a glass of juice. You can make a glass of juice with a centrifugal juicer in about a minute or even less.
With a Cold Press juicer, it will take you between five and seven minutes to make a glass of juice. So if time is on your side, a Cold Press juicer would be fine, but if you are in a pinch to get out the door, a centrifugal juicer has the speed to get you on your way.
Noise Level
A Cold Press juicer tends to be much quieter as the process is slower. With the high speed of a centrifugal juicer, the noise will be significant. If you have a baby in the house or other family members, know that everyone will hear when the juicer is on if you have a centrifugal in operation.
Size and Storage
As in any kitchen, the space you have available, both on the counter and in the cupboards, needs to be considered when adding another appliance. A Cold Press juicer tends to be horizontal in shape and takes up more room than the upright centrifugal juicers.
They do, however, tend to be heavy and bulky. If you are going to use your appliance primarily for juicing and have limited space for the unit, then an upright, lightweight centrifugal juicer might suit you best.
Price
Centrifugal juicers tend to be less expensive than a Cold Press (masticating) juicer. Depending on the brand and quality of the appliance, it can be a little or a lot. Take into consideration how much you will use the juicer and what you will use it for. 
While it is a consideration, sometimes it is not a good idea to put the cost at the head of the list. If this is an appliance that you will frequently use or that you need for health reasons, get one that will do the job and hold up over time. It is better to purchase one quality machine and replace one that broke down within the first year.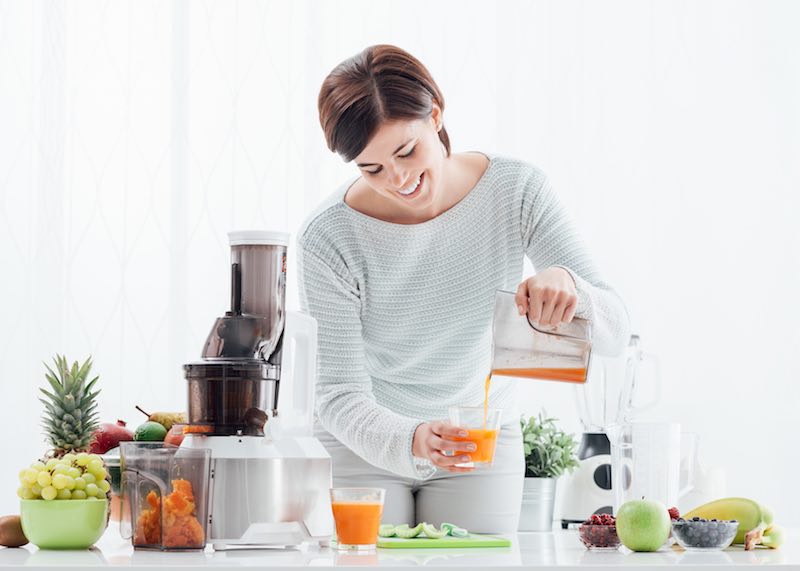 In Conclusion
There are many benefits to consuming fruits and vegetables, and one of the easier ways to do so is by juicing. 
Choose a juicer that will suit your needs so that you will be more inclined to use it on a regular basis and gain the health benefits from fresh juice. 
Here are some popular juices that you can try: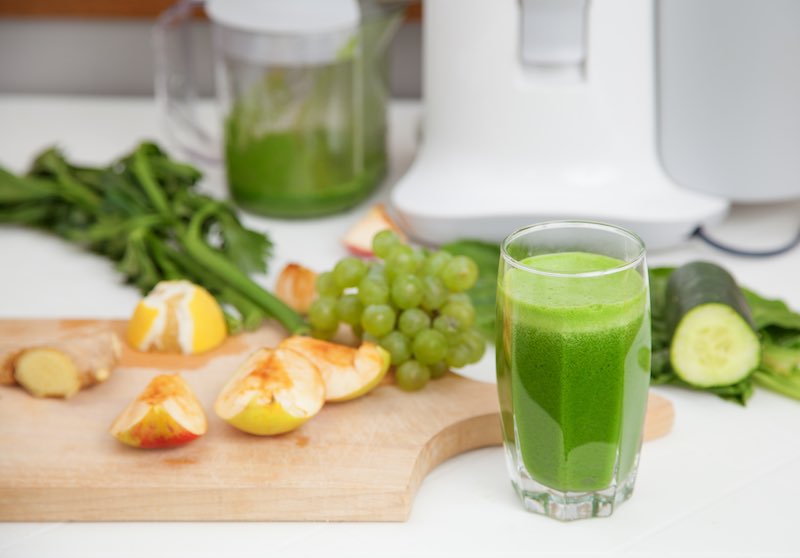 Rise and Shine
1 Carrot
¼ cup blueberries
¼ cup raspberries
½ cup strawberries
1 lemon
1 orange
Immune Booster
2 stalks celery
1 inch of ginger root
1 cup greens (spinach, romaine, or kale)
1 lemon
1pear
Sweet Beet
1 cup zucchini
1 cup greens (spinach, romaine, or kale)
1 cup pineapple
1 beet
1 lemon
Summertime Mojito:
1 cucumber
1 large pear
1 large handful of mint
½ lime
Think Pink
1 beet
1 green apple
1 pear
6 large romaine leaves
1 inch of ginger
Green Goddess
1 green apple
1 cucumber
2 stalks of celery
Greens and Carrot
½ head romaine leaves
4 slacks kale
5 large stalks of celery
1 cucumber
4 large carrots
Sweet and Sour
1 apple
4 large carrots
1 beet
1-inch ginger
1 – 2 cups grapefruit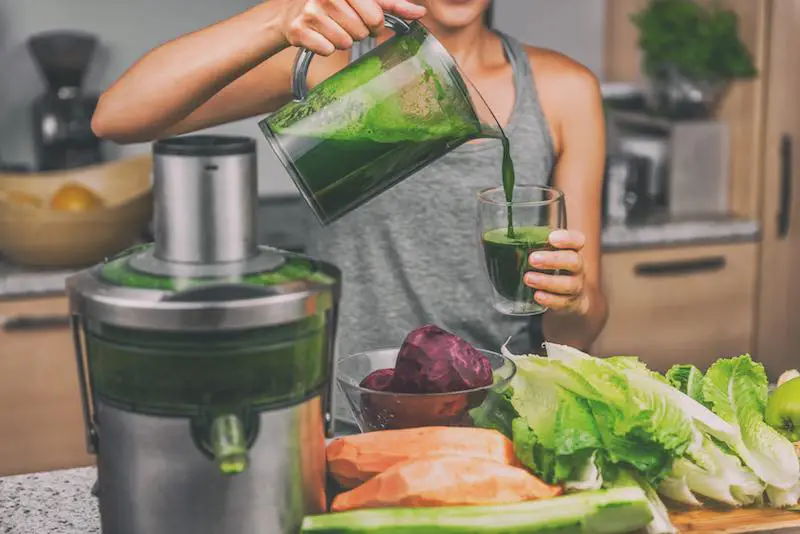 FAQ
How long does fresh juice last?
When you finish juicing, that fresh juice can last about 24 hours. It also will depend on how you store the fresh juice and what type of juicer you used. Depending on the juicer, you might be able to keep your juice fresh and nutritious for two or three days, but no more than 72 hours. 
Can you drink coffee on a juice cleanse?
You are supposed to refrain from caffeine, alcohol, limit sugar intake, or processed foods in the days leading up to a juice cleanse. The reasoning behind this is that it will bring your body down to a more alkaline state. Coffee is acidic, and that is why you should avoid coffee when on a juice cleanse.
How long does cold-pressed juice last?
Fresh cold-pressed juice will usually last about three days if kept in the refrigerator. Some companies will add artificial preservatives. Adding artificial preservatives can be detrimental to their nutritional value.
Is lemon juice bad for your teeth? 
Lemon juice is highly acidic. This acid can cause erosion in your tooth enamel over time. Lemon juice has a pH level of 2 – 3. This means it causes harm to your teeth because liquids with a pH level under four negatively impact dental health.
If lemon juice is bad for your teeth, does that mean you shouldn't ever drink it?
If you follow a few tips, you should be able to Enjoy Lemon Without Damaging Your Tooth Enamel. Use cold water, not hot water, to put your lemon drink in. Dilute your lemon drink with more water than lemon. Use a straw; it sends the juice to the back of your throat. After a lemon drink, rinse our mouth with plain water. Switch from lemon juice to lemon essential oil.  
How long does homemade juice last in the fridge?
Once you finish juicing, the fresh juice can last about 24 hours. If you store the juice in your refrigerator, it will last from 24 to 28 hours, and 72 hours at the most. Various factors determine the length of time, including the freshness of your original product, how it was juiced, and how it is stored.
What are the best apples for juicing?
Red Delicious, Fuji, Golden Delicious, and Gala apples will give you a sweet juice. If you want a juice with tart flavors, Granny Smith or Pink Lady will provide you with that tartness.
Can juicing help with depression?
Can I freeze vegetable juice?
Raw fruit or vegetable juice will keep well in your freezer for two to three months. When freezing, use glass canning jars and allow for at least one inch of headspace. You can freeze lemon or lime juice in ice cube trays to freeze. Once frozen, pop them out and store them in a plastic freezer bag. That way, you can quickly thaw the amount you want
Please follow and like us: