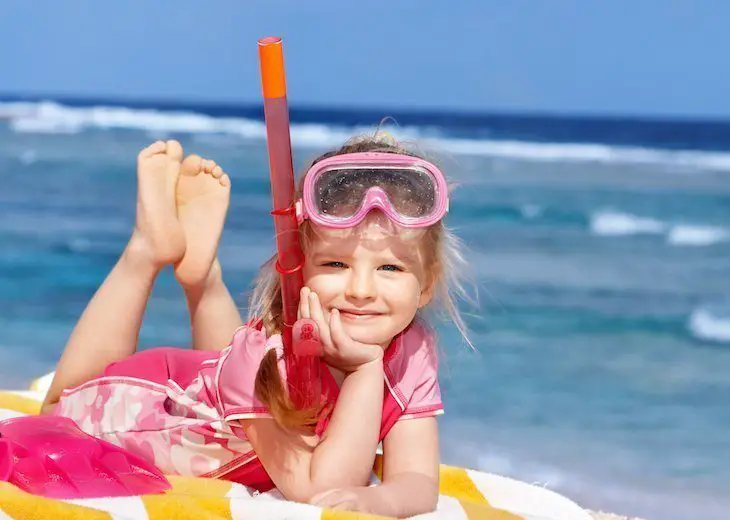 Best Children's Sun Protection Swimwear
(Last Updated On: August 10, 2022)
Going to the beach or to a public pool to swim is a fun summertime activity for the whole family to enjoy. But sunburns can easily ruin the fun. Toddlers are especially prone to receiving really bad sunburns when they are outside, due to their delicate skin. It is important to go the extra mile to find the best children's sun protection swimwear. This will help protect them from harmful UV rays while they are enjoying their time swimming.
In this guide, we'll round up some crucial information on a few high-quality children's sun protection swimwear products. We'll teach you the important pieces of information you need to know to determine which product will protect your child the best.
Reasons to Choose UV Protection Swimwear
If you or your family thoroughly enjoy swimming, scuba diving, or any other similar activities, owning UV protective swimwear will benefit you in many ways. UV protective swimwear is made to be stylish and protect your skin from harmful UV rays from the sun.
Comfort
UV protection swimwear is specifically designed with breathable stretch fabric to help protect your skin and help you remain comfortable. 
This will allow you and your child to enjoy any kind of swimming activity without worrying about skin damage. Always make sure to apply sunscreen on your child's face no matter what type of swimwear they put on!
More Effective Protection
UV protection swimwear will cover and protect as much as your child's skin as possible depending on which variety you choose to buy for them. Some varieties even provide head to toe protection so that their sensitive skin will not be affected by harmful UV rays.
Even with sunscreen, children are exponentially more prone to getting sunburned and receiving heavy amounts of sun damage without the correct form of protection to prevent them from getting burnt. UV protection swimwear combined with an appropriate amount of sunscreen, will offer the protection they need while providing them with stylish options that they will enjoy. UV protection swimwear will provide your child with safe and efficient swimwear options.
More Reliable
UV protection swimwear can also be considered more reliable than sunscreen since you can miss patches of skin while spreading sunscreen on your child. You will not have to worry about that with the full coverage that this swimwear provides.
Peace of Mind
Overall, UV protection swimwear will be able to give you peace of mind when you take your child swimming or give them swimming lessons. Children have more sensitive skin than adults, so they must have a swimsuit that will prevent them from getting damaged by the sun as well as sunscreen if it is applicable. The extra protection will ensure that your child stays safe while still having fun.
Factors to Consider
Many important factors go into the purchasing of a UV protection swimsuit. 
Age of Your Child
The most important factor is the amount of sun protection that your child will be able to receive from this swimwear. These types of swimsuits will be especially beneficial to younger children and babies who are six months old or younger.
It is not recommended for babies six months old or younger to wear sunscreen, so UV protection swimwear will provide them with the sun protection that they will need. Anything with a UPF of 50+ will be ideal for any child to wear while swimming outside. Overall, just make sure that your child will have the protection and coverage that they need to have fun and alleviate the concern for receiving sun damage.
How Comfortable It Is For Your Child
You want your child to remain comfortable while they are wearing the protection swimwear. Being uncomfortable could ruin their swimming experience, especially if they are just starting to learn how to swim. To provide your child with comfortable swimwear, make sure that they are designed with rash guards to prevent chafing and that they will be easy to take off when they are ready to change out of it.
Also, consider that the style of the swimsuit will be important to you or your child. Choose a swimsuit that will appeal to your child and will still provide them with the coverage that they need to receive optimal UV protection. However, you should remain aware that just because a swimsuit has a nice design does not mean that it has the UV protection your child will need.
Price Point
Find a sun protection swimsuit that will be affordable and fit the criteria of the factors mentioned above. Of course, that does not necessarily mean that you should go for the cheapest option, but there is no need to pay more than what you believe is necessary for a UV protection swimsuit.
You will not want to spend a lot on a swimsuit that your child will inevitably grow out of pretty quickly, but you will still want them to have the best protection available to them.
Different Styles
Take note that there are different styles of UV protection swimsuits designed for different ages. For example, children that are 0-18 months old will need either reusable or disposable swim nappies while children that are 12-18 months old will need swim nappies, swimwear designed with multiple floats, a buoyancy jacket or vest, or plain UV swimwear. Find an option that will suit your child the best while giving them the sun protection that they need. 
To know more about which style will fit each age range, you can use an online guide or read over the product information or reviews to see which styles will be able to fit your child specifically. The design may provide even more safety benefits aside from sun protection, depending on which ones will be able to fit your child the best.
UV Protection Tips to Keep Your Toddler Safe
Receiving sun damage or not receiving the right forms of sun protection from an early age is dangerous. Being tanned or sunburned at such a young age can lead to harmful sun damage or skin cancer later on in life. A child's skin is exceptionally sensitive in their developmental stages, so you will want to do all you can to protect your child from harmful UV rays.
Always Protect Babies
Some studies have even proven the fact that babies are being hurt by harmful UV rays within the first six months of their lives, even with a good amount of sun protection provided to them. This will increasingly put them at risk of experiencing melanoma or many other harmful types of skin cancer as they grow older. At this stage of development, it is best to keep your baby out of the sun as much as you can rather than attempt to expose them to the sun to get their skin used to the UV rays.
As they get older, their skin will be able to do a better job of resisting UV rays, and they will not be as prone to getting sunburned while swimming. Until then, they need to be protected until their skill has fully developed. If you are unsure how to protect your children from UV rays, this part will be able to shed some much-needed light on the subject.
Avoid The Sun At Certain Times
Since you will not be able to use sunscreen on babies until they reach a certain age, it is best to shield them completely from the sun instead and to avoid direct sun exposure to prevent damage.
The sun gives off more harmful UV rays between the hours of 10 A.M. and 4 P.M., so finding proper shade or keeping your babies in a shaded stroller will help to prevent your baby from being exposed to direct sunlight. If you want to take them out of their strollers, make sure you give them a hat to wear and that they are dressed to where their clothes completely cover their arms and legs.
SPF Levels
Once you can apply sunscreen to your child's skin after six months of age, make sure you find one that is SPF 15 or higher and cover all exposed areas of their skin with it. You should also make sure that the sunscreen is waterproof for swimming and that the ingredients will work well with your child's skin so you can prevent an allergic reaction from them.
Test First
The best way to test which sunscreen products work on your child is to apply a small dab of the sunscreen on the inside of your child's upper arm and check it again within the next 24 hours to make sure there are not any signs of rashes or redness in the applied area.
Reapply
Keep in mind that sunscreen will wear off after a certain amount of time. Make sure to apply sunscreen to them 30 minutes before they get into the water and reapply their sunscreen every two hours, or less if they are actively swimming, on every exposed part of the body.
Sunscreen in any form will be able to protect your children from harmful UV rays. It is in your best interest to find one that is powerful and will not be uncomfortable for your child to wear.
Product Reviews
The TFJH E Girls Swimsuit two-piece children swimsuit product that is suited for children ages 3-12 has a UPF of 50+ that protects children from 97% of the sun's harmful rays and comes in many colors and interesting designs that your children will enjoy.
Pros
Utilizes a drawstring waistband for a secure fit
Built with a lightweight and breathable 4-way stretch fabric
No chemicals added to the product
Cons
Swimsuit top and bottom may be different sizes
---
The TFHJ E Girls Swimsuit one-piece is a type of UV protection swimwear that is suited for children ages 3-10, has a UPF of 50+, and is designed with durable and breathable 4-way stretch fabric.
Pros 
Blocks 97% of harmful UV rays
Resistant against chlorine and saltwater
Easy to use zip design
Cons 
---
 The RuffleButts one-piece swimsuit is a baby/toddler swimsuit that has a UPF of 50+ for protection against UV rays, provides full coverage for your toddler, and comes in many adorable colors and designs that your child will love.
Pros 
Easy-to-use snaps and zippers
Made with comfortable and durable high-quality fabric
Designed with a rash guard
 Cons 
Prone to receiving holes in various places on the swimsuit
---
The TAIYCYXGAN swimsuit is a long sleeve piece of swimwear that is designed for children up to 8 years old, comes designed with rash guards, and offers tremendous sun protection for your child.
Pros 
Comes with a hat
UPF of 50+ that blocks 98% of harmful rays
Has a 90 day 100% satisfaction guarantee 
Cons 
Sizing is a little inconsistent and inaccurate
---
Carter's Simple Joys swimwear is a baby/toddler's two-piece swimsuit that includes swim trunks and rash guards that is designed with mesh lining and a drawstring feature for a secure fit.
Pros 
Great value
Designed with a functional drawcord
Available in many amazing colors and designs
 Cons 
May ruin quickly or easily
---
Conclusion
Providing your child with high-quality sun protection is essential to their overall growth and safety. Sun protection swimwear will be able to provide an extra level of protection that your child will need to remain safe from skin damage while they are outside swimming or simply enjoying a day at the beach.
We hope our Best Children's Sun Protection Swimwear article helped you find the right option that your child will love. We know you'll do your best to protect them from UV rays so they will be safe from sun-related ailments. Cheers!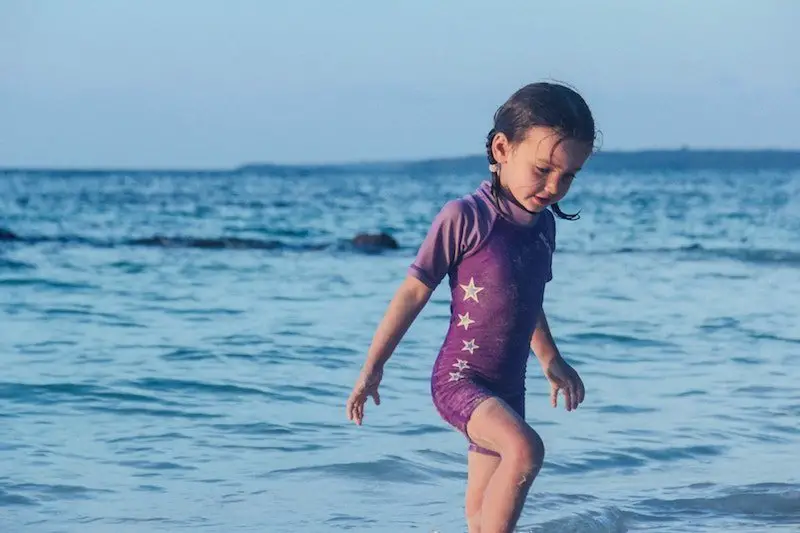 Please follow and like us: