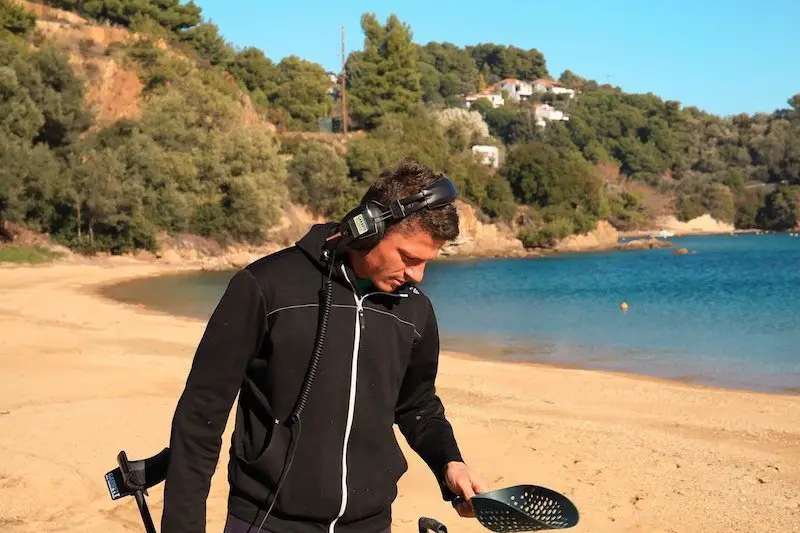 5 Best Beginner Metal Detectors
(Last Updated On: March 25, 2021)
When you hear the words metal detector, you might picture the stereotypical older man on the beach looking for a treasure.
However, metal detectors have become so much more than just a senior activity. It is actually a well-developed hobby that gains more and more popularity in each ear.
From looking for lost items, finding something new, and even helping the military and authorities locate threats, metal detectors play a much more significant role than most would think.
If you are looking to get into metal detecting and learning everything you can do with them, this list of the 5 best beginner metal detectors is a great place to get started.  
| | | |
| --- | --- | --- |
| Metal Detectors | Preview | Brand |
| Bounty Hunter TK4 Tracker IV | | Bounty Hunter |
| OMMO Metal Detector | | OMMO |
| TACKLIFE Metal Detector | | TACKLIFE |
| SAKOBS Metal Detector for Adults – High | | Sakobs |
| NATIONAL GEOGRAPHIC PRO Series | | NATIONAL GEOGRAPHIC |
Product Reviews
1. Bounty Hunter TK4 Tracker IV
With a sleek black design and highly durable construction, the Bounty Hunter TK4 Tracker IV beginner metal detector is a perfect option for almost any location.
The coil is completely waterproof, and the entire thing only weighs 4.2 pounds. Bounty Hunter makes their entire product in the United States and comes with a five-year warranty to protect you from any issues.
To give you the best results from your beginner metal detector, Bounty Hunter provides you with three different modes to choose from when in use.
This includes an all-metal mode for ferrous and non- ferrous metals, discrimination mode, and a two-tone audio mode. You can easily switch between settings with a knob control interface and even has a target strength meter.
Pros
Works for extreme ground conditions
Disc/notch control
All-Metal mode, discrimination mode and two-tone audio mode
Cons
Price is slightly higher than the others
2. OMMO Metal Detector
One of the most fun activities for any age, the OMMO metal detector provides the fun of a treasure hunt every time you take it out.
Created with an ergonomic designed handle, the OMMO is comfortable to handle when you are on the hunt with this 10-inch IP68 waterproof metal detector coil. 
The LCD screen allows you to see different detecting depths, operating mode, overload warning and battery level. 
The OMMO will detect metal objects up to 8 inches deep for small items like coins, and up to 3 feet for larger objects. 
Pros:
Great for kids to learn on
Ergonomic designed handle
Comes with a set of headphones
Cons
Batteries are not rechargeable
3.  TACKLIFE Metal Detector
Another great option for both children and adults, the Tacklife waterproof metal detector can adjust between 24 inches in height and 45 inches.
The ergonomic design makes it comfortable to use for anyone, and the large, backlit LCD screen makes it easy to see what is going on.
There are three audio tones used in this design to help clearly distinguish when you have found something, and a Disc mode helps you narrow down your search.
The screen can show you the battery level, sensitivity level, overload warnings, detecting depths, and provides a cartoon design to make it easy to use for beginners.
This is a perfect beginner metal detector for children to grow up with and use their whole lives.
Pros
Back-lit LCD
Works for kids or adults
Ergonomic design
Cons
Cartoonish display not ideal for some adults
4. SAKOBS Metal Detector for Adults – High
If you venture to take your metal detecting underwater, SAKOBS is the way to go. You can easily go from land to sea to find the best treasure hunting spots.
This beginner metal detector is obviously waterproof but also has a highly sensitive coil to prevent interference. This makes it easy to get a clear reading and prevent unnecessary digging.
A larger coil size increases the size of your search with every sweep and a smart chip makes your readings clear. You can choose between four different modes, including all-metal, tone, pin-pointer, and a disc mode.
You also have a 60-day money-back guarantee and a two-year warranty with 24/7/365 tech support and customer service.
 Pros
Waterproof design
Works underwater
Disc, Tone, Full Metal and Pin-pointer modes
Collapsible shovel included
Cons
Instructions can be a little confusing
5. NATIONAL GEOGRAPHIC PRO Series
If you are looking for a lightweight metal detector, it doesn't get much lighter than this.
Weighing only two pounds, this beginner metal detector provides you will find all the technology and features of other models, but weighs half as much. The coil is waterproof and 10 inches wide for larger search coverage with every pass.
You can collapse the device into a more compact design for easy transport and storage, and it is easy to take it with you for an impromptu treasure hunt.
There are also three detection modes, four sensitivity levels, and a 100 percent satisfaction guarantee.
Pros
Collapsible for easy storage and transport
Waterproof design
Only weighs two pounds
Cons
What is a Metal Detector?
A metal detector is a fantastic example of how magnetism and electricity go hand in hand. There is a metal wire coil, known as a transmitter coil, that is placed in the circular head of the detector.
When the metal detector is turned on, electricity flows through this coil and creates a magnetic field around it.
As you move the metal detector from one location to another, the magnetic field stays the same.
Once you come close to a metal object, the magnetic field changes and sends a signal up to the top of the metal detector. This is then caught by the receiver coil.
The receiver coil is located by the top of the handle of the metal detector. It will produce a noise that you will hear when using the device.
The closer you get to a metal object, the more the noise will change as the magnetic field is affected.
Most metal detectors are used in a casual way to look for items; as an effective way to find lost metal items, and most commonly for security.
Metal detectors can look like the standard wand design, or like the wands or arches used in airports or courthouses.
They are used to detect weapons like guns, blades, and bombs, while also helping to identify smaller objects that are not allowed in these particular areas.
What Metals Can A Metal Detector Detect?
While the name does give a hint as to what can be detected, it is not as simple as just metals.
There are a wide variety of metals in the world, and some are much easier to find with a metal detector than others.
For example, stainless metals, like stainless steel, cannot be detected by a metal detector.
This is because the treatment that the metal goes through to make it stainless greatly reduces its conductivity and magnetic permeability.
Most metals can be categorized into two categories: ferrous and non-ferrous materials. Ferrous materials mean that it is a metal attracted to a magnet. These types of metals are ideal for finding with a metal detector because of the overall design of the detector.
Ferrous materials that are also conductive are even easier for detectors to find.
Although rust can sometimes make it slightly more complicated, some common examples of ferrous metals include steel and iron.
Non-ferrous materials are much more likely what you are looking to find. Copper, brass, aluminum, lead, nickel, silver, tin, zinc and gold are all metals in the non-ferrous metals.
While it is difficult to find for some detectors, if you choose a metal detector that can pick up these materials, it will be effective.
Quick Guide on How and Where to Use a Metal Detector
Metal detectors cannot pick up material with no, or very small and almost nonexistent amounts of metal in them. This includes materials like gemstones, bones, diamonds, pearls, paper, or stone.
For the best chances of success with your metal detector, it is important not just to go out blindly. Instead, you should put in some time and thought in finding the right location, and making sure you have the right metal detector for your needs.
The best place to start is with the history of the area you want to search in. You can look on the internet and check out the local libraries to find an in-depth history of just what you might find.
This not only increases your chances of a great find but allows you to have some fun doing some detective work.
The history of the area can give you a great idea of what old and forgotten items you might find.
However, you should also look for more new locations as well, for example, abandoned homes, areas under construction, and places that have recently held events like festivals or get-together.
Things can easily be forgotten and left behind. You can have much luck in areas after events like fires, floods or other major storms that can cause items to be moved around.
It is crucial, however, that you always consider your safety and the safety of those around you when out.
When using your beginner metal detector, you should always go for a low and slow approach. You don't want to miss out on a good find by moving too fast or holding your detector too high to register the find.
Walk-in a direct line and at a reduced speed and hold your detector close to the ground. Slowly moving it from left to right will make it easier to cover more ground, without getting too overwhelmed, trying to cover every inch of ground.
 Metal detecting is a fantastic pastime on the beach. The beach can be a particularly fascinating place, with plenty of opportunities to discover something interesting under the sand.
The shallow water along a beach can turn up some amazing finds. Many swimmers inadvertently lose rings, coins, and other valuable jewelry. 
Since most beach detectors hunt the sandy areas, you would have a great advantage on a submerged treasure that you wade out to. 
---
Some extra items you may want to consider purchasing with your metal detector:
EDGE DIGGER
When you find something with your metal detector, it is important to have the right equipment to dig it up.
Many items will be below the surface and unable to be reached with just your hands. But a full-sized shovel can end up causing damage to your find.
To make sure you can easily get through the ground, while still protecting your find, this serrated edge digger is a perfect choice.
It comes with a sheath to make it easily transportable, without being in the way as you use your detector.
A bright orange handle will make it easy to spot if dropped, and serrated edges help get through tough ground.
Pros
Bright handle for easy spotting
Serrated edges
Sheath with belt loop for easy carrying
Cons
The oversized handle may be too large for smaller hands
POUCH
The last thing you need after a long day of searching is to drop your treasure. This digger's pouch will provide you with enough space to store your smaller finds and make sure they don't get lost along the way.
The bag is not bulky; therefore, it won't restrict your movements, and the over the shoulder design keeps it in a good position while searching.
Pros
Comfortable over the shoulder design
Not bulky
Perfect for protecting smaller finds
Cons
Conclusion
Metal detectors can be used for a variety of reasons and are a great tool to have for anyone who loves exploring.
If you are ready to get started with your journey and want to see what you can find, it is time to get yourself a beginner metal detector.
Start with any of these 5 best beginner metal detectors we have narrowed down to, and you'll be sure to get a decent one to start with.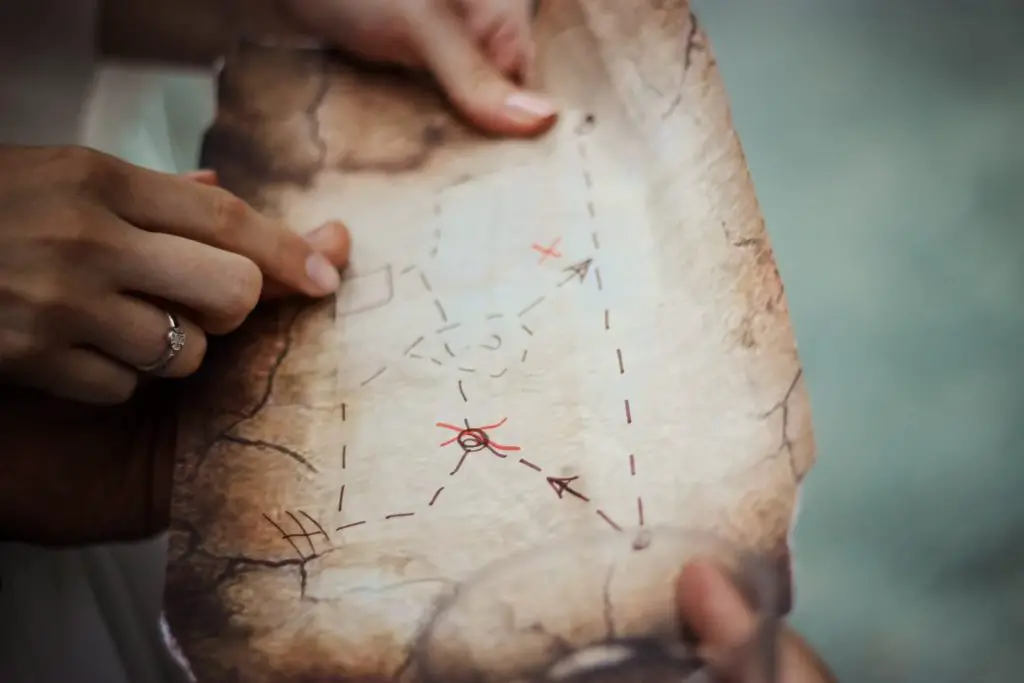 Please follow and like us: