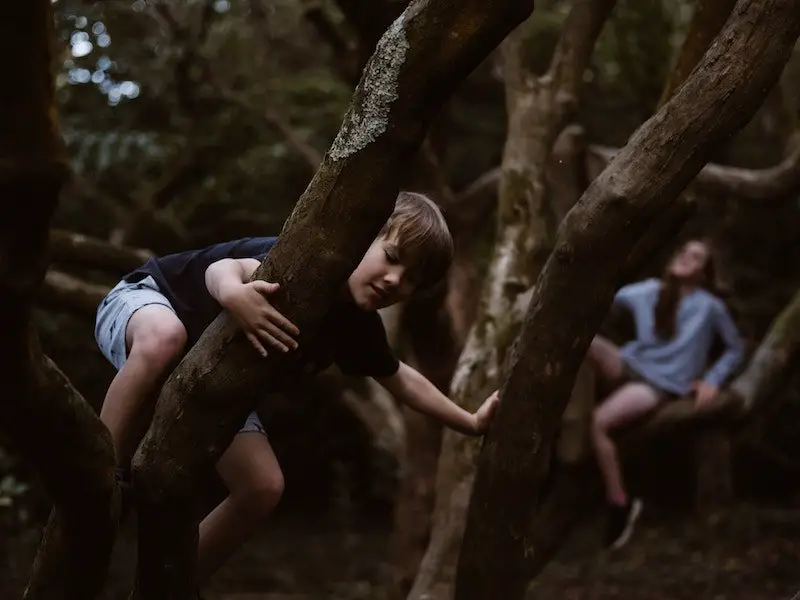 10 Must-Haves when Exploring Nature with Children
(Last Updated On: August 10, 2022)
Thinking back on our childhoods, the memories associated with exploring nature are extraordinary and magical. Catching lightning bugs on a warm spring night or jumping in mud puddles are fond memories for any child. And it is not just fond memories that are important, a paper on the subject was published May 22, 2019, in the International Journal of Environment Research and Public Health. The main takeaway of this study (Preuss et al., 2019) is that people who spent more time in natural environments as children appeared to have better mental health outcomes in adulthood. An important reason to make exploring nature with children a priority. 
Benefits of Exploring Nature with Children
In a world that's full of technology and concrete, it is easy for children to lose sight of what nature has to offer. In the US, it is normal for a child to spend over 7-hours a day in front of a screen. We aren't here to demonize technology – it is an important source of knowledge and has helped society grow and improve. Finding a balance between nature and tech is still vital nonetheless.
Children with unstructured playtime outdoors tend to be more creative than their peers, who rely more heavily on senses like sight and sound only. They think freely and have a more inventive approach to ideas and their world.
It provides exercise and different mental and physical stimulation. Their senses are not narrowed and they learn to have a full grasp of their surroundings.
Outdoor Activities For a Child
While a walk through the woods is a lovely way for a child to experience nature, they can still get this vital playtime at home.
Water-based activities will get most any kid up and moving in the hot, dreary summer months. This can include water balloons, the hose, pools, or even taking them to a splash pad.
You can create things like flower crowns and necklaces with dandelions that you find outside. Add in four-leaf clovers as luscious decor to their beautiful crowns. If you create a scavenger hunt, you can help guide them to the objects for their crowns while still making them do the searching.
Old school classics like hopscotch, hula hoops, and sports will keep your kid active and outdoors.
Tips on Exploring Nature With Children
One of the best ways to prepare for camping with children is to practice at home. Not only does them teach them how to set up the gear and provide expectations, but it allows you to test to make sure that all camping equipment is in working order before a trip. You can even let them have a backyard camping experience.
Keep them involved with every step along the way so they feel like they're helpful and needed. You can let them pack their gear, using a list you have created. If hiking will be part of your trip, they can help make trail mix, too.
On the topic of food, make sure that you bring meal items they will eat. Don't forget the food that can be made on sticks over the fire. It does not matter how old you are, roasting food over a fire is fun.
Research hiking trails and other activities and make a few different schedules. Planning out your day and having prepared activities ready for that all too often heard "I'm bored" whine.
If you are about to take your child on a journey to have a wonderful outdoor adventure, then there are some things you should consider. In this guide, we will go over tips and 10 must-haves when exploring nature or camping with children.
Product Reviews
One of the best aspects of nature exploration: Sleeping somewhere new and adventurous. You will need to bring a sleeping bag for the little ones, and RevalCamp offers a great option. This sleeping bag is perfect for indoor and outdoor use, so it can be used for camping under the stars or a fun living room sleepover.
This bag is lightweight and compact at 30 by 71-inches. For camping, this will add about 2-pounds to a backpack. The seams are double reinforced and the zippers are tough. For sleeping along with nature, this high-quality construction will be beneficial.
With 23 color options, you will find something that works for you, whether your kids will require the same color to avoid conflict or if they do well with having their favorite color.
---
Water consumption and staying hydrated are incredibly important considerations for any outdoor adventure. Contigo brand brings us a stainless-steel water bottle that is perfect for kids to carry around.
The water bottle seals with the press of a button. This means that it seals the lid to help eliminate spills and leaks around the tent, sleeping bags, and even prevent spills on clothing. Packing light is important for camping, and this usually does not include packing extra items in case of spills.
The stainless-steel cup is double-walled to create vacuum insulation so drinks stay cold for up to 28-hours. For picky kids who won't drink warm water, this is a must-have. Not only that, but it comes in an assortment of colors so it's easy to quickly differentiate which cup belongs to which person.  
---
First aid kits are important to have at home and in the car, so it makes sense that you should tote one along with the family when exploring nature with children. Surviveware makes an FDA-approved large-sized first aid bag that has all the necessities.
If you're out on the boat, hiking, or camping in nature, this 200-item kit will have the essentials for you. The bag is water-resistant and items inside are in laminate pouches, so river splashes or rain won't cause damage.
Depending on what you're doing, you may find it easier to leave the bulky bag in the tent or car and simply bring along the portable, 50-piece mini kit inside. Kids can find ways to fall and be injured in any situation, so be prepared with a full kit is the right thing to do.
---
If you will be outdoors for long periods, it is always best to keep a flashlight on hand. GearLight brings us a budget-friendly tactical flashlight that comes in a 2-pack. Make sure that at least one of these flashlights is within reach of your children for emergencies.
These ultra-bright flashlights can light up objects up to 1,000-feet away. That bear looking shadow up ahead can easily be illuminated to show its true self (a tree, probably) with a click of a button.
There are 5-modes – high, medium, low, strobe, and SOS. Teach your children how to adjust these settings and best scenarios to use each.
---
Sun protection in all forms is certainly important when exploring nature with children. Protecting our little ones from sunburn and skin cancer is a priority. Connectylle Kids brings us a super cute bucket hat for added protection against the sun's harmful UV rays.
The polyester material has mesh windows for breathability so your child's hair won't get sweaty or too hot in the sun. Strap loops around under the chin to keep the hat in place and is adjustable in the back. This means less fidgeting around with the hat since it will keep its place and not cause discomfort.
---
You read that right. Wet wipes. Combat Wipes has created these Earth-friendly biodegradable refreshing wipes. For kids, teens, and adults, nobody wants to walk around feeling grimy after a rough outdoor journey. The cloth size is large and it is thick and textured to help give you the cleanest feel without actually splashing in soap and water.
The packs are easy to pack in with you and pull out a single-use wipe at a time. You get 25 wipes per pack, so that should be more than enough for a family on a short camping trip.
---
Outdoor activities require proper hydration, and, like most activities with kids, snacks. Don't forget the snacks. Kate's Real Food granola bars are made with the health-conscious parent in mind. They are organic bars that provide your children with clean energy.
These come in an assortment of flavors and are filled with organic peanut butter or almond butter and sweetened with delightful honey. They are hand-crafted so each bite brings you something delicious, whether that is tart cherry, chewy coconut, or sweet dark chocolate.
These are individually wrapped bars that are fairly flat shaped, so they can slide easily into a backpack or pocket.
---
Another of our outdoor must-haves is insect repellent. Not only are mosquitoes pesky and irritating, but they are also carriers of many diseases. Sawyer premium insect repellent is a two-pack lotion product.
Unlike most sprays, this product is fragrance-free and repels many creatures. It is effective for about 14-hours against mosquitoes and about 8-hours against ticks, biting flies, gnats, sand flies, and chiggers. This Picaridin lotion will protect your children from getting irritating skin rashes and bumps and from the diseases that these insects can carry.
---
Tents are essential outdoor equipment when camping with children. This Coleman tent is cabin style and can fit a family of up to four people. It measures 8 x 7-feet with a 4-foot and 11-inch center height and fit a queen size air mattress.
Possibly the best thing about this tent is the set-up. You can instantly set this tent up in just 1-minute. While kids are running around excited to be at the campgrounds, you will appreciate the quick set-up.
Welded floors and inverted seams protect the inside from wind and rain. 150D polyester fabric is 2 times the thickness and reliable and long-lasting, even against hyper children. A vented rainfly will prevent condensation build-up and improve airflow, which is extremely beneficial for a family sharing a tent.
---
Not only are binoculars beneficial for camping or hiking, but your kids will also have blast looking at birds in their treetop environments. Aurosports's folding binoculars are compact and lightweight, so they won't be a burden to carry.
These can be used in the daylight or evening time before full darkness falls. Sit outside the tent and try to spot bats with your kids as dinner cooks on the fire. View gulls flying along the river while peacefully sailing.
The body of the binoculars are waterproof and the sides are encased in anti-slip grip technology. These binoculars give you 10x magnification to see the beauty of the world around you.  
---
Conclusion
You have the must-haves when exploring nature with children and necessary knowledge now, so it is time to get out there and experience nature. Grab your flashlight and your activity plans and have a carefree time with your children. Spending time in nature will help their growth and health in many ways while also building memories they will look back on fondly.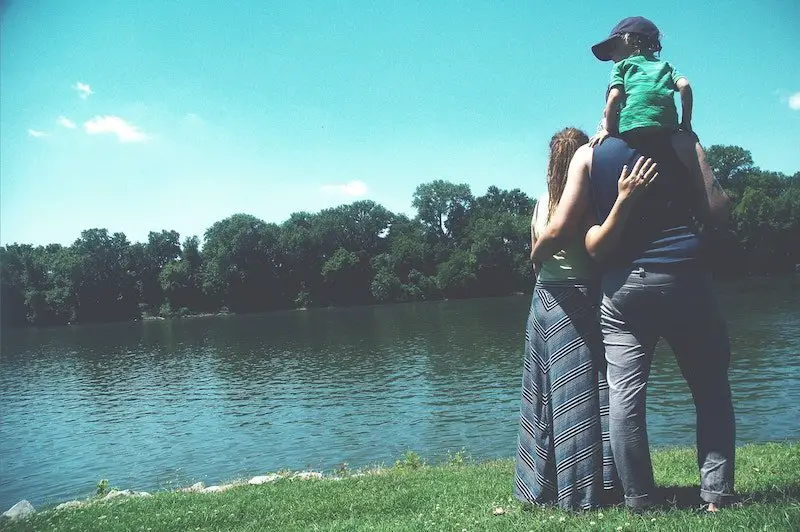 Please follow and like us: