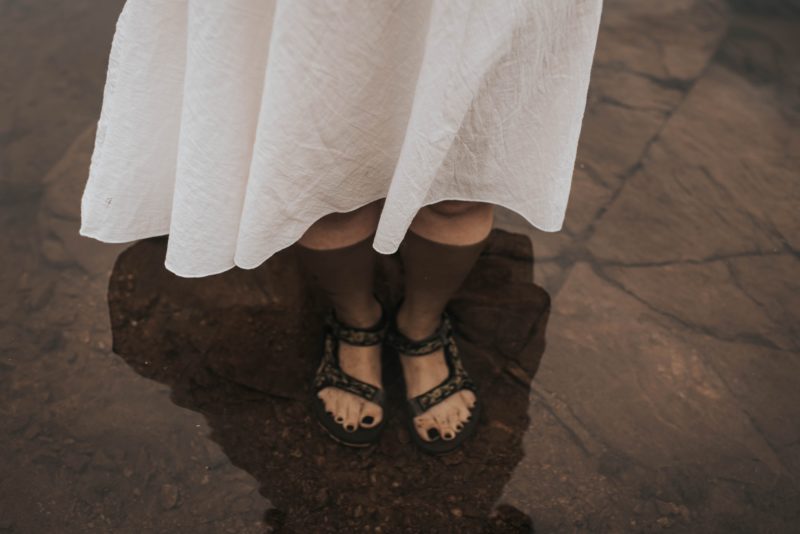 10 Best Sandals for Walking on Concrete and Rock
(Last Updated On: September 23, 2023)
You can be in the most beautiful place in the world, but the experience is ruined if you can't walk without pain. You can't explore the world without a good pair of shoes on your feet. Whether you're walking outdoor or over in the city, you'll want one of these 10 sandals for walking on concrete and rock. Not only are they comfortable, but they all look great too, and may even help your posture and feet.
Why You Need Specific Walking Sandals for Concrete and Rock
Even just walking along in the city presents challenges to the sandal-wearer. There are uphill sections, broken sidewalks, long walking tours, curbs and pebbles, and not to mention lack of support. This is why you need comfortable sandals to help you move well, especially if you have sensitive feet that are prone to blistering.
Better for Feet
The right pair of sandals will be better for your feet overall. That's the main reason why you need a specific pair. You'll also find many options that have the back part of the heel raised a little since this is better for your posture and back. With the slim platform, it will be much easier walking on uneven ground.
Comfort Levels
If you've ever walked on a rock while wearing thin shoes, you'll know how painful it is. That's why you'll need specific walking sandals that have thick and comfortable insoles that will take the impact for you.
Grip and Traction
Good walking sandals will have a rubber outer sole that provides you with more traction. This means that if you're hiking or moving over uneven terrain, it will be much less likely that you slip and twist your ankle. It's for this reason that you might want thick straps on your shoes since they keep your foot in place to prevent ankle problems.
Durability
You obviously want something that looks great, but you don't want to sacrifice durability for aesthetics. That's why you want walking sandals, which are made to look great and feel great too. Even if you don't like the style though, you'll certainly feel better if you use the walking sandals during the day.
Considerations in Choosing
Before you make your pick, think about what type of shoe you'll want. You have a lot of options after all, but these considerations will help you narrow it down.
Traction
Pick out a shoe that will keep its traction. That means that the tread on the bottom should be suitable enough to be used in a variety of situations so that you don't end up slipping or falling when you're moving around.
Comfort
You want a pair of shoes that's comfortable and casual, but still durable. Look for shoes that have a good weight to them, with traction that will keep you stable. You especially might want an ergonomic pair with included arch support, since that helps your feet in the long run.
Do remember that comfort depends on your individual foot. Try and think about what kinds of activities you want to do with your sandals, and what types of shoes usually feel good on your feet. If you can, it's always great to try your shoes on before you buy them.
Adjustability
Think about how your shoe might work with your foot. Like if you can change the straps or if you might need to tweak the shoe to feel comfortable over time. Having something more adjustable will ensure that you get the most out of your new shoes, and will also improve your versatility. You can then wear your shoes in a greater variety of venues.
Value
Yes, you should consider the price. Let's face it: some shoes are better than others, and some are priced better than others. You don't want to spend too much on your shoes, but still, want a good deal. Look for a nice price point, but be sure to keep in mind that lower prices use cheaper materials.
Different Types
There are different types of sandals for different purposes, so think about what you plan on using your sandals for before you make your purchase. For walking around in a busy city, you should pick something that's both comfortable and stylish. For walking around on walks or in the wilderness, make sure that you have enough traction to support you. You also might prefer a closed-toed option. There are even waterproof types for watery areas.
Your different types include leather options, options with heels, and sandals that are specifically for trekking around on long journeys. Picking just the right option will ensure that you're comfortable anywhere, but keep in mind that there are also options that can be used in multiple locations. These are the most versatile types.
Our Review Of Ten Best Sandals For Walking on Concrete and Rock
When you pick out Skechers, you'll definitely get a sandal with lots of support. This sandal has a synthetic sole and responsive 5Gen cushioning. That rebound insole will provide you with maximum levels of comfort while the softened fabric feels good on your feet. Slip these shoes on with adjustable straps that are made to provide you with a secure fit every time.
Pros
The traction is excellent and will keep you from slipping
Perfect for walking long distances like around amusement parks
Work great in different types of weather
Cons
There isn't any adjustability in the toes
There are so many color options when you pick out these shoes by Teva. That'll be your toughest decision though since these sandals are a popular favorite.  They include polyester webbing on top, and with the hook and loop enclosure system, you'll be able to adjust them to conform to your feet. Rest your feet on the Teva footbed, and relax knowing that the durabrasion rubber outsole will keep you stable.
Pros
They feel very comfortable and provide a good amount of support
Very comfortable, and able to be worn in many locations
Simple to put on and wear over time
Cons
The fit can be somewhat awkward if you don't get the correct size. 
Men love the look of this Sporty Outdoor Sandal Shoe, but it's not all about the look. These Dockers' shoes have memory foam insoles that are made to shape to your foot so that you can walk everywhere in comfort. There's even the fusion footbed for an extra layer of cushioning, which makes these shoes perfect for long walks in the city. Adjust the Velcro closures while still feeling comfortable with the roomier fit.
Pros
They're comfortable right out of the box; you don't need to break them in
The Velcro straps are sturdy and easily adjustable
Made from high-quality materials that are durable
Cons
The extra room in the shoe means that you need to try them on to get the right size. 
You have every possible color option available to you when you pick out these Yucatan sandals from ECCO. Step into the rubber sole in your chosen color option to match your clothing and get walking. All you have to do is adjust the dual hook and loop closures. The microfiber-covered footbed will be lightweight and form to your foot as you go while the midsole foam provides you with extra stability every step of the way.
Pros
Every pair lasts from 3-5 years
They are so supportive that they feel like you're walking on air
Comfortable and supportive in any kind of environment
Cons
The fitting can be slightly too big, so make sure you adjust the size for this
These mesh and synthetic sandals are made to fit your foot comfortably while looking quite stylish. Slip your foot into the bungee lacing system, which includes adjustable ankle straps and a Velcro enclosure to keep you comfortable when you walk. These shoes also have textile lining and anti-microbial protection inside, keeping your foot cushioned no matter how far you go.
Pros
They last for a long time, even in the rain
Perfect for walking around in the water without the sandals coming apart
Great arch support and comfort
Cons
You will need to go one size larger than your regular foot size
ECCO makes amazing sandals for men too. Their Men's Yucatan sandals come in lots of different colors so that you can customize them to your specific style. The leather is made to be soft around your foot, with three-point adjustability so that you feel comfortable the entire time you walk. The whole footbed molds to your foot to create flexibility naturally. It helps too that the lining controls the moisture level when you walk.
Pros
Durable and comfortable
Perfect for long-distance walking thanks to the soft support
The soles are long-lasting
Cons
The Velcro strap on the front is just for show; it doesn't actually adjust
You might not like the style of the traditional Crocs shoes, but their sandals are definitely nice to look at. Choose your color and slip them on with the adjustable straps. They're made to fit securely to your feet and to keep you secure while you're walking too. That's thanks to the flex grooves which help improve your traction, and the foam cushion inside too. Just make sure to order up if you're a half size.
Pros
They're very easy to wipe clean
The straps are slim and adjustable, not to mention stylish
Will not slip and slide in the water
Cons
They are lacking in significant arch support
Teva is a good company when it comes to sandals, with their lug soles to keep you comfortable and easy hook and loop closures. Adjust the size to fit your feet, and don't worry about the feeling or fit. There's a breathable mesh lining inside that's made to be cool and comfortable for the entire day. The footbed will mold to your feet for lightweight cushioning that's durable and waterproof too.
Pros
Built with good leather
Over time, they will mold to your foot
Cons
These sandals may not have as long as life as might be expected
Step into the synthetic sole of these Teva Women's sport sandals. They're strappy and comfortable with the polyester webbing, which is especially great for if you're walking in the rain or water. It'll dry quickly after getting wet, and will fit well around your foot thanks to the ladder lock enclosure. The lightweight EVA foam outsole should be comfortable as you move, so check out a pair to see if you like them.
Pros
They're long-lasting and durable
You can walk for hours in these shoes and still feel comfortable
The straps are easy to adjust
Cons
The plastic connector between the front straps can hurt
You also have lots of colors available to you when you choose a pair of KEEN sandals. Pick out the color that will work best for you, but of course, the color isn't the only thing that makes these great. They also have a stretchy lining that will keep you comfortable and stable when you walk, and a mesh lining so that your feet stay cool. There's even an anti-odor anatomic footbed for fresh-smelling shoes all the time.
Pros
They work really well in water
They're comfortable and stylish enough to wear anywhere
They have a slim style to them
Cons
The shoes run a little narrow for some sizes
Conclusion
When it comes to your footwear, you'll want something that's comfortable, durable, and stylish. That's a lot to look for in just one shoe, but any of our top sandals for might be just the right option for you. Pick out your preferred shoe depending on what you need when you're walking around and your foot in general. The right option will be so comfortable that you won't even think about your feet when you're seeing the world instead. 
Please follow and like us: