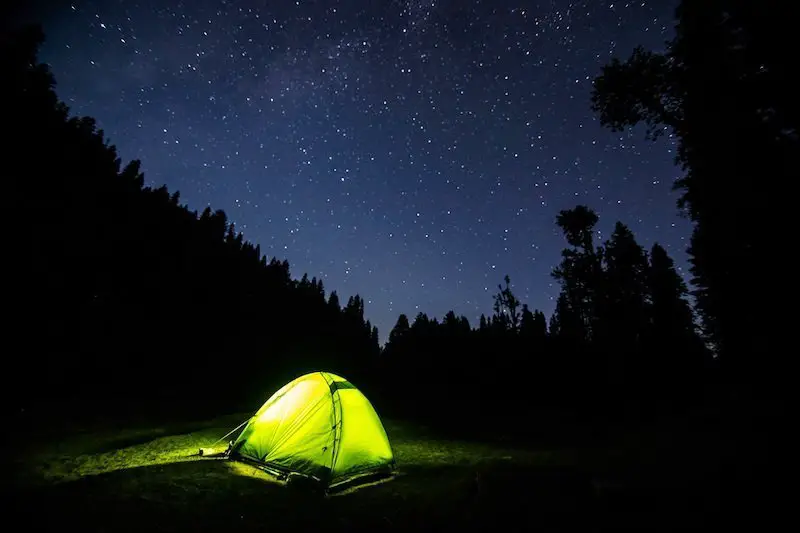 10 Best Items that Make Sleeping in the Forest More Fun
(Last Updated On: April 14, 2022)
If you are one of the lucky ones, you will have fond memories of camping in the woods as a kid. Those memories of a campfire, the smell of the pines and the literal call of the wild are the kind that stay with you for a lifetime.
As we get older, life intrudes and we don't take the time to get back to the forests and rivers and campsites that brought such fun times. But it is never too late to get back to those times in nature and enjoy the great outdoors once again.
Every year, there are new items on the market that make your time in nature even more enjoyable. We have listed 10 of those items for you to consider taking along on your next adventure.
Advantages of a Camping Lantern
Flashlights seem to be a rule of thumb when you decide to go camping overnight in the forest, but there are some things to consider about using a camping lantern too. They have some advantages over a flashlight that you may want to consider. 
In some instances, going to the bathroom in the forest is much easier if you can carry a lantern to light your way and then set it down when you need to. A lantern also provides a wider range of light so you can see farther out in all directions when it is dark out. 
Although a flashlight is great if you are rummaging through your things, if you want your tent to light up like a room in your house, a lantern can do this. Many tents have a place for you to hang a lantern, whereas a flashlight would have to be set on something. Lanterns also often have different settings so you can adjust the brightness. 
Fun Tips: Sleeping in the Forest
Sleeping in the forest is in itself quite fun, but there are other things that you can do liven it up even more. 
Cooking
If you are in a traditional campsite, you may have access to a charcoal grill. The grill and an ice chest full of your favorite foods should do it. If you are camping off the beaten path, then you will probably have to bring a camping stove with you. You can opt-out of both of these and choose to cook right out of your campfire. Any way you choose, the fun will be had by all.
Critters
Before you leave for your trip, research the type of animals that are in the area you are thinking of camping in. Having a campsite means curious animals will come looking for food and water. Store your food in tight and secure containers, and in some instances, you may have to hang it in trees.
Also, make sure that you pick up any trash or leftover food and store it in an airtight container, so the smell of the trash doesn't attract any unwanted animals into your camp.
Campfire
Start your campfire soon after you find your camp spot. Collecting firewood from around the area and getting it lit are things you want to have done before nightfall. 
---
The Foxelli Headlamp Flashlight is not only functional but is also fun. All it takes to keep it working is some AAA batteries. With its adjustable headband, it can fit almost anyone, and the waterproof feature makes it usable in rainy weather. 
What's nice about a hand's free flashlight is that you are not limited to what you can do while wearing it. You can cook with it on, go for a walk on forest trails, and all the while your hands are free to do other things. It's also great for reading in your tent while you're curled up in your sleeping bag. 
This flashlight gives you enough light for peripheral areas so that you can see further than just in front of you. It also has a red light feature. If you need to, you can use this feature to communicate with other campers. It also has different brightness modes so you can pick the correct amount of brightness for whatever you're doing. 
When you aren't wearing it, it's easy to store in a nap sack or pocket; it's light-weight which makes it extremely comfortable and fun to use. 
Camping lanterns are always fun when you're doing an overnight in the forest. The Vont LED Camping Lantern adds the fun as well as safety. This lantern provides a bright light that can illuminate your whole camp. The handle allows you to carry it with you or hang it in your tent or cooking area so you can have the light with your hands-free.
The battery life on this lantern can last over a day and can easily brighten an entire tent for you. The brightness is due to the lantern having 30 LED bulbs in it. Even with all of this light, it is not heavy, which makes it easy to carry.
The OrangeA Hanging Tree Tent for kids can make a forest excursion fun for kids who would otherwise be bored. Having a tent that hangs in the tree that they can utilize as their own space makes it more fun for everyone. 
The UV and waterproof tent are made from a durable polyester canvas that keeps your kids dry and protected from the sun's harmful rays. The canvas is durable enough to hold their weight while they play in the trees. These tents have a nice added touch with some LED lights that can be strung through the top and gives this a magical element.
This tent is heavy-duty enough to allow more than one child in one so that they can play and have fun both safely and comfortably.
The Tentsile Stingray Treehouse Tent is a great alternative to the regular ground tent for camping and adds a little bit of adventure and fun to the forest camping experience. It can hold up to three adults comfortably and safely while providing a nice place for sleeping in the forest.
It attaches securely to trees with three ratchet straps that provide the right amount of tension for the tent. Set-up is super simple. All you need to do is find the right tree you want to camp in, and within 15 minutes, your tent is ready to use. 
This tent is made by a company that loves nature. When you buy one of these tents, you are the company will plant 18 trees for everyone that is sold.
The Gskyer Telescope is a telescope that is easy to transport and set up so you can take it virtually anywhere. It comes in a carry bag so that you can get it to the campsite with the rest of your equipment with ease. 
This telescope isn't over complicated and allows you to see stars and planets. If you find a nice clearing in the forest, you will find that the night sky is highly visible without city lights. This telescope will help you see the stars and add a little bit of awe to your overnight trip.
The X-Vision Pro rechargeable night goggles are an amazing addition to your forest trip because you can also use them during the day. They work great for sightseeing and finding wildlife in the foliage. 
They are rechargeable, so you don't have to worry about carrying an extra amount of batteries. These make for a great time at night while you're camping just to keep an out for any of the wildlife that is more active at night. 
The Outdoor Tiki Torch Bluetooth Speaker adds a unique feature to your forest experience. With Bluetooth capabilities, you can listen to music in the middle of nowhere. 
The benefit of this feature is also what makes it so fun, and that is the fact that it has an LED light as the "flame" of the tiki torch. So not only are you listening to music, but you are lighting your camp area as well. The tiki torch design is also fun and can add a party feels to your overnight forest adventure. 
It can provide 7 hours of combined music and lighting. Separately you can get long hours of light or music.
These Marshmallow roasting sticks are a fun and sanitary way to roast marshmallows over a campfire in the forest. Their wooden handles are designed for a comfortable grip, and the metal prom can be extended to keep fingers away from the fire. The two prongs allow the marshmallow to stay on the stick so that it won't fall in the fire. 
Each stick has a different color ring on it so that no one has to worry about using someone else's. When you are ready to put them away, just wipe them clean and slide the prong back down toward the handle. These are great for s'mores or simply old fashioned marshmallow roasting.
One of the best things about spending the night in the forest is sitting around a campfire. It is cozy and warm and a great place to gather. Having the Mystical Fire Flame Color Changer just adds to that fun and excitement. 
There is something magical to having a different color fire in the forest; it sets the imagination wild. This is great for kids or if you want some extra effects for your spooky ghost stories. They are easy to use. Simply drop the unopened package into the fire and let the flames do the rest. You get to be surprised at which color will come up when and it will keep the night fun. 
Tripping over tent stakes in the dark is never any fun. It hurts, and it can knock a corner of your tent loose, making it unstable. With ABC Canopy tent stakes you get a glow in the dark product. This is great at avoiding those otherwise invisible stakes, but also adds a little fun to your campsite while you have it set up.
These stakes are galvanized, which means they won't rust in bad weather. They are also 10 inches long so they can go deep into the earth for extra security to your structure. 
Conclusion
Sleeping in the forest can be a lot of fun if you are adequately prepared. With all the things packed and ready, it can even feel like a luxury. Find things that appeal to you and your comfort. If you are planning a trip, find things that will keep the kids engaged in their surroundings and off of their devices. You won't be disappointed. 
Please follow and like us: